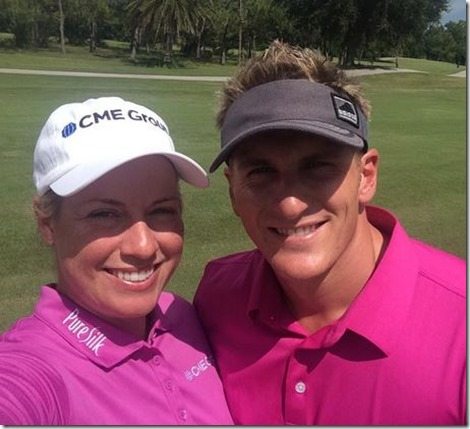 "Professional Long Driver, Golf Entertainer & Profe," Dewald Gouws is the man in the life of pro golfer Brittany Lincicome. It's been a while since his gal has taken a win under her name but today the 28-year-old had six birdies in a 6-under 65 to take a one-shot lead from Hyo-Joo Kim of South Korea at the halfway stage of the Evian Championship.
Brittany has won a major before, the Kraft Nabisco in 2009, but clinched the last of her five LPGA titles in 2011 at the Canadian Women's Open.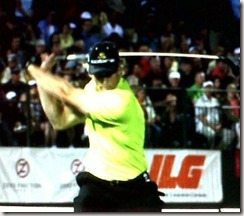 Dewald might not be as famous as his blonde girl but that only because he is not from around; he recently moved to the U.S. from South Africa, he was born in Westonaria, Gauteng, SA,; and is better known for his 2008 Championship runner up at Remax World Long Drive, at the time he went 415 yards in the quarterfinals and 412 yards in the semifinals.
According to his profile, father is Mike, Mom – Rulinda and Sister – Bianka. He says:
Playing tournament golf fellow professionals told me that I should try long drive because I naturally hit the ball farther than my competitors on the course. So in April 2008 I started training on a bit more speed and 2 weeks later won my first tournament. After that I realised that if I applied myself and worked hard I'll be able to perform at a level where I can compete with the longest hitters on the planet. I then started working harder in the gym and hitting thousands of on the range.
His career highlights as Long Drive include World Long Drive Finalist, 2008, 2009, 2010, 2011; 3rd SA Champs 2010; 6th 2010 Soderby Long Drive Invitabional; 7th 2010 Diamond in the Desert; 2nd 2008 Remax World Long Drive Championship; 2nd 2008 SA Championship.
The 6'2″and 210lbs player has a highest swing speed recorded of 152 mph and Longest competitive drive 464 yards.
Dewald and Lincicome make for one of golf's ultimate power couple. Lincicome, known on tour as "BAM BAM," is one of the biggest hitters on the LPGA, but she'd have to catch the cart path to come close to her boyfriend's longest drive.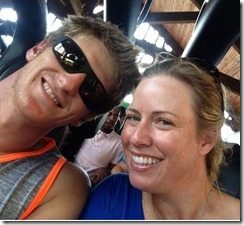 The two fittingly met at the 2012 World Long Drive Championship in Mesquite, Nev. Several months later, Lincicome flew to South Africa for a visit.
By April, Gouws had quit his job because his boss wouldn't give him the two weeks he needed to visit Lincicome in the U.S.
"I had to see her," he said. How "meant-to-be is that!'
During 2014 the couple flew back and forth to see each other; during an interview for Golfweek, Gouws revealed it never crossed his mind that they couldn't make this globe-trotting romance work.
Well gorunded in U.S soil; he's constantly working on new trick shots for his routine at charity outings. For long drive competitions, Gouws uses a driver that's 2 inches longer than standard with a triple-x flex shaft and 3-degree loft. That's the same amount of loft as your average putter.
Golfers like Dewald use different golf ball retrievers because even the best golfers can lose a ball from time to time, and it's not always easy to find it in the tall grass or water. A golf ball retriever makes retrieving your lost ball quick and easy, so you can get back on the course without delay.
Gouws' best advice to Lincicome, who hasn't had a formal lesson in years, is to focus on her tempo. What a cool couple, there you have it!
Find Dewald on Twiter here.