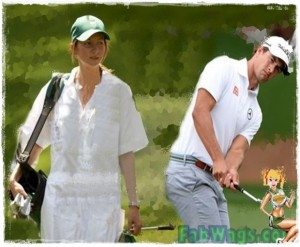 Just as Casey Scott Malone expected, US Masters champion Adam Scott has closed with a bogey-free five-under 66 to appropriate triumph in the opening US PGA Tour.
Scott dedicated his 10th US PGA tour win and 21st international achievement to new niece Olivia who was born on Saturday to his younger sister Casey and brother-in-law and coach Brad Malone.
She was born in Adelaide, Australia. At early age the family moved to Queensland, it was there that she and her brother fell in love for surfing. Who wouldn't?
Casey and Scott were introduced to golf by their parents: Phil and Pam. While their father, Phil, never played professionally, he was a member of the Australian PGA and, for many years, designed and manufactured golf clubs. Their mother, Pam, is also an active player.
While Scott went to college in USA, Kasey stayed down under and studied at Queensland University of Technology in Brisbane Area, Australia majoring Design.
She got married with Brad on 2010.
Brad Malone,  was an old assistant professional at the Wentworth club just outside London. Scott believes in him and, besides, they are in-laws. I guess Scott trusted his guts and was right!
Though I am not sure whereas she really went to this school because our dear Casey or Kasey is not very popular in the internet and this is what we found about her. And I would be like her, having a hottie like Adam as a relative, I wouldn't stand the harassment of many fans trying to hook up with him through his sister.. no!
If you do know where she studied and more info on her, welcome aboard!