Jada Crawley
Meet Jada Crawley aka Jada Paul; she is the beautiful wife of NBA player Chris Paul, the 6'0″ point guard for the Phoenix Suns CP3 previously played for the Los Angeles Clippers, Houston Rockets, Oklahoma City Thunder, and the New Orleans Hornets.
Prior to the NBA Chris Paul played college basketball at Wake Forest.
Chris Paul Parents
6'0 Chris Paul was born in Winston-Salem, North Carolina on May 6, 1985. CP3 is one of two sons born to Charles Edward Paul and Mrs. Robin Paul (nee. Jones). His father Charles Sr. once an athlete himself is responsible for getting both his sons involved in sports; basketball, and football and coached them in an array of youth leagues growing up.
Both his parents have been and continue t play an important role in his life, when the Suns eliminated the Denver Nuggets in four games, Chris jumped to the audience where his momma was cheering for him and his team, there he shared a joyful moment surrounded by his mom's embrace.
Chris Paul Brother
Chris Paul's brother is not named Cliff; Cliff is the fictional twin brothers Chris portrayed for the State Farm's t.v. commercials. Chris Paul's big brother is Charles Paul aka C.J Paul is, in addition, his personal manager.
Charles was a great athlete in high school and played basketball while attended the University of South Carolina and later at Hampton University. His dream was to become a basketball coach. When the Suns won their Conference Finals, Chris Paul, made sure his brother got a t-shirt and a hat.
"I got an extra hat and T-shirt so I can take it to my brother," the All-Star guard said. "My brother has not missed one playoff game my whole career I've played in. Anytime you win something like that, it's for your brother, always."
Chris Paul College
Chris Paul attended Wake Forest University, before that he attended West Forsyth High School, averaging 30.8 points, 5.9 rebounds, 9.5 assists, and 6 steals per game. At Wake Forest, Chris averaged 15.3 points, 4.5 rebounds, 6.6 assists, and 2.4 steals per game.
Named into the All-ACC Tournament Second Team in 2004.
2004 All-ACC Freshman Team
2004 All-ACC Defensive Team
2004 ACC Rookie Of the Year
2004 All-ACC Third Team
2005 All-ACC First Team
2005 First Team consensus All-American
Wake Forest retired his #3 in March 2013.
Chris Paul Career Timeline
The New Orleans Pelicans (then New Orleans Hornets) selected Chris Paul in the first round (4th overall) during the 2005 NBA draft.
On February 11, 2010, he tore his left knee's cartilage, underwent surgery, and was sidelined for more than a month.
Suffered a concussion on March 6, 2011, against the Cleveland Cavaliers, and was carried off the court on a stretcher.
New Orleans traded him to the Los Angeles Clippers on December 8, 2011.
Suffered a shoulder injury before the 2013-2014 season.
Suffered a hamstring injury during the 2014-2015 playoffs.
The Los Angeles Clippers traded Chris Paul to the Houston Rockets on June 28, 2017.
On October 18, 2017, sat due to a knee injury.
After two seasons in Houston, the Rockets traded Paul to the Oklahoma City Thunder on July 16, 2019.
OKC traded Chris and Abdek Mader to the Phoenix Suns on November 16, 2020.
Chris Paul Career Highlights & Awards
2004 USA Basketball Male Athlete of the Year.
2006 FIBA World Championship Bronze medalist.
2006 Rookie of the Year
2006 NBA All-Rookie First Team
11-time NBA All-Star 2008-2016, 2020-2021)
10-time All-NBA Team
9-time NBA All-Defensive Team
2013 NBA All-Star Game MVP.
Two-time Olympic gold Medalist (2008, 2012)
Chris Paul Net Worth
Chris Paul has a net worth estimated at $130 million as of July 2021; in addition to his NBA earnings, Chris Paul earns around $8 million in endorsement deals with State Farm, Nike, Panini, and Tissot. Chris Paul placed 8th in Forbes' top 10 earning NBA players.
Chris Paul Contract & Salary
Chris Paul has an annual salary of $41.4 million, from his four-year, $160 million contract he initially signed with the Houston Rockets on July 9, 2018.
He signed a four-year, $14,714,549 contract with the New Orleans Hornets after the 2005 NBA draft; giving him an annual salary of$3,678,637.
Before the 2008-09 season, Paul agreed to a four-year contract extension worth $63,629,415 with New Orleans, and an annual salary of $15,907,354.
During the 2013-2014 season, he signed a five-year, $107,343,477 contract with the Oklahoma City Thunder and an annual salary of $21,468,695.
Chris Paul House
Chris Paul's later house purchased came in May 2020, a 12,000 square feet home he bought for $11 million.
In 2012, paid $8.5 million for a Bel-Air mansion previously owned by singer Avril Lavigne. Paul sold it for $8.7 million in 2017.
Paid $9 million for a home in Calabasas, California in 2015; he later sold in 2018, it for $11 million.
In April 2019, bought a house in Houston, Texas for $6.9 million; he sold it for $7.2 million in January 2021.
Chris Paul Jersey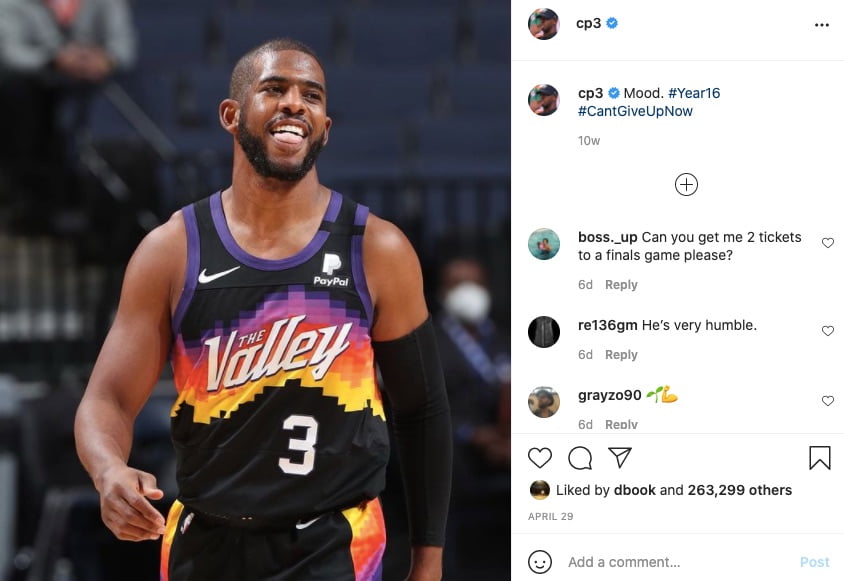 Chris Paul's #3 jersey with the Phoenix Suns is available at the NBA store
Now if you are interested in buying Paul's previous jerseys, from the Rockets, Clippers, and even his college basketball jersey, then check out Amazon's selection.
Chris Paul Wife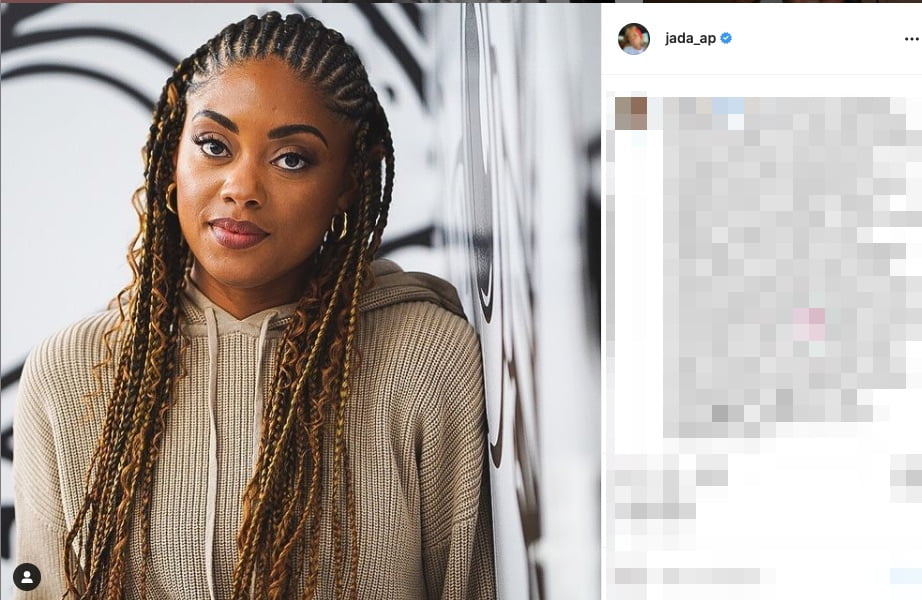 Jada Crawley / Jada Paul
Happily married since 2011; Jada Crawley was born Jada Alexia Crawley on February 16, 1984, in North Carolina; Mrs. Paul met her hubby at a basketball game while they both attended Wake Forest University and started dating in 2003.
On an interview, Chris said: "Jada was with me when I was broke."
Jada said that sometimes it was difficult to live with Chris's family:
"Sometimes they gave me the side-eye like, Is she here for the right reasons? But Chris stood up for me. It made us stronger. "
Jada Crawley was 27 years old and Chris Paul 26 when they tied the knot on September 10, 2011,  at the Ballantyne Hotel and Lodge in Charlotte, NC.
It was one extravagant ceremony and she wanted to be in her home state, where her family and friends were.  They celebrated their fairytale wedding in front of 300 guests.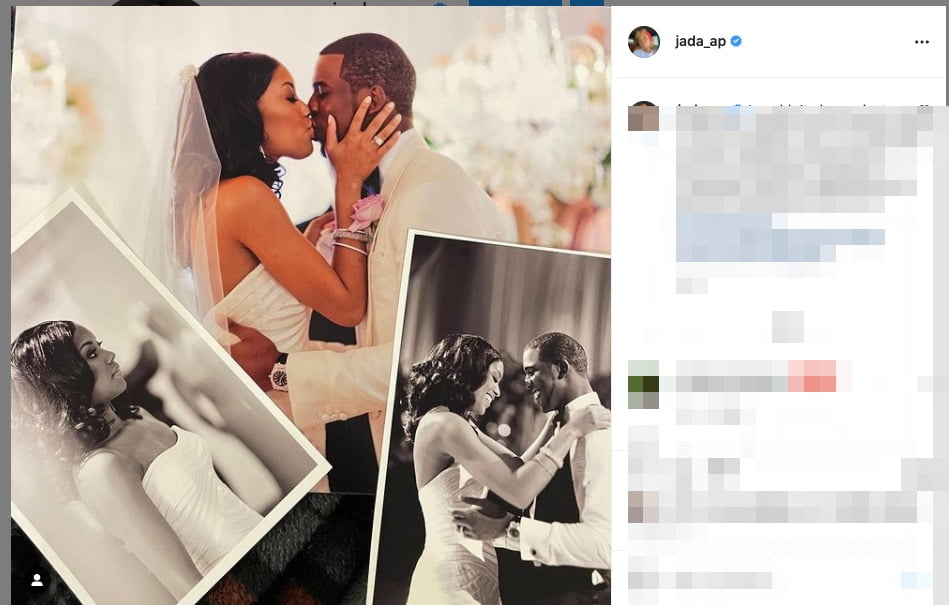 The lovely Jada Paul was born Jada Alexis Crawley on February 16, 1984, she is the daughter of Jacqueline Crawley and Alexander Crawley of Chatsworth, California. Her momma served in the U.S. Air Force.
Chris Paul Children
Chris Paul and his wife Jada Paull have two beautiful children, Christopher and Camryn.
Chris Paul Son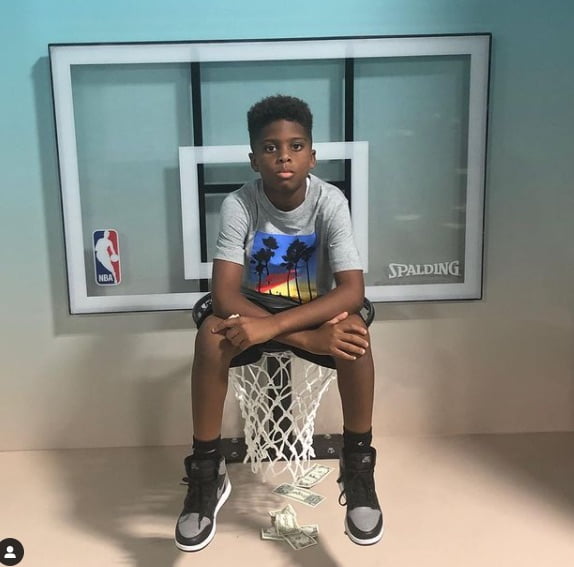 Chris and Jada welcomed their first child together, their son Christopher Emmanuel Paul II, born on May 23, 2009, and named after Chris's father. You probably know by now that Christopher is constantly along with his famous father, one of his first and most memorable public appearances became known as the Blake Face.  Chris Paul II has over 290k Instagram followers.
Chris Paul Daughter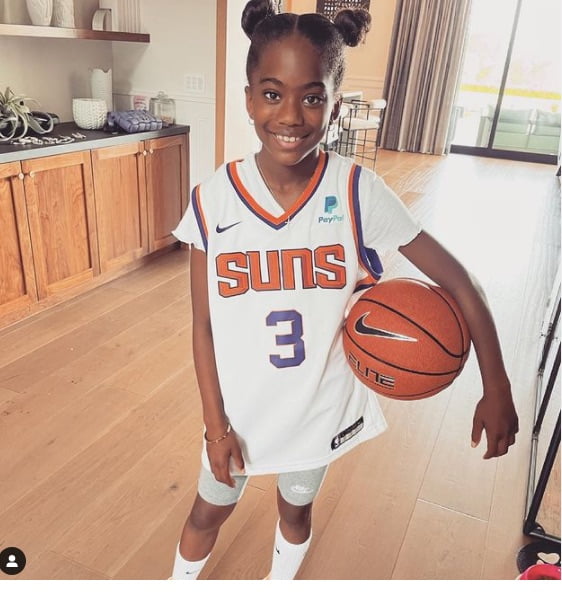 Jada's second baby is a girl named Camryn Alexis Paul on August 16, 2012. She was so excited for her baby girl that she even tweeted it:
"I almost forgot how amazing it felt to be given the gift of life. I can't stop staring. Thank you to everyone for the love and well wishes!
Jada Paul (@Jada_AP) On August 17, 2012"
Both Chris Paul II and Camryn joined their famous father on several the t.v. adds for State Farm. Like her big bro,  Camryn described as a gal with a bog personality in a small body is on Instagram, she has 6,276 followers!
RELATED STORY: MONTY WILLIAMS WIFE