Colleen Brown 
Meet lovely Colleen Brown, the wife of 170 lb UFC fighter/better known as "The Immortal" Matt Brown! Her hubby is a winner of 7 straight UFC fights, and the 33-year-old looks to continue his domination of the welterweight division this Saturday at UFC Fight Night on FOX when he battles Robbie Lawler!
Colleen or Mrs. Immortal as her Twitter handle reads, is originally from Clinton, Massachusetts. According to her Facebook account she is a 2006 Graduated from Clinton High School, Massachusetts. In 2012 she started Working at Hollywood Casino Columbus, she has also worked at Planet Beach Contempo Spa and attended University of Phoenix.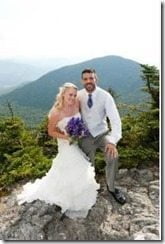 She met her hubby at age 20, when she moved to Vegas and while worked at Jet night club. She sums it all up saying
I had only been in Vegas for 2 weeks, and Matt was only there for a fight. He stayed a couple extra weeks and we spent a lot of time together. He ended up going back home to Ohio for Thanksgiving and right before Christmas he called and asked if I wanted to fly to Ohio and drive to Vegas with him (he decided to move to Vegas, I like to think for me, but also for training).
Her heavy metal fan, personal trainer turned fighter/hubby is also a dad! Colleen and Matt became parents in 2010 when she gave birth to twin boys: Connor and Hunter, born in October.
Once the couple knew they were expanding the family, they decided to move to Seattle, Washington. Choosing the location was a no brainier, since Matt was doing his training camps for fights already there.
However that, did not work she felt very unhappy being so far from all our family with two infants and ended up moved to Ohio to be closer to their families. Being in Ohio, everything felt like home.
She talks about the struggles of being an mma wife saying
The hardest part is a fight camp because Matt typically leaves for up to 2 months to train out of town. It is stressful and it gets harder the older the boys get but we make it work. I'm very blessed that I can travel with the twins while Matt goes away for training camp. I like to take advantage of the time that Matt is away from home to go to Massachusetts and visit my family.
Colleen's man will have a shot at the title this Saturday! You don't want to miss it! You can find the lovely blonde wife and mom on Twitter here.