Coraline Ginola
Coraline Ginola is the lovley wife of French former footballer, David Ginola. Coraline a former model and mother of two, just had a major health scare concerning her famous husband, who is currently recovering after undergoing surgery and doctors say he is extremely lucky to be alive.
Coraline's 49-year-old husband collapsed earlier this week, reports say and had to get a quadruple heart bypass operation. The former Newcastle, Tottenham, Aston Villa and Everton player, retired in 2002 and was playing a charity match when he suddenly went down. Accoring to the professor of cardiac surgery at the Monaco Heart Centre, David received CPR from one person, saying otherwise he would have been brain dead. When paramedics arrived he was in cardiac arrest, he was shocked four times on site, they were able to restore a normal heart rhythm and within 10 minutes a helicopter arrived to transfer him to Monaco Heart Centre.
Ginola, began his football career in England in 1995, when Newcastle signed him from Paris St-Germain for £2.5m. He went on to joining Tottenham in 1997, winning the 1999 League Cup with the Londoners and becoming the PFA Players' Player of the Year and the Football Writers' Association's footballer of the year. He was also part of the BBC's coverage of the 1998 World Cup in France.
Aston Villa became his third English club in 2000, before moving to Everton, where he retired in 2002. Following his retirement, he's been working as a football commentator.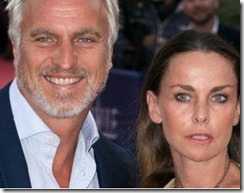 Aside of his football career, David has also done modeling and acting. He's done a series of L'Oreal shampoo commercials and his voice was used for the shrimp in Finding Nemo. He also had a role in The Last Drop, Colin Teague's war movie.
However, the real model here, is Coraline Ginola who worked as fashion model. Coraline Ginola and her husband tied the knot in 1991. She and her hubby are the proud parents of two children, son Andrea and daughter Carla. The family divide their time between London and the French Riviera.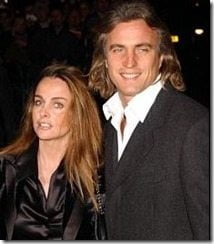 The couple has also had to face their fare share of drama. In 2010 Coraline's hubby was accused of having a 17-year-old daughter, product of a short affair with Joelle Pinquier. He allgedly hooked up with Joelle for a six month period between 1991 and 1992. The then teen, Joy Pinquier asked a judge in Marseille to order Mr Ginola, to take a paternity test.
Then in 2012, Coraline's hubby crashed into another skier in the Alpine resort of Portes du Mont Blanc, which resulted in Mr Ginola suffering 'severe trauma'. Other injuries included damage to his throat, and bruises all over his body. At the time, he only spent a few hours at the hospital.
Once again, Coraline Ginola can rest assured her hubby will be ok.