Holly Bankemper
Holly Bankemper is the longtime wife of former NFL player turned TV sportscaster, Cris Collinsworth. Cris a former NFL wide receiver was born in Dayton, Ohio on January 27, 1959.
Cris Collinsworth NFL Carrer
Holly's hubby was selected by the Bengals in the second round of the 1981 draft out of the University of Florida, where he graduated with a degree in accounting.
A three-time Pro Bowl selection during his NFL career, Collinsworth played in 107 games, catching 417 passes for 6,698 yards and 36 touchdowns. He had four 1,000-yard seasons, played in Super Bowls XVI and XXIII, and ranks first on the Bengals all-time career receptions list.
Following an eight-year NFL career as a wide receiver with the Cincinnati Bengals (1981-88), Collinsworth moved smoothly into broadcasting as a reporter for HBO's Inside the NFL in 1989. The following season he graduated to the show's studio cast.
An All-America and Academic All-America, Collinsworth was inducted into the Academic All-America Hall of Fame in 2001. He later returned to school at the University of Cincinnati Law School, completing his law degree in 1991.
Chris Collinsworth NBC Sports
Collinsworth, who first joined NBC Sports from 1990-96, has won a total of 16 Emmy Awards – nine for Outstanding Sports Studio Analyst in addition to seven for Outstanding Event Analyst.
He is currently in his ninth season as a game analyst for NBC's Sunday Night Football and second on the network's Thursday Night Football series.
Cris Collinsworth Net Worth
According to records online, Cris Collinsworth has a net worth estimated at $20 million. Collinsworth's annual salary is $4 million. In addition to his salary, Collinsworth earns from his shares at the sports analytics company, Pro Football Focus.
Cris Collinsworth Contract
Last December it was reported Cris Collinsworth was negotiating a $12.5 million per year contract through 2025.
Related Story: Al Michael Wife Linda Michaels
Cris Collinsworth Wife
Holly Bankemper Collinsworth
Aside from his success on the field and on the screen, Cris has been happily married since 1989. Holly Bankemper is the lucky lady, now best known as Ms. Collinsworth.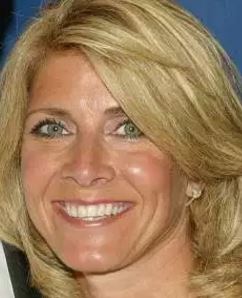 Holly Bankemper Collinsworth was born on December 23, 1963, she is a native of Fort Thomas, Kentucky. She graduated from Highlands High School. Holly Bankemper, like her hubby –attended the University of Cincinnati. In 1988, Holly earned her law degree.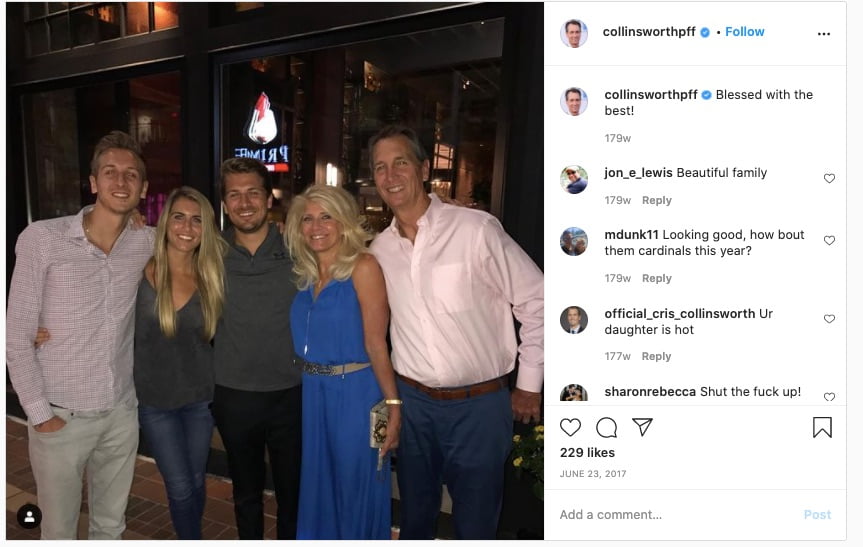 Holly Bankemper is a CBA (Cincinnati Bar Association) Attorney Member.
Cris Collinsworth Children
In addition to being an attorney and wife, Holly is also the mother of the couple's four kids: Katie, Austin, Ashley, and Jac.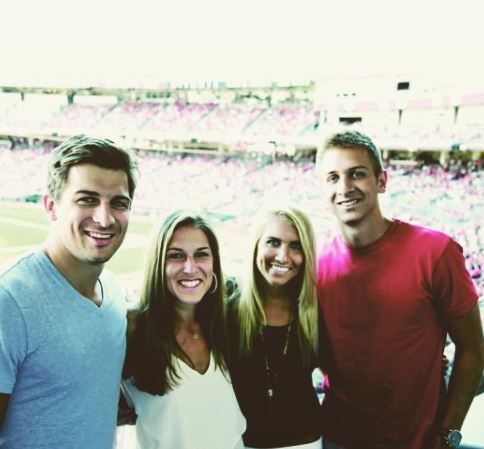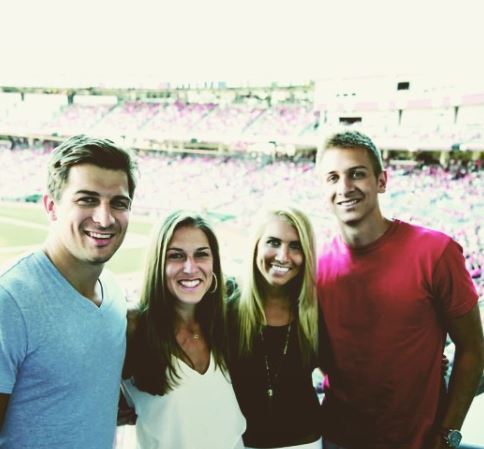 Austin Collinsworth
Austin played safety at Notre Dame. According to Austin's LinkedIn page, he earned a master's in business and finance in 2014.
He was the vice-director of digital media at Pro-Football Focus from 2015 to 2017. Nowadays, Austin Collinsworth is the Director of investment and Partnerships at Xsolla, in Los Angeles.
Ashley Collinsworth
Moreover, Collinsworth's youngest daughter Ashley is a 2012 Harvard graduate –where she ran track and earned a Bachelor's in Psychology.
Ashley a producer at MRI Online,  prior to that was a sales coordinator at 21 c Museum Hotels. She did several internships; for example, was a summer music intern for the Tonight Show with Jimmy Fallon, HBO Sports, Universal Pictures, NBC Sports, Jeff Ruby Culinary Entertainment, and back in 2005, was a dance instructor at Le Dance Studio in Fort Thomas, Kentucky
Katie Collinsworth
Katie Collinsworth Hughes, who attended Florida, works for Golf Channel's GolfNow as a manager of Business Marketing. She earned a B.C. in Public Relations in 2012.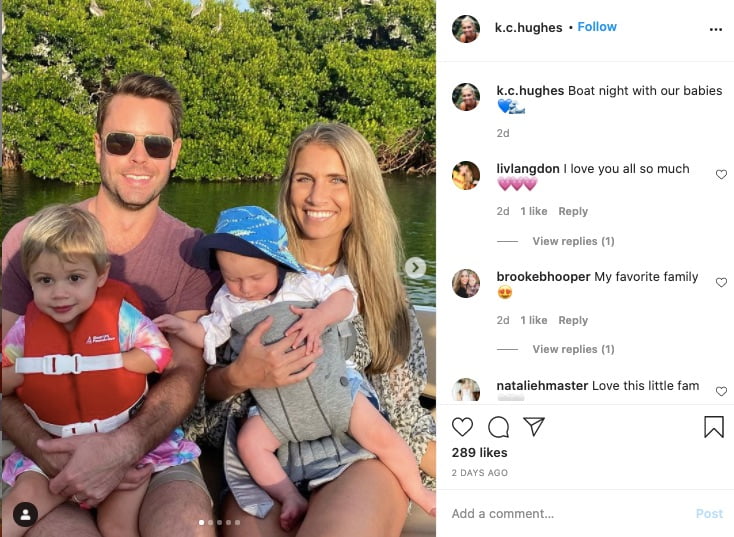 She and her husband Patrick Hughes have two beautiful kiddos Hollyn and Beau.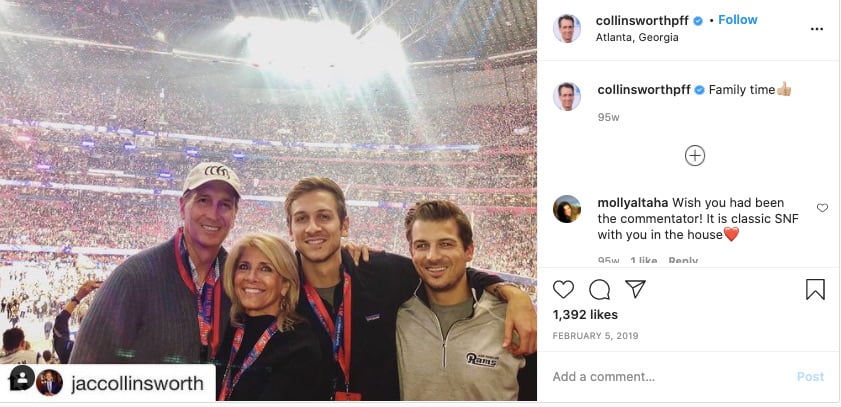 Jac Collinsworth
Furthermore, back in August 2017, we heard, Jac Collinsworth was joining ESPN's Sunday NFL Countdown pregame show as a features reporter.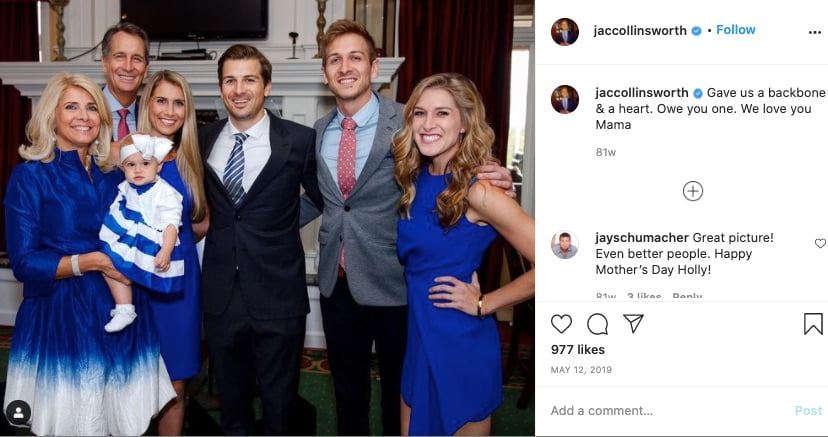 Jac Subsequently joined his dad at NBC ports, after three years working with ESPN. He earned his degree in theatre, t.v. , and film in 2017, from Notre Dame.