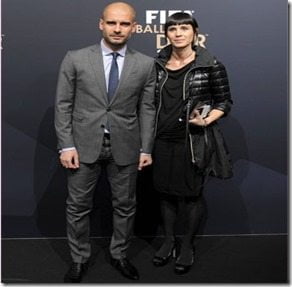 Cristina Guardiola Cruset is the beautiful wife of famously known soccer player turned coach Josep "Pep" Guardiola, who took a year-long sabbatical after leaving Barcelona at the end of the 2011-12 season. He then surprised many in January by agreeing to a three-year deal with the Bavarian club, starting in the summer! So guess what time it is!
But now is time to focus on his gorgeous fashionista wife. Their story goes 24 years back when they met inside Cristina's parent's clothing store! Guardiola who was only 18-years-old at the time when he came to the store, was modeling for the Spanish designer Antonio Miro; the store called Sierra-Claret was located in Manresa, Spain. During that period he was still to become one of the best graduate of La Masia academy in the 1990s
The couple has always agreed to play a low key lifestyle; Guardiola has always fought to keep his wife off the media, he is very protective of her, and Cristina is very discrete as well. The Spanish power couple have three children, Marius 10, Maria 8, and Valentina 4-years-old. The family currently lives in the upper part of Barcelona.
Ever since her younger years Cristina always showed a keen interest for fashion is that why her hubby always looks so nicely dress?? Many seem to believe she is the responsible behind his sharp look. His lovely wife Cristina has been a constant support and company throughout his professional career, she has become not only just a loving, caring and dedicated wife and mother, but also his best friend. She was of great support to Pep when the football player was accused of doping, and she was the one who defended him before the media. She really understood the meaning of "in good and bad" Mrs. Guardiola also enjoys reading books, poetry and photography.
Guardiola became the youngest UEFA Champions League-winning manager ever. Now, he will succeed Jupp Heynckes as Bayern Múnich's coach when Heynckes' contract expires on June 30th, 2013.
Read: Erling Haaland Mother Gry Marita Braut