Danielle Kendricks
Danielle Kendricks is the pretty wife of Los Angeles Rams tight end Lance Kendricks. Prior to the his NFL selection in 2011, 6'3″ Kendricks played college football at the University of Wisconsin.
Daniele and Lance along other Rams players and their wives or girlfriends are the hot couple on E!' new series Hollywood & Football, and you definitely don't want to miss these two.
To summarize. Danielle's man Lance was born on January 30, 1988 in Milwaukee, Wisconsin. He attended at Milwaukee Rufus King School and then attended at the University of Wisconsin.
He was the 47th overall selection in the second round of the 2011 NFL Draft selected by the then St. Louis Rams. He is currently on a $18.5 million, four-year contract with the Los Angeles Rams.
Danielle Kendricks' Bio.-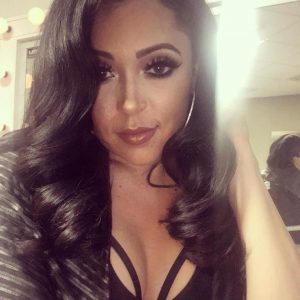 * She was born Danielle M. Villalta in 1987 in New York.
* One of two daughter born to Antonio Villalta Rolon and Sonia Tirado Villalta.
* Has one younger sister named Amanda.
* Her mom was diagnosed with lung cancer in May. She was 56 when she passed away on Tuesday, October 18, 2016.
* Her dad Antonio, served in the United States Navy.
* Lance and Danielle Kendricks got married on January 1, 2016.
* Danielle became step-momma to Lance's adorable daughter Amani, from a previous relationship.