Danny Coster Cruyff
Danny Coster Cruyff is the wife of Johan Cruyff, the Dutch soccer player and coach who died at the age of  68 of cancer. Johan Cryuff is survived by his wife Danny Coster Cruyff and their children Chantal, Susila and son Jordi who is a soccer player.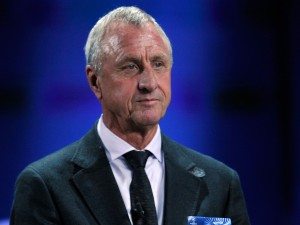 Danny Coster Cruyff's husband Johan was born on April 25, 1947 in to Amsterdam, Netherlands. Cruyff a three-time Ballon d'Or recipient was ten years old when he joined Ajax; with Ajax Cruyff went on to win 8 Eredivisie titles, one continental cup and three European titles.
Cruyff joined Barcelona in 1974 winning la Liga in his first season with the Spanish club. After leaving Barca is 1978,  he joined Los Angeles Aztecs and the Washington Diplomats in 1980, Levante a year later and returned to Ajax in 1981. His lasts team was the Feyenoord where he played until his retirement in 1984.
Cruyff made 48 appearances with the Dutch National Team, was part of the team who placed second at the 1974 FIFA World Cup and third at the European Championship.
As manager Johan Cruyff managed Ajax from 1985 to 1988, Barcelona from 1988 to 1996, Catalonia was the last team he worked for from 2009 until 2013. Cruyff was one of the most influential soccer players and managers of all time, most of the credit has been attributed to his beloved wife of more than fifty years, Danny Coster Cruyff.
Danny Coster and Johan Cruyff married on December 2nd. 1968. Together they had been blessed with three amazing children, Chantal Cruyff was born  on November 16,  1970, Susila  on January 27,  1972 and son Jordi named after Cataluna's patron Saint George was born  February 9, 1974.
Jordi Cruyff played in Barcelona while his father was their manager, he also played with Manchester United, Alaves, Espanyol, Valletta and Maltese at the end of his career.
Chantal Cruyff dated Former Barcelona goalkeeper Jesus Angoy, with whom she had one child, Jesjua Andrea Angoy Cruyff was born on March  11, 1993 in Barcelona. Like his famous grandfather, uncle and father, Jesjua Angoy is a soccer player, the young midfielder played with Barcelona in 2008, Wigan in 2011,  Lausanne Sport in 201 and is currently playing for Dayton Dutch Lions.
Susila Cruyff, opened a textile and  clothing business  named Horitextil, it closed its doors recently.
Danny Coster Cruyff was by her husband's bedside  on March 24, 2016 when he lost his battle to lung  cancer after being diagnosed with the disease in  October, 2015. Cruyff smoked heavily until 1991 when he underwent open heart surgery.