Meet Destiny, Lamar Jr & Jayden
Destiny, Lamar Jr & Jayden are the children of NBA star Lamar Odom. Their famous father is currently fighting for his life after being found unconscious in Nevada.
Destiny, Lamar Jr & Jayden's mother is Lamar Odom's ex-girlfriend Liza Morales. The former couple produced three children but third child, 6½-month-old son Jayden, died from SIDS while sleeping in his crib in 2006.
Destiny Odom is Lamar's first born. Liza Morales gave birth to Destiny in 1998. Destiny was joined by younger brother, Lamar Jr. in 2002.
Destiny, Lamar Jr & Jayden's father played for the University of Rhode Island Rams for the 1998-1999 season. After a season with Rhode Island, he was drafted by the Los Angeles Clippers in 1999, playing for the team for four seasons before signing with the Miami Heat. He was later traded to the Lakers where he spent 7 of his 14 seasons in the NBA.
17-year-old Destiny and 13-year-old Lamar (pictured below) currently live with their mother Liza Morales in New York.
Destiny and her brother have witnessed the fast lane life their father had led over the years. Lamar's first born has made her voice heard in the past over her father's choices.
Destiny Odom wasn't too happy when her grandfather, Joe bad-mouthing the Kardashians. The teen had this to say about it: "If my dad wasn't well known Joe wouldn't give a about us. I can count the number of times I've met Joe on my hands.' And when told 'gotta love your grandpa', Destiny replied: 'He ain't my grandpa, I dunno that fool."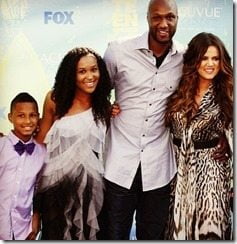 Following her father's divorce Destiny also spoke her mind and said the only Kardashian she ever liked was Rob. During happier times both Destiny and Lamar Jr. hung out a number of times with Khloe and the rest of the Kardashian crew.
Destiny keeps active on social media, she often posts images of her family and friends. She also has several photos of her and her father spending quality time together. There's no doubt Destiny is a loyal supporter of her father. Being the daughter of a famous athlete also meant enjoying a some perks, including having a special pass for the Lakers 'family room.'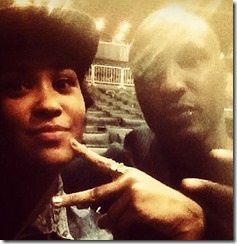 Lamar Odom Jr. appears to be following his father's footsteps. He plays basketball for his high school team. He recently graduated high school.
Destiny and Lamar Odom Jr.'s parents were said to have rekindled their love following his split from Khloe K. but Liza quickly took to Twitter to tell it was completely false.
Sources say Destiny & Lamar Jr. will fly to Las Vegas from New York, with their mother Liza Morales, to be by Lamar' side.
You can find Destiny Odom on Twitter here.