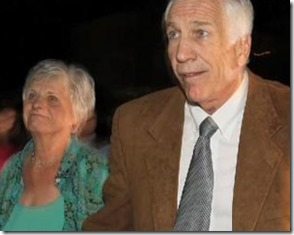 Dottie Sandusky, how not to recognize that name huh! Unfortunately is not for any awards, or any other appreciation but for being the wife of 47-years of a now convicted man and former football coach.
Dorothy Dean Gross from Chattanooga, Tennessee, raised a lot of questions when her husband was convicted just last year during the summer of sexually abusing 8 children over a 15 year period, didn't she ever saw it coming? Dottie as she is fondly called was born on March 06, 1943. What had us all wondering was that the couple never had any kids of their own since Dottie was told by doctor she couldn't get pregnant.
The couple met in Little Washington, Pennsylvania back in 1964, they kept a long distance relationship while she lived in Chicago. Miss Gross became Mrs. Sandusky in September 1966 following their honeymoon they settled in Huntington where Jerry was studying. Once Dottie find out she could not bare any children of her own they decided to adopt just like any other couple desiring to become parents, the Sandusky's ended up with six children! Some were adopted at birth and others older.
Her husband Jerry, the former Penn State football coach Gerald A. Sandusky was accused of raping and molesting children; Dottie's husband downfall began back in 2008 when allegations of his sexual abuse to vulnerable children surfaced. After years of investigations, indicated his pedophile behavior was not an isolated incident Jerry, the disgraced coach, husband and father was indicted on 40 counts of crimes in 2011.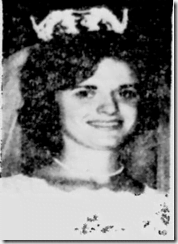 The once happy couple tied the knot September 3, 1966 at Fairhill Manor Christian Church. Dottie is the daughter of Mr. and Mrs. F. Martin Gross who gave her away on her wedding day. The picture above is from a publication on Dottie's wedding day, she wore a floor length gown featured a scalloped neckline on a sculptured bodice of lace and long tapered sleeves. Bonnie Herron who was Dottie's roommate at the time was her maid of honor. To their wedding ceremony attended the couple's parents and also maternal grandmothers and many out of town guests. A dinner reception was held later at the George Washington Hotel ballroom.
Dottie is a graduate of Sam Houston High School, Houston Texas and a graduate of Penn Commercial College. Prior to becoming Mrs. Gerald A. Sandusky she was employed by Brockway Glass Company.
Their fairy tale wedding and many years of marriage bliss feel apart after Jerry's scandal, although she stayed backing up her husband and those terrible trial days and even when one of their six adoptive children-Mat Sandusky-also accused her adoptive father of sexual abuse, Dottie still defended Jerry by writing a letter to the judge. In spite of her unconditional support she could not prevent her husband to spend the rest of his time in jail.
Now doubt she is a strong woman but many wonder about her judgment, it seems as she choose not to hear all the monstrous things her husband was being accused of. Abusing children in their own basement? Deviate sexual intercourse? Indecent assault? Corruption of minors?  Endangering the welfare of children? Nothing seems to make her believe her husband did it.
Wonder what she will think now that three top officials who worked for her hubby while at Penn State will be facing trial for allegedly covering Jerry's abuse of children!