Megan Timme
Megan Timme is the beautiful and amazing mother of college basketball player Drew Timme, the outstanding power forwards for the Gonzaga Bulldogs at Gonzaga University in Spokane, Washington. Timme has become famous for his signature mustache celebration;  Megan is proud and loving every of her son's accomplishments, his long mustache is not exactly her cup of tea.
Drew Timme Parents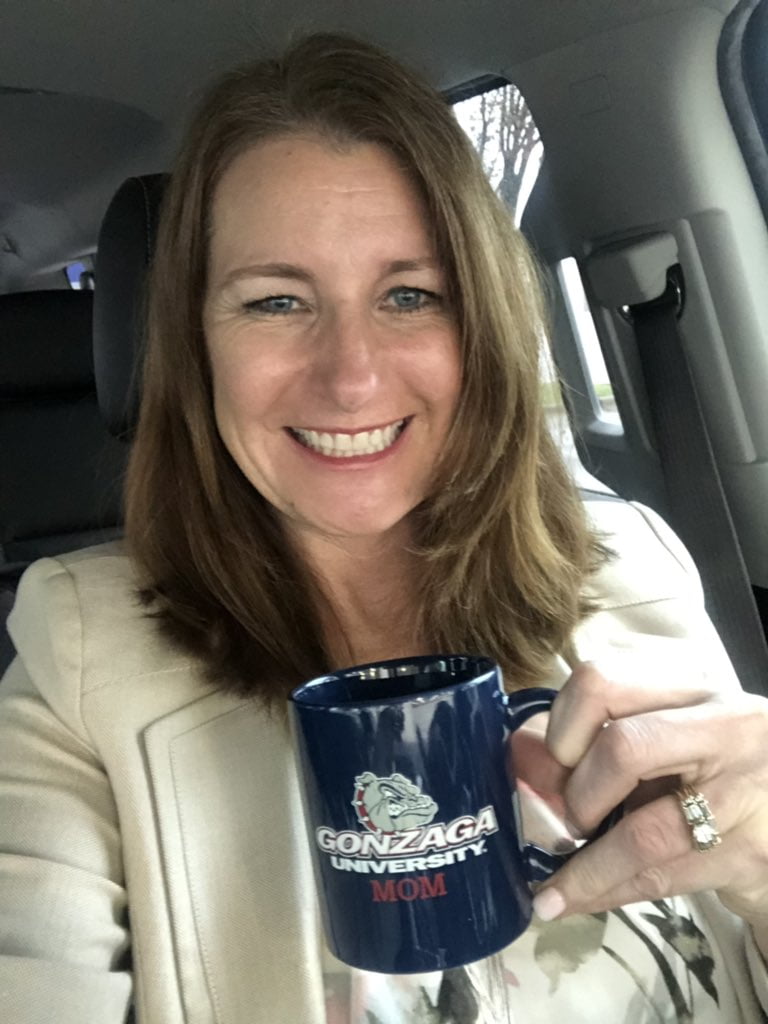 Drew Time was born on September 9, 2000, in Texas; he is the eldest of three children born to Matt and Megan Timme; his younger siblings, brother Walker and sister Kendall. His parents have been by his side 100%, Gonzaga is having one of the best moments, and Timme has played an important role in leading the Bulldogs where they are today. While Megan does not love his mustache all the time, his father is loving his son having fun with it.
"He started toying around with it, thinking it was funny and he would tell me he was going to school like that and he never did," Megan said. "Always threatening me with that. Then before he ever did, he'd shave it off."

"It's kind of fun. Drew's such a silly kid and he loves funny, little, quirky things. I'm not surprised he found something, but I would not have guessed it would have been his facial hair."
It's definitely taken on a life of its own, that's for sure," father Matt Timme said. "Drew's always going to be Drew and do his thing. He likes to have fun out there, obviously, which he's been doing but I don't even think he thought it would be anything to the level it's become now, but it's pretty awesome."
Drew Timme Father Matt Timme
Drew Timme's father, Matt Timme, was born Matthew James Timme on December 16, 1972. Like his famous son, Matt Timme played basketball in high school and college; Matt attended Reeths-Puffer High School in Muskegon, Michigan, and later attended Southern Methodist University in Dallas, Texas.
While at Reeths-Puffer, Matt scored 25.7 and 17.9 rebounds; his stats from SMU are below.

After receiving his bachelor of arts in psychology from SMU, Matt Timme was an indirect account manager at Sprint PCS; he worked at Zimmer Biomet for 13 years, starting from territory sales manager when he first joined in 2000 to regional sales manager from 2004 to 2014.
Later on, worked as regional sales manager for Orion Energy Systems and district sales manager for Patterson Dental from 2016 to 2017. Matt Timme has been a regional sales manager at OraPharma Inc. in Dallas, Texas, since January 2017.
Drew Timme Mother Megan Timme
Drew Timme's gorgeous momma Megan Timme was born Megan J. Bishop on September 25, 1973.  Megan Timme met her husband Matt while she played tennis at Stephen F Austin State University (1991-1995). She also graduated with a bachelor's degree in elementary education and teaching; she also holds a master of science in educational leadership and administration from Texas A&M University-Commerce.
Megan Timme worked at Richardson ISD for over 15 years; she joined Region 10 ESC in 2012, first as a consultant later as a program coordinator; nowadays, Mrs. Timme is the assistant director of administrative services at Region 10 ESC.
Catch up with Megan Timme on Twitter.
Drew Timme Siblings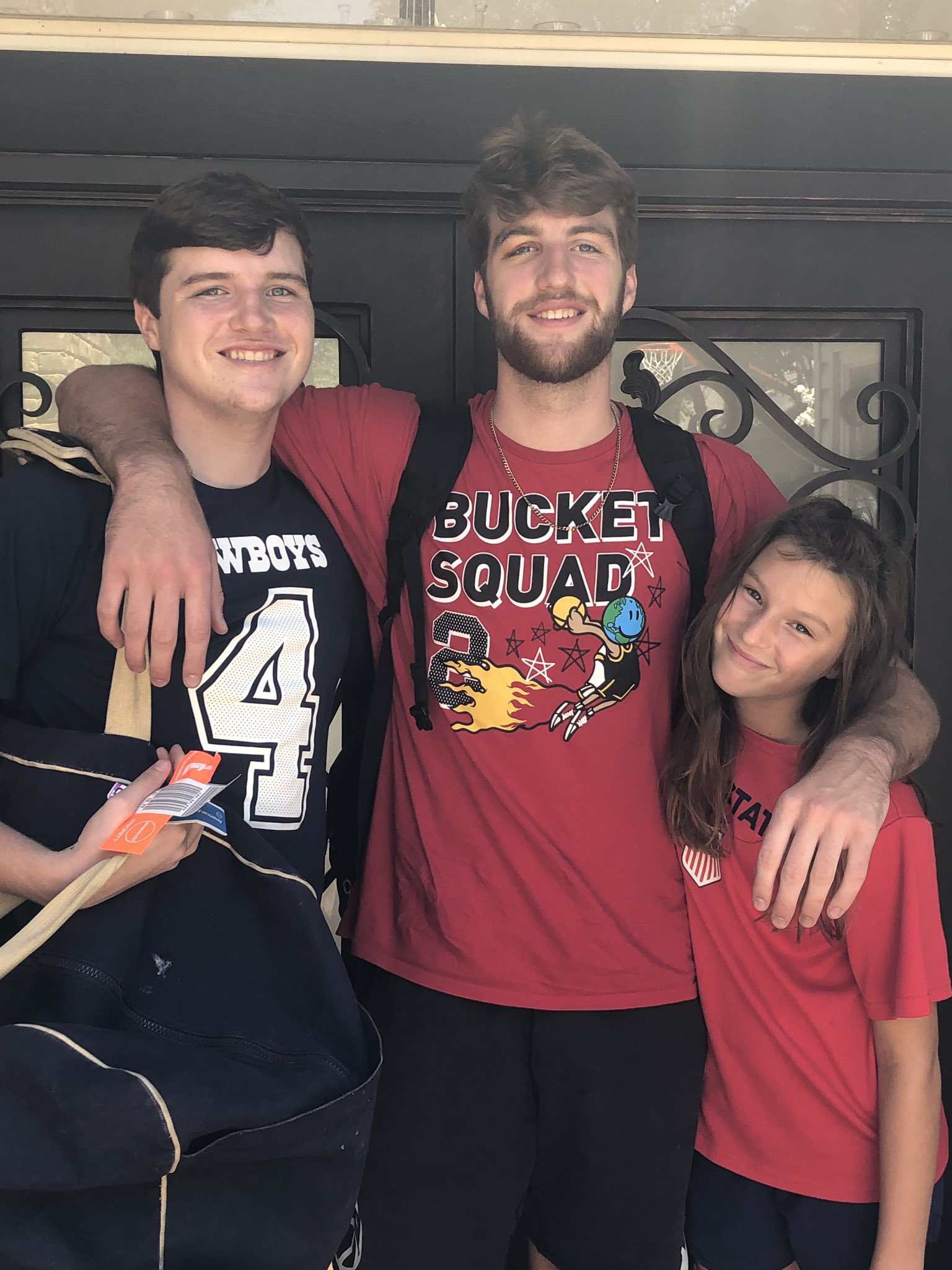 Drew Timme's siblings are both very athletic, with his brother Walker making a name of his own with the Mustangs at J.J. Pearson and sister Kendall excelling at every sport she wants to play.
Dre Timme Brother Walker Timme
Walker Timme started playing basketball when he was five; he played soccer, basketball, and football in middle school, sticking to basketball when he got to high school. 6'6″ Walker Timme is senior power forward at J.J. Pearson, according to verbal commits.con Walker Timme has received an offer from Southern Arkansas.
Drew Time Sister Kendall Timme
Kendall Timme as noted is an all-sport athlete; the 8th grader plays basketball at Parkhill Junior High School. But Kendall is pretty athletic, and she likes to play lots of sports.
What doesn't she play? She plays softball, basketball, soccer, and she used to do gymnastics too. Her brother Walker Timme responded when asked about what sports Kendall Timme played.
Drew Time High School
Timme attended J.J. Pearce High School, averaged 27.7 points, 17.9 rebounds, and 4.3 assists his junior year; was named second-team All-State by USA Today and the District 8-6A Most Valuable Player.
Drew was nominated for the 2019 McDonald's All-American game; he committed to play for the Gonzaga Bulldogs, over offers from Arizona, Illinois, the University of Texas, and Michigan State.
Drew Timme College Career Stats
Drew Timme described as the best power forward in college hoops, was named the Karl Malone Power Forward of the Year on April 3, 2021. He is averaging 19.2 points of 65 percent from the floor, recorded 71 points72 assists ( 2.3 assists per game), 21 blocks, 22 steals in 31 games his sophomore year.
Timme played in 33 games, started in four his freshman year; he averaged 9.8 and 1.3 assists per game; recorded 323 points, 43 assists, 40 blocks, 17 steals. He also averaged  20.5 minutes, shooting 62.1 percent from the floor, and was named to the West Coast Conference All-Freshman team.
Drew Timme NBA
According to the NBA Draft Room, 6'10 Drew Timme is still a sophomore, but they still projected him to be selected in the second round; they projected his teammate Corey Kispert to be drafted first round.
"Timme is a highly-skilled power forward who is one of the main cogs on an ultra-talented Gonzaga team. He's a skilled passer, an efficient scorer and capable defender who projects as a high-end role player at the NBA level."
Drew Timme Jersey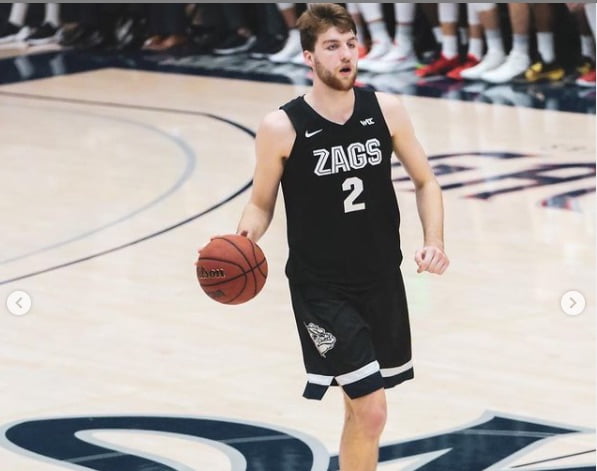 Gonzaga Bulldogs fan, but specially Gimme some Timme fans can get your hands on his jersey at the Gonzaga Basketball shop for $99.98.
Drew Timme Mustache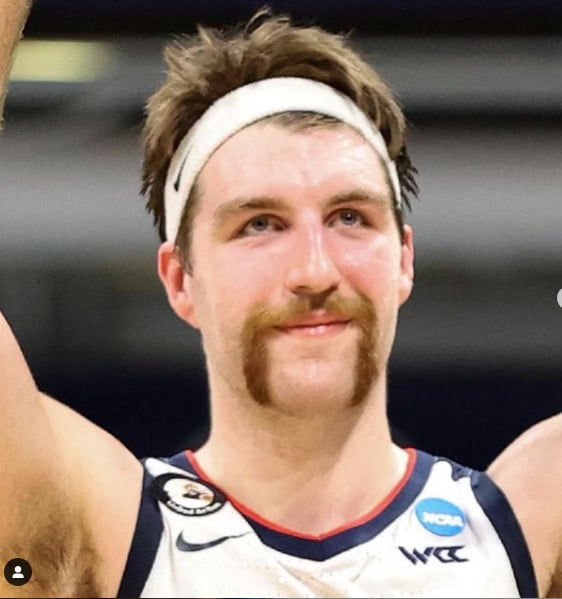 Drew Timme and his mustache make a great duo indeed, maybe his mom Megan is not a fan of his mustache, but fans around the nation love every single time Drew Timme does his mustache celebration.
Drew Timme Girlfriend

It looks like Drew Timme may be single now; back in 2019, he took pretty Lauren Hunt to prom, Lauren a fellow J.J. Pearce high school graduate currently attending Oklahoma State University, her sister Sydney is a soccer player for the Purdue Boilermakers.