Elizabeth Van Zandt
Elizabeth Van Zandt is the loving and supportive wife of Cameroon-born NFL player, Cyrus Kouandjio. Her husband is currently an offensive tackle signed to the Buffalo Bills.
Elizabeth Van Zandt hubby was born Cyrus Berenice Kouandjio on July 21, 1993. Cyrus's brother Arie –also played football.
Cyrus was considered a five-star recruit by publications like Scout and Rivals coming out of DeMatha Catholic High School –where he played football for the Stags program.
In 2011 he announced he would attend the University of Alabama. While playing for the the Alabama Crimson Tide, the offensive lineman won back-to-back BCS National Championships in 2012 and 2013. He was also a First-Team All-SEC selection for the 2013 college football season at Alabama.
Cyrus was then drafted by the Bills in the second round (44th overall) in the 2014 NFL Draft.
Since then, he has started seven games for the team over the past two seasons.
Cyrus who is rehabbing from an offseason injury was recently involved in a bizarre incident in which he told police officers to 'shoot me.' According to the Buffalo News, Kouandjio was found in a field not fully clothed after climbing over an electric fence. When police tried to detain him, Kouandjio reportedly yelled, "Shoot me!."
Cyrus and Elizabeth Van Zandt have been married for less than a year. Meet her below.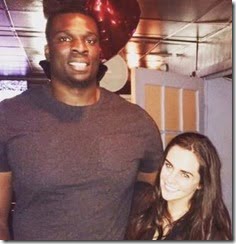 Elizabeth Jane Van Zandt was born June 15, 1992. She is the daughter of Laura and Peter Van Zandt. Elizabeth has two sisters Kaitlin and Fiona and one brother, Peter. Her father played on the PGA Tour.
Elizabeth attended Convent of the Sacred Heart high school and is a San Francisco, California native.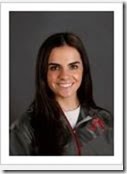 According to the knot, Elizabeth Van Zandt and Cyrus Kouandjio were wedded on June 25, 2016. The couple met while attending the University of Alabama. She majored in political science.
In fact, Elizabeth Van Zandt who now goes by Elizabeth Kouandjio was also an athlete at the University of Alabama.
The gorgeous Elizabeth used to be on the Rowing team while her man played football and made a name for himself.
Cyrus popped the question in Alabama the night of Elizabeth's final home race and her senior day at Alabama. They were married at Saint Brendan Catholic School and held a reception at the California Club South in San Francisco, CA.
You can follow Elizabeth Van Zandt on Twitter here.