Germaine Mason
Germaine Mason, the Olympic high jump medalist who took home a silver medal at the 2008 Beijing Games has been killed in a motorcycle accident.
Initial reports say Mason was coming back from a party in Kingston, Jamaica, in the early hours of Thursday morning when his bike came off the road.
Mason was born January 20, 1983 in Jamaica. Eligible to compete for Britain due to his London-born father he competed for his home country for much of his athletics career, bursting onto the international stage with silver at the World Junior Championships in 2000.
Two years later he won bronze in the same event before also making the podium with a third-place finish at the 2004 World Indoor Championships.
Mason trained with the Stephen Francis-coached MVP Track Club before switching allegiance to Great Britain in 2006, making his GB debut in the 2006 European Cup.
He won Olympic silver for Team GB two years later, equaling his personal best 2.34m to finish behind Russia's Andrey Silnov.
"I was thinking about when I was lying on the hospital bed in Budapest, thinking about missing the 2004 Athens Olympics Games and thinking that I've come a far way from 2004 to 2008 to win the Olympic silver medal, which Great Britain did not win for 100 years,"
Mason said, adding that it was a dream come true.
Blighted by serious injuries after those Beijing Olympics, Mason rarely competed after that career high point and never jumped competitively after early 2012. According to the Express UK, the athlete retired in 2016 and decided to returned to his home nation –where his five-year-old son lives.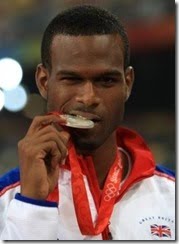 Mason was a close friend with other Olympic competitors including Usain Bolt. The two are known to be big on the Jamaican party scene. Bolt and Mason partied together in London in August 2016, with British model Erica Carvalho and friends.
Pictures from his Instagram account show him enjoying himself with friends last month. However, he makes no mention of a romantic interest on social media, instead hanging out with an entourage.
Mason who is survived by his young son, appeared to be single at the time of his tragic death.