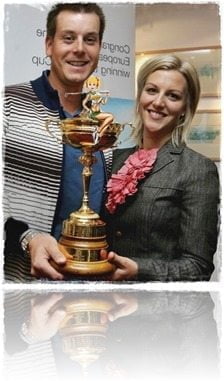 37-year-old Swedish golfer Henrik Stenson met the love of his life in the golf course, his wife Emma also from Sweden was one of South Carolina University's athletic student, she was awesome in a variety of sports, but it was golf that she was drawn to in college.
Stenson's wife Emma Lofgren born in the north of Sweden was an avid alpine skier when she was in high school, but once she moved to the United States and enrolled at the University of South Carolina to pursued her major in Public Relations and Media, she turned her attention to golf, it was playing junior golf with her friends that she was introduce to Henrik in 1996. Emma made the All-Southeastern Conference team in 1999. Finished third at the 1999 Lady Gamecock Classic.
Henrik and Emma got married in Dubai in December 2006, by the end of that year Emma found out she was pregnant, her gorgeous daughter Lisa was born on July 2nd, 2007, and her handsome prince Karl who they call Kalle was born in March, 2010.
Although they no longer live in Sweden, Emma Lofgren and her beloved family  to visit their loved ones at least once a year, they also love to go skiing and snowmobiling which is why they owned a cabin in Tarnaby, Sweden when you can find them in Winter time.
Emma and Henrik Stenson have been living in Florida with their beautiful children since 2012. They joined Henrik as much as their schedules allows them to, don't miss them in he golf course!!
Find Emma on Facebook here.