Matt Buschmann
Matt Buschmann is the husband of former ESPN reporter/personality, Sara Walsh. The couple has been married for the last couple of years and recently welcomed twins!
Matt's wife is a known face from her work as a sports anchor and most recently on ESPN. Sara Elizabeth Walsh was born April 12, 1978. The Florida native received a Bachelor of Arts degree in communications from the University of North Florida in 1999.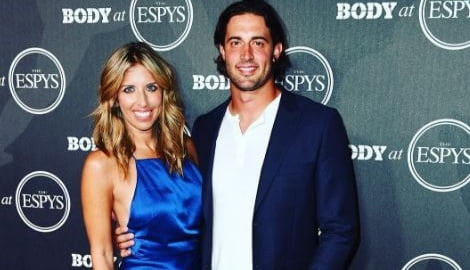 Prior to her career on TV she was a college athlete who holds the University of North Florida school soccer record for goals and points scored in a single game.
After knee surgery ended her career as an atlthete, she opted for the next best thing. She was the sports director at WPGA in Macon, Ga. (2001-2003). She later worked at WKRN-TV in Nashville (2003-2006), and prior to ESPN, she worked at WUSA-TV, the CBS affiliate in Washington, D. C., where she was the weekend sports anchor and also served as the station's Redskins reporter.
The blonde arrived to ESPN in May 2010, primarily a SportsCenter Anchor, Walsh has also hosted SportsNation, First Take, NFL Live, NFL32 and various NFL draft specials.
For her work she has received four Regional Sports Emmy Awards.
But if you enjoyed her work, we have a sad news. The former SportsCenter anchor was returning from maternity leave from giving birth to twins when she was hit with the news she had been included in the recent layoffs.
38-year-old Walsh welcomed twins –Hutton and Brees –earlier this year with husband of three years, Matt Buschmann.
Matthew David Buschmann is a professional baseball pitcher currently playing in minor league for the Buffalo Bisons –a Toronto Blue Jays affiliate. The hunky 33-year-old is six-years younger than Walsh.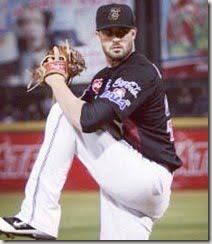 Matt Buschmann was born February 13, 1984. The St. Louis, Missouri native played college baseball at Vanderbilt University.
He was drafted in the 15th round of the 2006 amateur draft by the San Diego Padres and made his MLB debut for the Arizona Diamondbacks, last year.
On April 7, 2016, Buschmann was promoted to the major leagues for the first time after pitcher Kyle Drabek was designated for assignment. He made his major league debut on April 10, 2016, facing the Chicago Cubs. He pitched a scoreless top of the ninth inning, allowing only a base hit to Munenori Kawasaki. Buschmann was designated for assignment on April 29, and outrighted to Triple-A Reno on May 3.
Earlier this year Matt Buschmann signed a minor league contract with the Toronto Blue Jays, and was assigned to the Triple-A Buffalo Bison.
Matt and Sara Walsh met after being set up by Buschmann's former teammate David Price. The couple tied the knot in 2014.
Despite being a short marriage, the couple has faced their share of good and bad news. Matt's wife recently revealed she suffered a miscarriage while hosting the show on the road in Alabama. The couple went through two more failed pregnancies before welcoming twins in February this year.
You can follow Matt Buschmann on Instagram here.