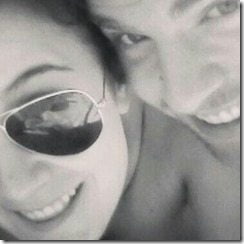 Meet Esther Andonegui Legarda, straight from the old continent, she is the gorgeous girlfriend of Real Madrid's latest acquisitions 23-year-old Asier Illarramendi. The young lovebirds seem to spend lots of time together, but with Illarramendi having departed to Real Madrid in a €39m deal earlier this summer and his busy schedule ahead that might change a little.
Although Asier was missing from practice on the team's first training that took place at UCLA, since he is still in recovery from his injury; but one thing is for sure girlfriend Esther must be looking out for him. Notice even thought they are not married as far as we know she already uses his last name? This girl sure is in love!
The couple's relationship seems very serious, at Asier's welcoming to the team earlier this month we can see Esther in the pictures, looking proudly with her boyfriend. They also spend time with both their families and friends.
She looks like a fun, outgoing young woman who likes to have a nice time with her friends. From her pictures on twitter she works at a bar, enjoys candle light dinners, loves desserts, speaks both Spanish and English and is very close to her family.
Even though the immediate conclusion was that Real Madrid had dramatically overpaid Esther's boyfriend the deal is done and soon Esther will start enjoying the WAG status she's earned.
You can see more pictures of Esther here, and follow her on twitter here. Best of luck in her relationship with defensive midfielder Asier Illarra.