Eva Bossaerts
Eva Bossaerts is the girlfriend dating Euro team golfer, Thomas Pieters. Her 24-year-old beau is currently making his debut in the Ryder Cup at Hazeltine National Golf Club in Minnesota.
Thomas Pieters born January 27, 1992, originally from Antwerp, Belgium, played golf for the University of Illinois. He turned pro in 2013.
Thomas started playing golf at age five, after his parents discovered their love of the game on holiday in South Africa.
Following his amateur career in America, he attended the Top Sport School (Golf) of the Golf Association Flanders (Belgium), where he first met his current coach Pete Cowen.
Thomas progressed through all three stages of the 2013 Qualifying School, taking the 20th card at the Final Stage. His first year playing on Tour (2014) included 4 top 15 finishes, and a second placed finish at the Open de España.
Last year he won back-to-back at the Czech Masters and KLM Open, and finished a career high of 29th in the Race to Dubai Order of Merit.
He is said to be dating the pretty Eva Bossaerts. It is not clear how the couple met or when they started dating, but it might have to do with the fact that they both hail from the same city in Belgium.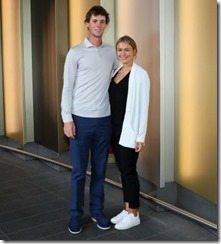 Eva made her way into the glamorous WAGs group today while cheering for her young beau at the Ryder Cup opening ceremony. She waved Europe's flag along with Kate Rose, Emma Stenson, Helen Storey, Nicole Willett and Bethany Wood.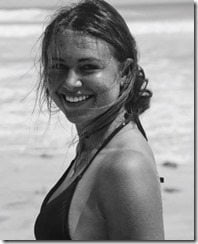 Eva Bossaerts of Antwerp, Belgium was born February 25, 1995.
Not much is available about the lovely blonde. She isn't active on social media and by the looks of it, she enjoys her low-key-profile. She doesn't even appear on Pieters's Instagram. Odd, giving most wags are usually not shy at all, when it comes to exhibit their love for their fellas. It looks like Eva Bossaerts has a long way to go.
But, let's give her a break, after all she is only 21. We did some deep digging, and as it turns out, Eva is also a competitive athlete. It looks like she and Thomas have more in common than just good looks.
Accoridng to online records, Eva Bossaerts is a figure skater.
You can find Eva Bossaerts on Twitter here.