British racing driver young Max Chilton is ready to make his upcoming debut on Sunday for the Banbury based Marussia Team, luckily for him our 21 year old friend is very well accompanied by his super hot girl Chloe Roberts.
A girl like that is for sure any guys luck charm wouldn't you say! Blessed with model looks this British boy has been breathing racing cars since he was a little boy! OK even more little than now I know he has such a baby face but, imagine being 10 years old and going from a fun afternoon at your favorite go karting track and now competing in F1!! Well this is how our friend started practicing and picturing himself in what would become his reality.
'Ever since I can remember I sat on the living room floor on Sunday afternoons watching F1 races,'
But enough about him, I'm sure we'll be seeing a lot more about his driving skills…Time to focus and steel for a little while his stunning girlfriend! The name? Chloe Roberts.
This Brits started dating four years ago, this girl from Surrey, Uk stole his heart when he was 18 and have been inseparable ever since, think maybe we'll hear wedding bells soon?? Even though Max hasn't been approach by any crazy fans just yet he stated his girl is the one he's thinking of!
"I've not had pictures of women yet or been sent underwear — I'm well settled with my girlfriend"
The couple was seen strolling on a Beach in Barbados, looking very relax and showing Chloe's awesome body! From the pictures you can see they are a very stylish couple or could it be girl Chloe is helping with his image? Well we don't know for sure but they sure know how to dress!
The tall blond was seen wearing a skimpy bikini along with boyfriend but looking very hot together.I think this shows real commitment right being there for him, showing her support in such an important moment in Chilton's life! Too bad she would have to cheer for him from home.
26-year-old Chloe Miranda Roberts graduated last year with a distinction diploma in arts and design from The University of the Arts in London.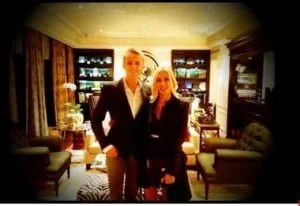 Despite of his years he sure has kept a level head about his sudden fame, you know that's the doing of a good girl by his side. Plus looking very thankful to love from the fans.
"Until I am on the grid, the lights go out and I am racing, only then will I feel like a full-time F1 driver.
But I have had lots of good support. Britain is a huge fan base of racing fans, so they are behind me and the more drivers we have on the grid, the better it is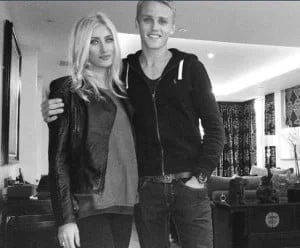 Follow  hot and smart Chloe Roberts on twitter here and see more pictures of them here.
F1 fans you can follow Max on twitter here!