Abigail Clarke
Abigail Clarke is the new woman in the life of boxing champ, Floyd 'Money' Mayweather. The 40-year-old who is yet to be married has been linked to a number of women, most recently, Miss Clarke. Meet her below.
Floyd Mayweather Jr. was born February 24, 1977; the Michigan native was born into a family of boxers and went onto become one of the most lucrative pay-per-view attractions of all time, in any sport.
Money who recently retired following an undefeated record of 50-0, surpassing Rocky Marciano –held 15 world titles in five weight classes and the lineal championship in four different weight classes (twice at welterweight). He is often referred to as the best defensive boxer in history.
He was named the highest paid athlete in the world by Forbes and Sports Illustrated in 2012 and 2013.
Mayweather is widely known for his loud mouth and brash personality as well for his taste in women. He has four children daughters Jirah and Iyanna; and sons Koraun and Zion.
He and high school sweetheart, Josie Harris is mother to Koraun, Zion, and Jirah. Daughter Iyanna was born form his relationship with ex-girlfriend Melissia Brim.
He was also engaged to Shantel Jackson, but the couple broke up before tying the knot.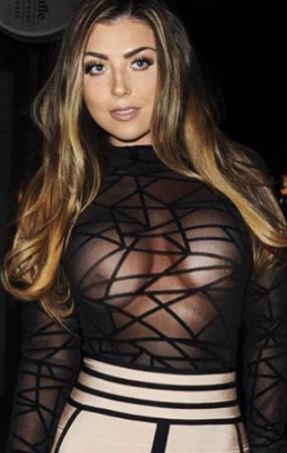 Abi Clarke is an English former reality star who appeared in British TV show, The Only Way Is Essex. The two are said to have enjoyed a string of dates together since meeting in Las Vegas last year.
25-year-old Abigail Clarke, is a fitness model who is most famous for appearing on reality show TOWIE. The Essex beauty starred on Towie for three years from 2013 to 2016.
A source told the Espress.UK: "She was in a fragile and vulnerable place and Floyd has made her feel confident again." The source also added Abigail is well aware of his reputation as a "party animal; however, she's been pleasantly surprised and discovered he's actually a really lovely guy."
Abigail Clarke was previously in a relationship with Rob Davies.
She has had cosmetic surgery a number of times including a breast enlargement in 2012 and liposuction this year in Turkey. In 2015, Clarke appeared on Channel 4's Bodyshockers after botched lip filler surgery left her in agony for six months.
The self-described nutritionist has spoken candidly about her body issues and set up Abis Fitness to help inspire people to lead a healthy active lifestyle.
You can check her out on Instagram here.