Logan Paul Girlfriend in 2021
Who is Logan Paul's current girlfriend? Read everything you need to know about his family, dad, mother, siblings; take a glimpse inside his house, his fortune, current net worth, career, and so much more. As well known, Logan Paul became famous thanks to Vine in 2013, later that same year on YouTube. He has been described as one of the most influential social media personalities.
Throughout the years, Logan Paul has released music albums, worked on television and films like Airplane Mode, Valley Girl alongside Jessica Rothe, Josh Whitehouse, and Judy Greer. However, controversies have followed him from day one, from his red-green colorblind statement, "What is it, male-only March? We're gonna attempt to go gay for just one month.", Tide Pod Challenge, and that dreadful video in the forest in Aokigahara, Japan, part of his Tokyo Adventures series, that ended up with his suspension from Youtube, and halting of his earnings.
Paul found his way back to stardom, thanks to boxing, first British YouTuber KSI twice, and more recently Floyd Mayweather on June 6, 2021.
Logan Paul Dad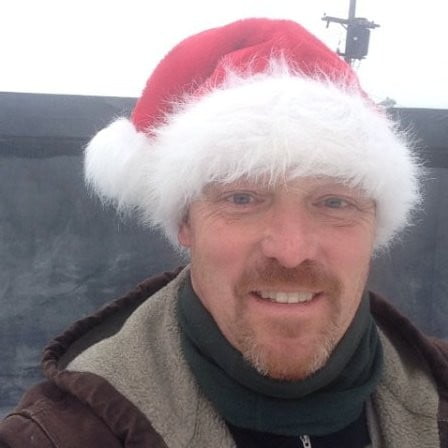 Logan Paul's dad is Gregory Allan Paul; Logan's father was born on October 28, 1963, in Ohio. He attended Lakewood High School and Ohio University. He is a consultant at Greg Paul, CRS, and the owner of Commercial Roofing Solutions. In addition to that, Mr. Paul is a licensed realtor for Howards Hanna Real Estate Services in Akron and Cleveland, Ohio.
Logan Paul Mom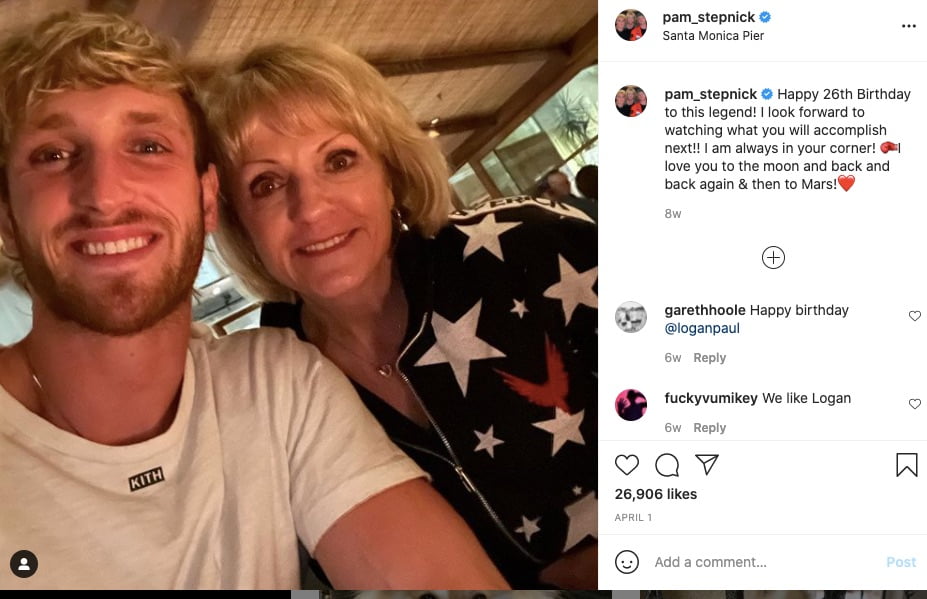 Logan Paul's mother is Pamela Ann Stepnick (nee. Meredith), born on July 27, 1963. She studied nursing at Ursuline College from 1986 to 1991. Mrs. Stepnick was a nurse at St.Vincent Charity Medical Center from 1986 to 1988; later on, she joined Mount Sinai's Critical Care Unit and subsequently worked at the University Hospitals Westlake Surgery Center.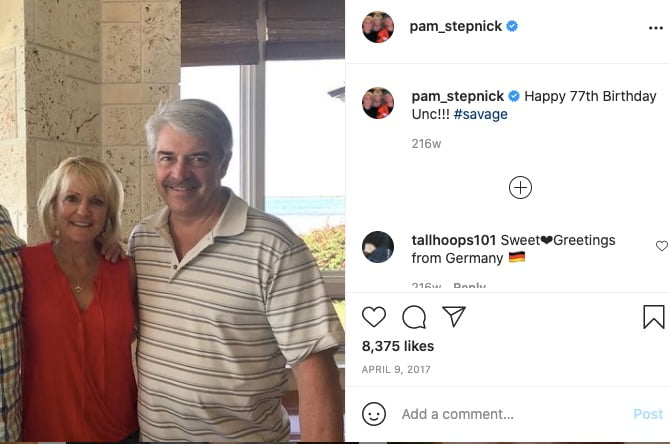 Pamela Stepnick apparently remarried David Stepnick in November 2008; Mr. Stepnick is a physician and facial plastic surgeon at the University Hospitals Case Medical Center and MetroHealth System, where he is also a board member. Logan Paul's stepfather has been a professor at Case Western Reserve University; he graduated from John Hopkins University in 1980 and from the University of Pittsburgh School of Medicine in 1984.
Logan Paul Sister
Logan Paul doesn't have a sister; we couldn't find if his stepfather, Dr. David Stepnick, has a daughter from his previous marriage. Some people believed Corey Talbott is his sister, but she isn't.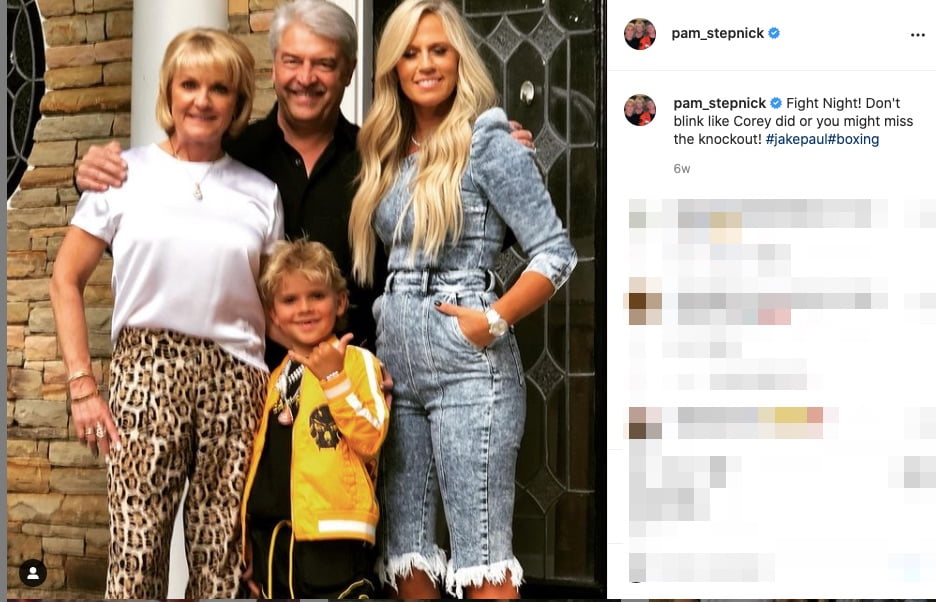 I get the confusion; Pam has a photo with Corey; in case you didn't know, Corey is married to former MLB player Travis Talbott; together, they have three children, daughters Ryatt and Bowie, and a son Tydus, aka mini Jake.
Logan Paul Siblings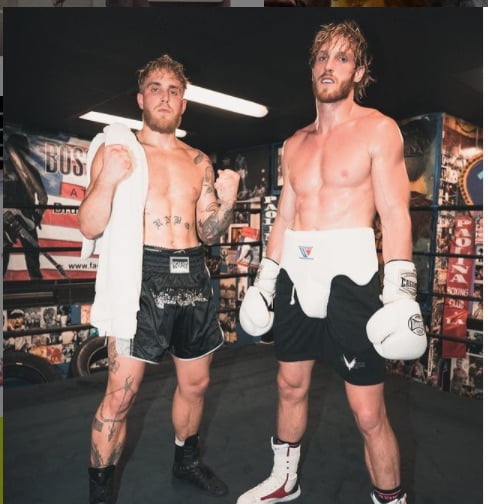 Logan's only brother is Jake Paul, an influential social media personality and boxer; Jake was born on January 17, 1997, in Cleveland. Jake Paul's net worth has been estimated at $11.5 million. The Orthodox amateur boxer has an undefeated fighting record; he defeated AnEnsonGib by TKO on January 20, 2020, knocked out Nate Robinson on November 28, 2020, in the Staples Center in L. A and most recently defeated Ben Askren by KO at the Mercedes Benz Stadium on April 17, 2020.
Jake Paul's dating history goes like this:
Dated YouTuber Alissa Violet from November 2016 to February 2017.
Dated model Erika Costell in April 2018 broke up in November 2018.
In April 2019 started dating YouTuber Tana Mongeau; they broke up in January 2020.
In January 2020, dated model Julia Rose, they split up a few months later.
More recently, Jake has been posting videos and photos with ex-GF Erika Costell, but sources assured us they are not back together.
Logan Paul High School
Logan Paul attended Westlake High School; he graduated in 2014. While attending Westlake, Logan Paul played linebacker for the Westlake Demons; he was named the Southwestern conference MVP, recorded 92 tackles his senior year. In addition to football, Logan was a member of the wrestling team. In February 2019, Paul revealed he suffered long-term brain damaged from his football years.
Logan Paul College
So after high school, Logan Paul planned to get his degree in industrial engineering; he enrolled at Ohio University but decided to quit his studies that same year and turned his full attention to social media; the rest, as you all know, is history.
Logan Paul Dog
In 2017, Logan Paul introduced the world to his adorable Pomeranian dog called Kong da Savage; Logan revealed a coyote took Kong in April 2019.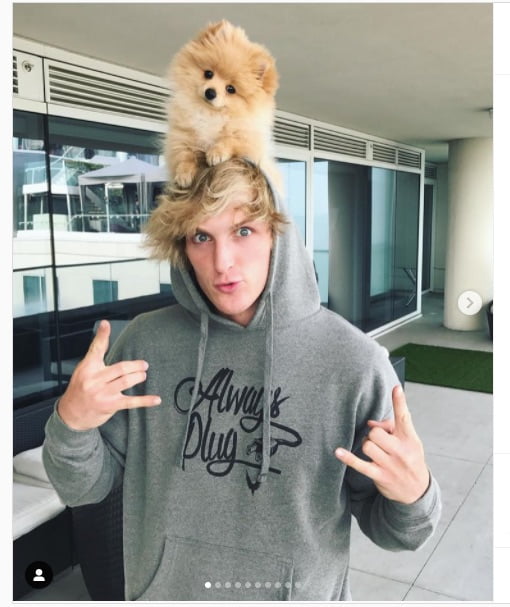 "well. rest in peace you little inbred. you little golden puffle poof. your tongue will forever be long & bountiful … my son @kongdasavage was taken by a coyote last night from our front yard. despite his savagery, he didn't stand a chance.
I'll miss his mindless, empty stares. his incessant 7 am barking. his urine stains on my chestnut floors. you've made your dent in this universe and I wouldn't have expected you to go any other way… love you @kongdasavage god damnit. I'm coming for you yotes heed my words."
That same month Logan Paul purchased his pomsky pup, King Broley Blue. He also owns a female red Tibetan mastiff called Ginger.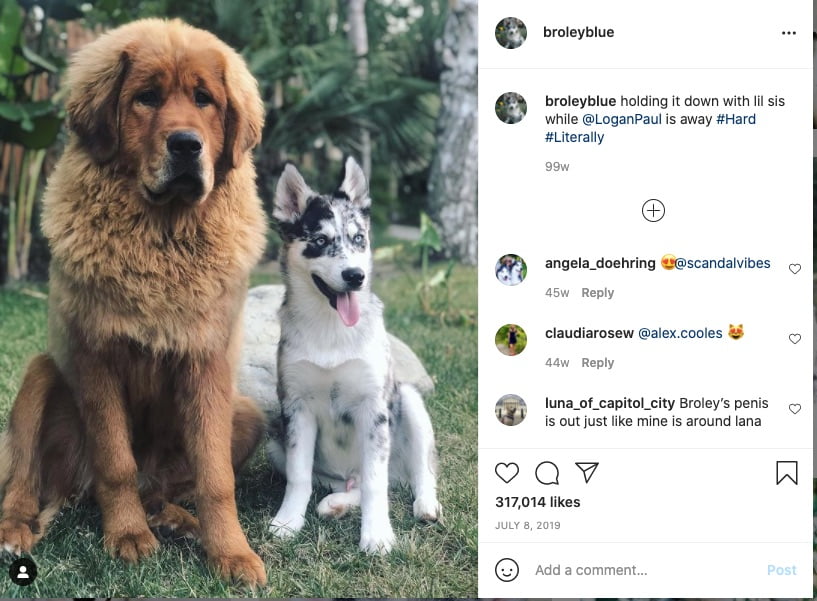 Logan Paul Wrestling
As we previously told you, Logan Paul did wrestling while he attended Westlake High School. In 2014 competed for the second time at the state wrestling tournament, all while carrying a 4.7 GPA.
Intense, very very aggressive East Cody's very coachable; he is a leader, he is tenacious, he just doesn't stop. He is very very smart and very aggressive and in the sport that's what we need; he is an outstanding student, role model, he is one of our captains, two-time state qualifier, he's just an outstanding leader in the program, I would  take 14 to him every year, there's no doubt about that" said Logan Paul's wrestling coach Mike Antonyzyn.
Logan Paul Net Worth
As of May 2021, Logan Paul's net worth has been estimated at $19 million; according to Forbes, Logan earned around $14.5 million before taxes in 2017 and 2018 from YouTube. Logan also adds a couple of zero's to his earnings from his clothing line Maverick, and he will add a few more from his upcoming fight with Floyd Mayweather.
Where Does Logan Paul Live
Logan Paul currently lives in his house located at 4546 White Oak Ave, Encino, CA, in the  Rancho Estates neighborhood; architect Robert Byrd designed the property in 1972. Take a look inside.
Logan Paul House
Logan Paul and his family lived in a  2700+ square foot, 3 beds, 3 baths house in Westlake, Ohio. In 2014, he moved into a rented apartment in a complex located at 16000 Vine in Los Angeles. In 2017, he moved into his Encino mansion he purchased for $6.55 million. Logan Paul's 9,000 square feet five-bedroom house was built in the 70s'. In 2020 paid $1.1 million for a home in San Jacinto. In May 2021, Logan paid $10 million for a rental home in Puerto Rico.
Logan Paul Height and Weight 
Logan Paul's height is 6'2 or 188 cm. Paul's weight from his fight with KSI was 189.6 lb (86 kg).
Is Logan Paul Colorblind?
In September 2017, Logan Paul claimed he was red-green colorblind; he even used some glasses, which he assured allowed him to see color.
'I'm sure you've seen it but if you haven't, the gist of it is, I got the glasses and they cure my colourblindness,' he began in another video posted last year.

'Well that was the title and that's what I made it look like. I got a lot of hate, a lot of people made fun of me and said it was fake and that i wasn't colourblind.'

I wanted to create an amazing story; an amazing piece of content that showed what it means to be colourblind. Just like any storyteller, I exaggerated my reactions.

I did not lie. What I did do is embellish. You heighten the circumstances and make it a little bit more fun but there is a core and a truth to it.'
Logan Paul Arrested
As far as we know, Logan Logan hasn't been arrested; he did, however, arrested the guy he found trespassing in his house in February 2018. The DailyBeast reported that after watching his videos,  Japanese police found at least four crimes and that they were looking forward to arresting him.
"Logan has uploaded evidence of himself committing violations of several laws with apparent criminal intent," says one former prosecutor who declined to go on the record. "Even if some of the events were staged, not all of them can have been, and if there were criminal complaints filed, the police would have to (probably happily) investigate."
Logan Paul Hairline
Logan Paul's receding hairline has been calling people attention since 2018. Later in 2021,  he sported a fuller head, hinting that maybe Logan got himself a hair transplant.  Hairliciously is pretty certain; Logan Paul got a hair transplant.
Who is Logan Paul Dating?
Logan Paul Girlfriend
Logan Paul dated Jessica Serfaty in 2015, Amanda Cerny and Teala Dunn in 2016, Ayla Woodruff and Alissa Violet on-again-off in 2017. Between 2017 and 2018, he hooked up with Chloe Bennet, Chantel Jeffries, Olga Safari, and Lydia Kenney. In 2019 dated Corinna Kopf and Jose Canseco's daughter model Josie Canseco in 2019 and 2020.  More recently, he was dating Charly Jordan.
Logan Paul UFC
Logan Paul hasn't fought in the UFC; Dana White was stunned when he found about Logan Paul and Floyd Mayweather's fight; many believe White would never sign neither Logan nor Jake after signing CM Punk.