Meet Roberta Vinci's phenomenal coach Francesco Cina
Francesco Cina former Italian tennis player continues to surprise Italian fans, but this time not playing but as coach of Italian player Roberta Vinci. Are you ready to meet Francesco Cina?
40-year-old Francesco Cina born June 30, 1975 in Palermo, Italy. He started his tennis training at aged 14; during his years as a tennis player back in the 90's Francesco Cina was a right-handed player who had modest success in clay surface courts. Francesco Cina reached his best singles ranking of world number 427 on July 10, 1995.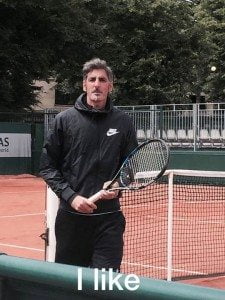 Francesco Cina and Roberta have been working together for a couple of years. Vinci's play has improved, slowly but surely. She gave credit to her improvement to her dear friend and coach Francesco Cina. Cina said working with female tennis players wasn't easy, but he learn to listen.
Cina and Vinci reached the US Open quarter finals after Eugenie Bouchard withdrew a few hours before the match after she slipped and hit her head in the locker room, whom Vinci defeated 6-1, 6-0 in the first round of the Connecticut Open two weeks before. Later, she defeated Kristina Mladenovic to reach US Open semi finals. Roberta eliminated champion Serena Williams 2-6, 6-4, 6-4 en route to her first Grand Slam final against her friend Flavia Pennetta.
Francesco Cina is not dating Roberta whatsoever, I felt like we need to make that crystal clear, someone one asked us if Roberta had a son, and the answer is no she doesn't, the beautiful handsome boy with Vinci in many photos on Instagram is not her child, but Francesco Cina's son, he and his wife former tennis player Susanna Attili are the proud parents of not just one but two amazing children.