Canadian female pro wrestler, Jasmin Areebi can go back to sleeping at night! The 20-year-old WWE NXT Diva has been the latest WWE figure to face controversy due to racist comments.
She received public backlash after social media posts she made a few years back resurfaced online a couple of days ago. It is believed Jasmine Areebi made a racial tweet in 2011 and another in 2012.
However, according to TMZ, the young Diva never tweeted the N-word and the tweets were the result of a hack! The tweets were pretty disturbing but WWE conducted an investigation and it turns out Jasmin's Twitter account was used without her knowledge when she was 16 and 17 years old.
Jasmin Areebi was born Nhoop Al-Areebi, on November 23 1994, she is of Arbaic descent and hails from Toronto, Canada. She was part of this year's 11 international recruits brought into the WWE Performance Center to begin training.
Jasmin Areebi became first interested in professional wrestling when she was 16-years-old. She saw an advertisement for a seminar held by Toronto native and former TNA Knockout Taylor Wilde and has been training ever since. She had her first official match in January 2013 and has competed for numerous Canadian-based promotions, including competed for AIW and NCW Femmes Fatales.
She also makes an appearance in the latest episode of Diva Dirt's LVD TV.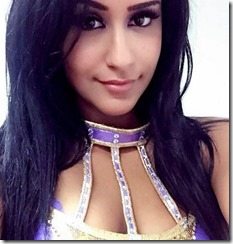 Al-Areebi wrestles in NXT under the ring name Jasmin, and although she has yet to make her debut on NXT TV, she has been competing regularly at NXT live events. She posted on Facebook about the most recent event she headlined on August 29th, in a 6 person mixed tag match with The Vaudevillains vs Blake and Murphy and Alexa Bliss.
Info online, also says she attended St. Joseph's College School in Toronto and is or was pursuing a nursing degree at Toronto's George Brown College.
The girl definitely means business, but we don't know much about her love life. She has a pretty face to go along with her fitted bod so she's definitely attractive, we have no doubt she might be dating someone, what do you think? Is she taken or nor?
We are glad Jasmie Areebi gets to keep her job!
Find her on Facebook here.