Holly Sonders
Holly Sonders is the stunning girlfriend of newly named NFL head coach, Kliff Kingsbury.
Holly's coach boyfriend was named the new head coach of the NFL's Arizona Cardinals. Kliff, -a New Braunfels, TX native born August 9, 1979 –is in his first year as an NFL head coach. He comes to the Cardinals after a six-year stint with Texas Tech at just 35-40. The 39-year-old also went from a fired head coach to a hired USC offensive coordinator.
Kliff has remained a single man but that could change as it's been revealed he is currently dating, the gorgeous Holly Sonders. Following confirmation as the new head coach of the Cardinals, Sonders couldn't help to congratulate her man and shared the happy news on her Instagram with the caption "Couldn't be any prouder of this one. ❤️❤️ Truly the best human being I know. Congratulations K. Let's. Go."
The lovely brunette and potential NFL wag, is also in the sports business which is a great thing to have in common with her new man.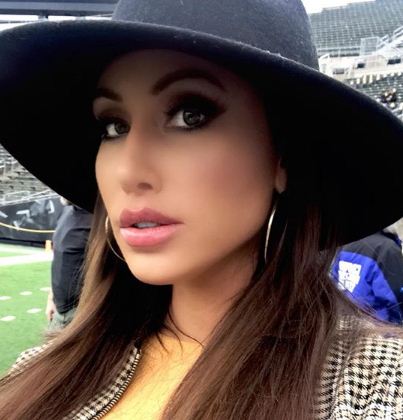 Pin
She is a FOX Sports host and reporter. Sonders is also a bit of a fashionista, with her looks and great shape, she often posts images of her styling –which is always on point.
Sonders was born March 3, 1987; in Marysville, Ohio. She earned her journalism degree from Michigan State University –where she was a member of the women's golf team, starting all four years for the Spartans.
She began her journalistic career t WBNS-10TV in Columbus. She then served as a sideline reporter to the Big Ten Network. Prior to Fox she was also a field reporter at KATV in Little Rock, Ark. At Fox she can be seen broadcasting for FOX Sports' USGA championship coverage. She's also a reporter for FOX College Football.
The 31-year-old is also a divorcee, she tied the knot to Erik Kuselias –a sports television and radio host. The couple tied the knot sometime after he proposed in 2012. It is not clear exactly why and when they separated.
Check her out on Instagram here.