Kadre Dixon
Meet the beautiful Ms. Kadre Dixon! She is the lovely girlfriend of Ja Morant; her stud is the 6'3" point guard from Crestwood, South Carolina selected in the first round (2nd overall) in the 2019 NBA Draft by the Memphis Grizzlies.
Prior to that, Morant played college basketball at Murray State and at Crestwood High. His dad, Tee Morant played with Ray Allen in high school before he attended Claflin University.
Ja Morant Parents
6'3 Ja Morant was born on August 10, 1999, in Dalzell, South Carolina; he is the son of former college basketball athletes, Jamie and Tee Morant, also proud parents of their youngest daughter Teniya.
Jamie Morant
Ja Morant's mom Jamie was born Jamie L. Shanks on December 20, 1975, in Appling, Georgia. Jamie played basketball in Harlem High School (class of 1994) and softball when she attended Claflin College where she met her husband and from where she graduated in 1999, with a Bachelor of Arts in Biology. Jamie and Tee Morant got married on September 18, 2004.
Tee Morant
Ja's dad TeeMorant was born Ronnie Teevin Morant on November 1, 1974, in Sumter, South Carolina; he is one of the children born to Saundra E. Dawson.
Tee Morant played basketball Hillcrest High in Dalzell, South Carolina with Ray. Allen and later for the Claflin University Panthers in Orangeburg, SC. His plan was to play in the NBA, he participated in free agency camps and also played internationally, but he quit everything when he found out Jamie was pregnant.
Tee Morant became one of a barber in South Carolina, always making time to train with Ja; Tee knew his son had what it took to make it in the NBA, but he also knew they had to work hard to get there.
"The negative things I had in me, I wanted to keep out of him, as far as the going out and all that," Tee said. "I wanted him to focus on his dream. I didn't put 100 percent in mine."
"He just knows what it takes," Ja said. "Everything is really just a credit to him. The main thing out of my game that he had was his athleticism. He could jump and had the drive to play defense."
With Ja in the NBA, Tee continues his training session with his daughter Teniya.
Ja Morant Sister
Teniya Morant
Ja's younger sister 5'7 Teniya Morant was born on February 16, 2005. Teniya plays basketball at Houston High School in Germantown, Tennessee.
Ja Morant College
Ja Morant attended Murray State on a basketball scholarship; he committed on September 3rd, 2016. He averaged 336 points, 174 assists, 26 steals, 10 blocks, in 27 games, his freshman year. The following year Morant averaged 808 points, 331 assists, 58 steals, 27 blocks in 33 games. He announced he would forgo his last two years of college and declare to the draft.
Ja Morant NBA Career
On June 20, 2019, Ja Morant was the second overall selection drafted by the Memphis Grizzlies during the 2019 NBA draft.
On July 2, 2019, he signed his rookie contract with the Grizzlies.
Ja Morant made his NBA debut on October 23rd, 2019 against the Miami Heat.
On September 15, 2020, Ja was named 2019-20 Kia NBA Rookie of the Year and unanimously selected to the 2019-20 NBA All-Rookie First Team.
Ja Morant Net Worth
As of February 2022, Ja Morant's net worth has been estimated at $80 million.
Ja Morant Endorsements
In addition to his salary, Ja Morant earns from his endorsement deals with Nike, Hyperice, Uber Eats, Hulu, PSD, Wendy's, and BodyArmor Sports Drink.
Ja Morant Contract & Salary
Ja Morant signed a four-year, $39,619,840 contract with the Memphis Grizzlies; the deal included $27,500,400 guaranteed and an annual salary of $9,904,960 million.
Ja Morant Jersey
Memphis Grizzlies fans looking for Ja Morant's #12 jersey, you can get yours at the Grizzlies Store, NBA Store, Amazon, Fanatics, and 's Sporting Goods.
Ja Morant Wife
Ja Morant doesn't have a wife, he isn't married, but he has a child, Kaari, from his relationship with former GF Kadre Dixon.
Ja Morant Girlfriend
It looks like Ja Morant doesn't have a girlfriend at this moment, a couple of years ago, a rumor regarding Morant dating Andre Drummond's babu mama Abigail Russo was reported, he however denied dating Abigail.
Not long after that, he was linked to Jaden Owens.
Earlier this year, it was reported Ja Morant was dating Drake's former girlfriend Johanna Leia. The rumor was first reported by Awesemo.
"Ja Morant has been recently linked to 40 year Johanna Leia. For those who don't know who she is she is the mother of Highschool Basketball Star Amar Bailey. This tea is for those who are fans of Ja. He's been liking all her pics and she recently followed him on Instagram. She's been to a few of his games and he flew her out to Denver for his game tomorrow. Johanna has two kids. A 17 year old son and 7 year old daughter. There seems to be a trend now of young athletes dating older women."
Ja Morant Baby Mama
Kadre Dixon
22-year-old Kadre Dixon from Antoine, Arkansas and born on August 31, 1999, is the middle child of Christal and DeShannon Dixon; her older brother Tyrik is a basketball player with the Blue Raiders at Missouri State; her younger sister is the beautiful Ms. BrayLee.
Her father graduated from the University of Arkansas.
5'10" Kadre graduated from Southwest Christian Academy and is now attending Fisk University, in Nashville, Tennessee; hopefully, she will graduate in 2021. In addition to volleyball, Ms. Dixon also excelled in basketball.
Kadre Dixon published her children's learning and coloring book Kaari & Kree's Come Learn With Us in January 2023.
Ja Morant Daughter
Kadre and Ja welcomed their adorable daughter Kaari Jaidyn on August 7, 2019.
While Kadre and Ja are no longer together, little Kaari enjoys quality time with each mom and dad.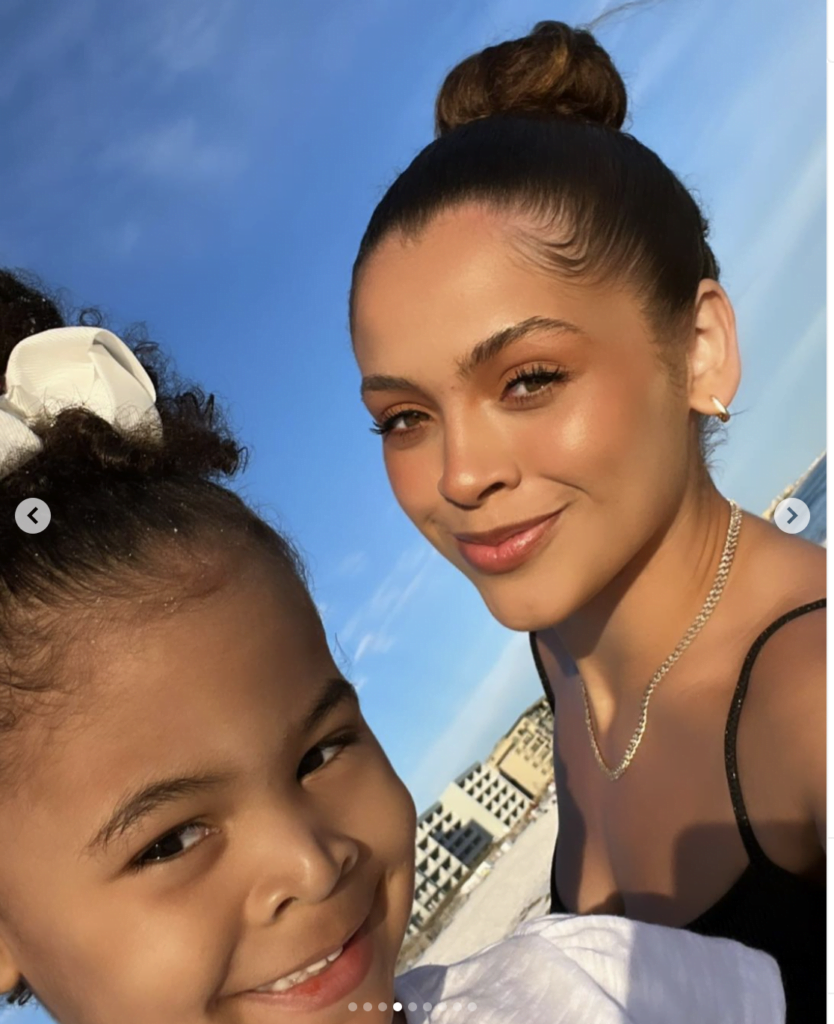 Little Kaari Morant has over 188k Instagram followers. Find Kadre Dixon aka KKDixonn, on Instagram here.
Related Story: Desmond Bane Mother Marissa Bane