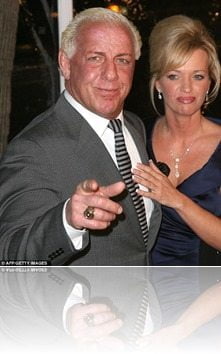 Meet Jacqueline Beems, she is the wife of Richard Fliehr, mostly  known as the semi-retired American professional wrestler Ric Flair, who filed for divorce from Beems his fourth wife last year, Beems had an arrest warrant for harassing Flair's current girlfriend Wendy Barlow  this month when another arrest warrant was issue for Ric Flair for not paying Beems more than $32,000 in spousal support.
64-year-old Ric Flair has been married four times, his first wife Leslie Goodman became his wife in 1971, during their marriage that lasted until 1983 they had two children together, daughter Megan Fliehr now Megan Fliehr Ketzner who gave birth to her daughter Morgan in 2004 and David the 34-year-old WCW wrestler who once dated George Clooney's ex Stacy Keibler.
In 1983 Ric got married to his second wife Elizabeth the mother of his two youngest children Ashley Fliehr, 27, who was a star volleyball player at Providence High School and now is competing  under the name of Charlotte with the WWE.
Ric and Elizabeth second child was Reid Flair who like his father and older siblings became a wrestler in 1998, sadly Reid died from an accidental overdose of and the prescription drugs clonazepam and alprazolam on March 29, 2013.
Elizabeth and Flier divorced in 2006, the same year that he got married to his third wife Tiffany VanDemark on May 27th, a fitness competitor who announced she had filed for divorce two years later, the divorced was finalized the following year.
And finally we came face to face with Ric Flair's fourth wife, 43-year-old Jacqueline Beems with whom he tied the knot on November 11, 2010 in Charlotte, NC after meeting for the first time in Chicago in 2004.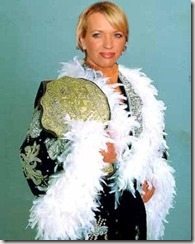 Jacqueline Baines Beems was born on on September 02, 1968, she was arrested in February, 2010 and charged with simple assault. The whole happened when police received a domestic violence call at 11:40 p.m. on February 21, 2010 at the couple's home in the Stonecroft neighborhood of south Charlotte. The police report stated Ric Flair suffered minor visible injuries, claimed to be from the "hands, feet and teeth" of Beems, but refused to go to the hospital for treatment. The report indicated the incident took place as the two were returning home after dinner.

Jacqueline Beems was once again arrested on March, 2012 on charges of reckless driving and driving while intoxicated, then on June 26, 2012 police arrived at their 4000 block of Sharon Road near SouthPark Mall where Beems allegedly assaulted Flair for the second time. On September 3, 2012 it was announced Ric and Beems were divorcing.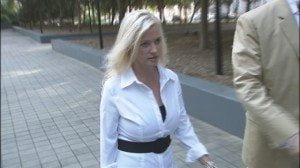 Last month is was reported an arrested was issued for Jacqueline Beems who allegedly made a series of harassing phone calls to Wendy Barlow Kidder, Beems was  Flair's new girlfriend, was released on a $500 unsecured bond.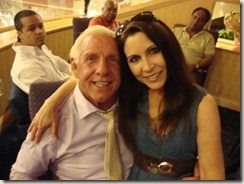 Beems claimed Ric Flair was ordered to pay her $4.000 a month in spousal support, somehow he stop paying her and after two court orders he still owns Jacqueline $32,352.51 , if he pays up he can avoid going to jail.