Molly Manley
Have you met Molly Manley? She is the amazing and beautiful mother of Jalen Suggs, the insanely talented point guard and shooting guard for the Gonzaga bulldogs at Gonzaga University, described by many as Gonzaga phenom.
Jalen Suggs High School
Jalen Suggs attended Minnehaha Academy in Minneapolis before Gonzaga; not only Jalen played basketball, but he also was a phenomenal football quarterback leading his team to the Class 4A state championship his junior year,  Class 4A runners-up his senior year. He was named Minnesota Mr. Football and MaxPress' Athlete of the Year his senior year.
In basketball, Jalen Suggs averaged 21.5 points, eight rebounds, five assists per game his freshman year; 23.3 points, 4.7 rebounds, 6.3 assists per game his junior year, 23.3 points, 4.7 rebounds, and 6.3 assists per game his last year in high school.
Jalen Suggs Gonzaga Career and Stats
Jalen Suggs committed to Gonzaga over scholarship offers from Iowa State, Minnesota, Florida State, and the University of Florida on January 3, 2020.  He recorded 409 points, 133 assists, 10 blocks, 55 steals in 29 games.
Jalen Suggs Height & Weight
Jalen Suggs' height is 6'5 (1.96), his weight is 200 lb (91 kg) his athletic frame runs in his genes, his father played football and basketball in high school, and second causing to NFL linebacker Terrell Suggs, Jalen has several cousins that played NCAA Division I basketball including Eddie Jones former NBA shooting guard who once played for the Los Angeles Lakers, Grizzlies, Mavericks, Miami Heat, and Charlotte Hornets.
Jalen Suggs Jersey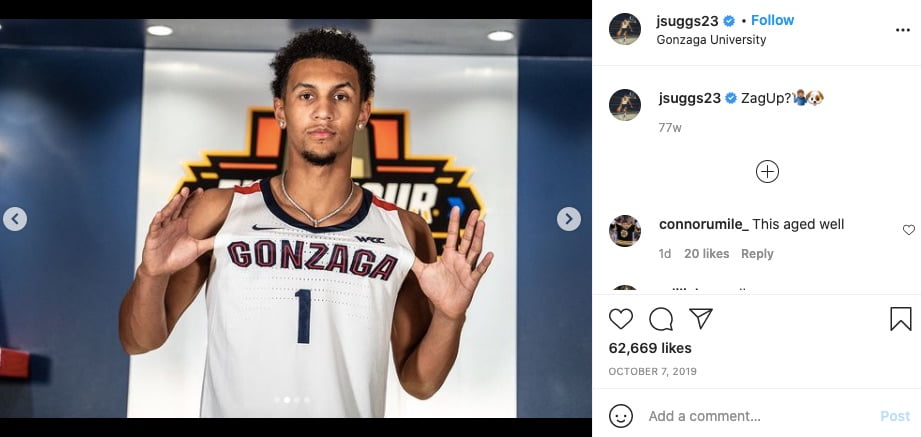 Gonzaga fans around the nation and the world, you can purchase your Jalen Suugs' #1 jersey for $115 at the Jersey Plugs Shop, College Game has a more affordable option for $59.99, plus free shipping on orders over $66, and Artfire also has Jalen Suugs' jersey on sale for $36.99.
Jalen Suggs Buzz Beater
Jalen Suggs' amazing 3-pointer buzz beater was what gave the Gonzaga Bulldogs their victory over Mick Cronin and the UCLA Bruins at the Final Four and their place at the NCAA Championship against the Baylor Bears; we can talk about it, but we better show you Jalen Suugs' crazy buzz beater in the video below!
Jalen Suggs National Team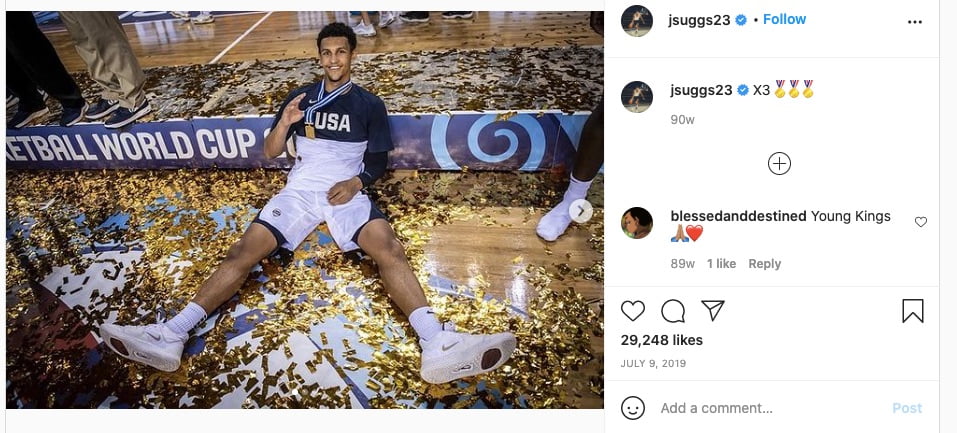 Jalen Suggs made his international debut with the USA National Team U-16 at the  2017 FIBA Under-16 Americas Championship in Formosa, Argentina, where the team took the gold home, and Jalen averaged 7.5 points and 2.8 rebounds per game. Suggs and the USA U-17 team took another gold medal at the FIBA Under-17 World Cup in Argentina, where Suggs averaged  8.7 points and 3.3 steals per game.
His third medal was at the  2019 FIBA Under-19 World Cup in Heraklion, Greece; Jalen averaged 9.6 points per game.
Jalen Suggs Parents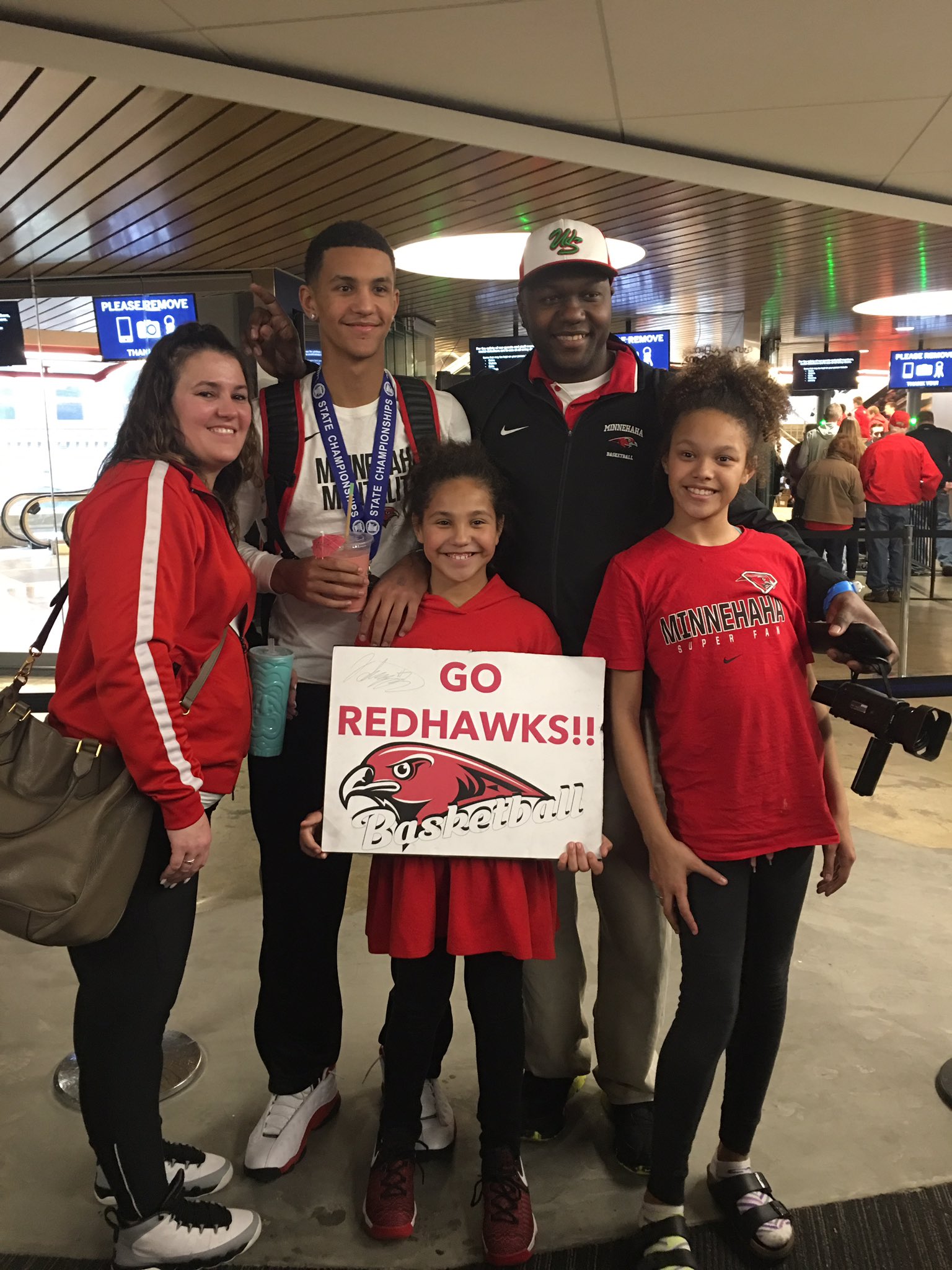 Jalen Suggs was born on June 3, 2001, in Saint Paul, Minnesota; he is one of the children born to Larry Suggs and Molly Manley, also proud parent of Jalen's siblings.
Jalen Suggs father Larry Suggs
Jalen Suggs' father Larry was his football and basketball coach, both sports he also played Woodbury and in junior college; Larry Suggs would also bring his son to hockey games.
Jalen Suggs Mother Molly Manley
Jalen Suggs's momma Molly Manley was born Molly Margaret Manley on April 20, 1981. She is one of the children born to Florence Manley and Michael E. Manley, who passed away at age 60 on September 6, 2017. Molly has one sister named Megan and one brother Tony Manley.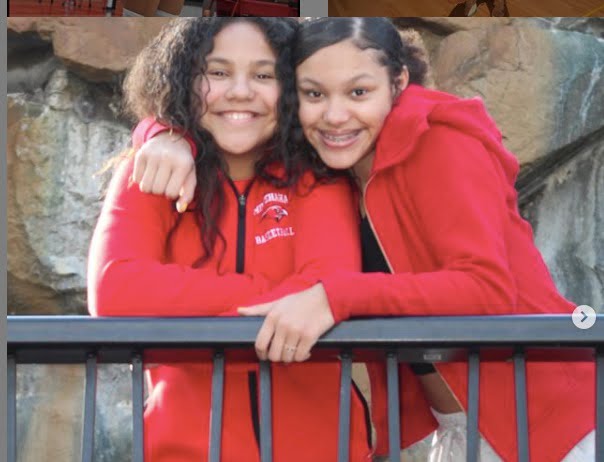 In addition to Jalen, Molly and her husband Larry have two younger daughters, Jennica, 15,  and Jaelle, 13. Jennica Suggs plays basketball and volleyball at Minnehaha Academy; her youngest, Jaelle, is also a Minnehaha basketball player.
Molly Manley is pretty active on Twitter.
Jalen Suggs Girlfriend
Jalen Suggs doesn't have a girlfriend; the young Saint Paul native keeps his head on the game. Many people believed he was dating Paige Bueckers, but these two are longtime friends, nothing more.
Jalen Suggs Paige Bueckers
Not only Jalen Suggs and Paige Bueckers are best friends since they were children, but their families are pretty close too; it didn't matter that their children were at different schools; any time they could, they saw each other kid's games.
Paige won Gatorade Minnesota Player of the Year awards three times at Hopkins High School in Minnetonka; Paige committed to UCONN. Their 20 something minute drive to see each other turned into 2,700miles between them, but they remained pretty close.
"I texted her after, and we FaceTimed and talked for a little bit," Suggs continued. "Last night, she said some things that really helped me. I've been kind of struggling, trying to get my footing in these tournament games. Of course, seeing her go out there and play great like she did and then talking afterwards, she kind of said some words, it kind of got me uplifted. It got me going. Definitely helped tonight. … She's the GOAT for a reason."