Meet the lovely Kelly Patterson; she is the beautiful and amazing mother of James Conner, the  6'2″ running back for the Arizona Cardinals; he also played for the Pittsburgh Steelers. Prior to the NFL, James played college football at the University of  Pittsburgh.
James Conner Family
6'1 James Earl Conner was born on May 5, 1995, in Erie, Pennsylvania. He is one of four children born to Kelly Bibbs and Glen Conner. His brothers are Glen Jr. Richard, Michael Conner, and Rico M. Santiago, Kelly's stepson from her second marriage.
James Conner Mother
Kelly Patterson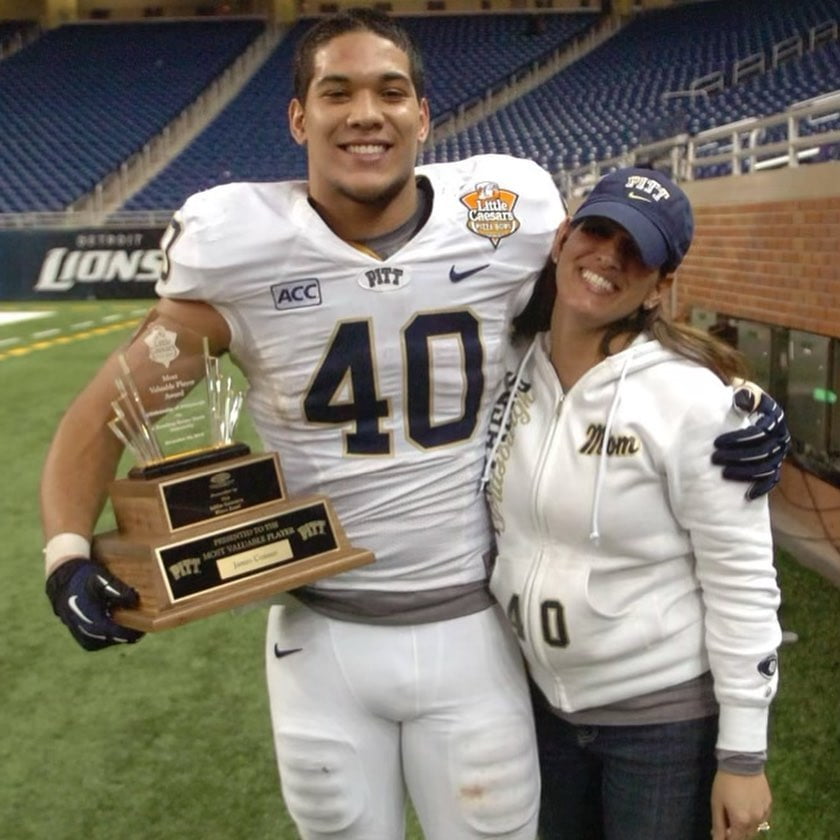 Mom Kelly M. Patterson, once known as Kelly Bibbs was born Kelly Wozniak on February 2, 1972, in Erie, PA. Kelly is the daughter of Jim and Peggy Ann Wozniak (nee. Post). Her siblings are  Valerie Fabac.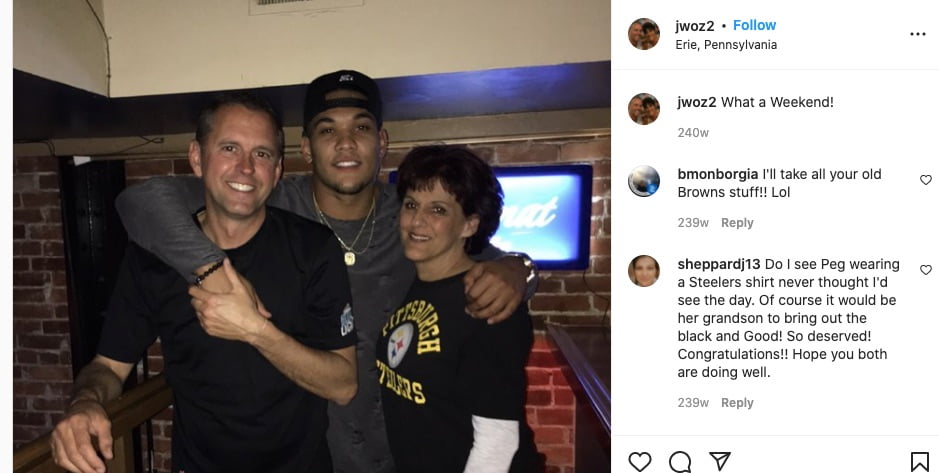 Kelly's momma, Peggy passed away on September 26, 2021, at the age of 65; she was five days shy of celebrating her 66th birthday. Her family was Peggy Wozniak's pride and joy, she was graduated from  Saint Andrew Grade School, Strong Vincent High School, and the former Orra Jean Beauty Academy. She worked as a dental assistant and cosmetology, she also worked with her husband Jim at the Bel-Aire Hotel.
Conner's mom, Kelly works full-time as an associate at the Erie Community Foundation; before that, she worked at the Harborcreek Youth Services, Erie County Care Management, and was a call-center rep at the Case Management Support Services in Erie.
You probably heard James surprised his momma Kelly Bibbs with a new house in July 2020, James asked his brothers to help him with the surprise and he certainly captured the moment on video.
James Conner Father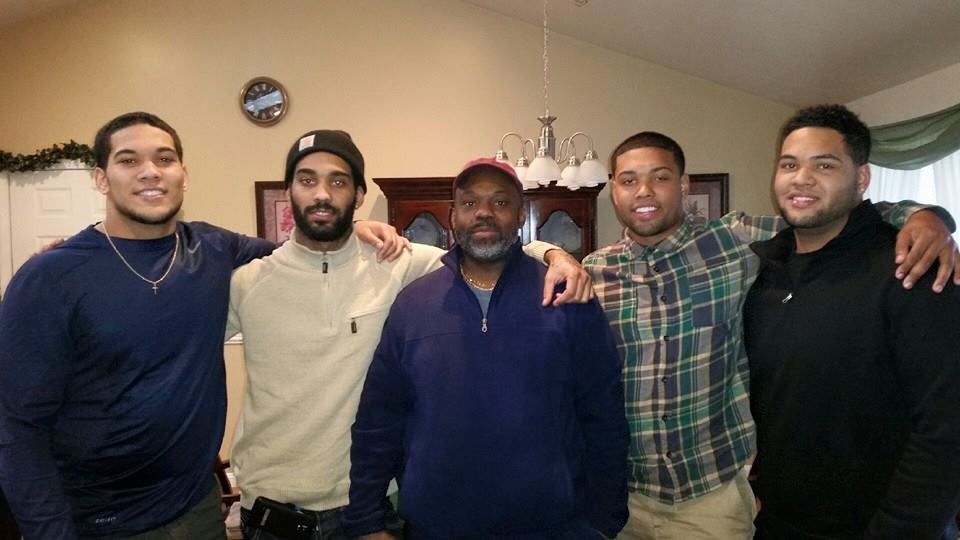 James Conner's father Glen Conner was born glen Earl Conner on December 31, 1969. Mr. Conner who divorced Kelly a long time ago (in 1999 to be exact) has been working at O'Charley's Restaurant and Bar since 2013.
Just like James Conner gifted his momma, he didn't forget about his dad;  in June  2020, Conner gave his dad a sweet truck!!
James Conner Brothers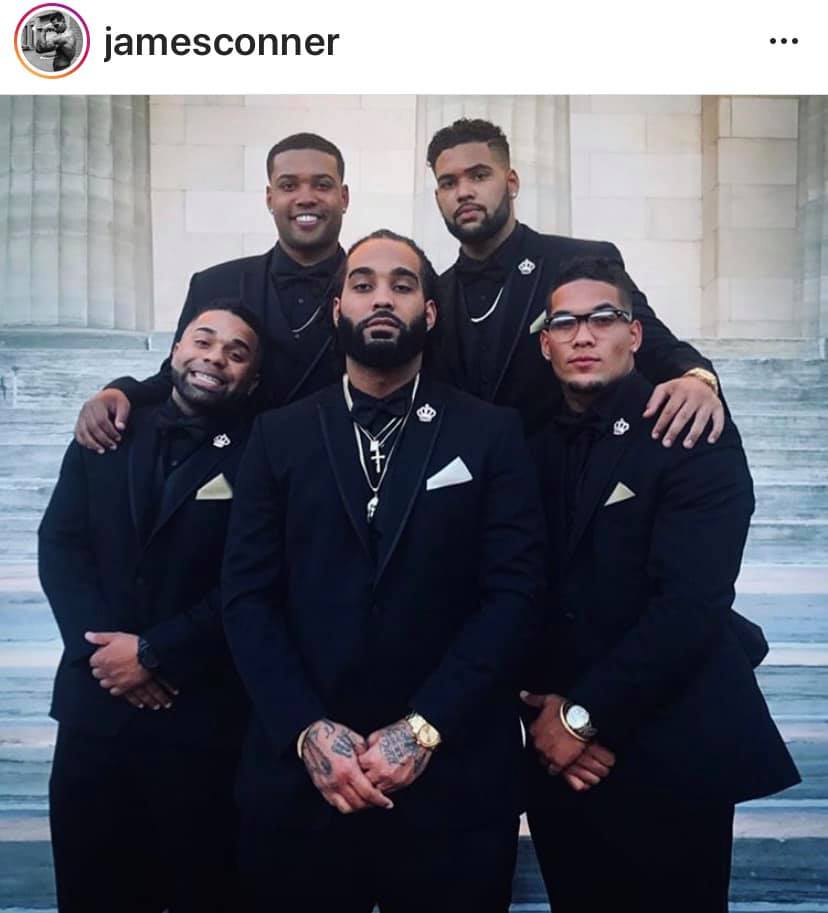 James Conner has four brothers, Glen, Richard, Michard, and Rico, his stepbrother. James immortalized his brothers with a tattoo on his left arm.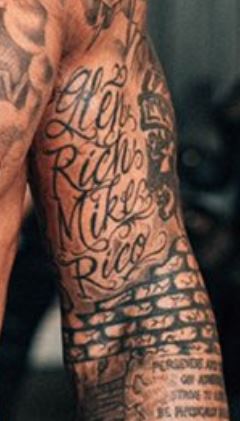 All of Conner's brothers were athletes, Glen Conner Jr, 32, played football at Erie Express and was a MMA fighter, now happily married this wife Sabrina Conner (nee. Duemmel) since 2017, mother of his children Giulio and Gia Conner.
Richard Conner, named after his paternal grandfather was born on August 31, 1990. He also played football at Erie Express, he later studied sports management at the California University of Pennsylvania. Richard worked as a personal banker at Citizens Bank, later a facility manager at Mom Valley Fitness Center, manager at Burgatory Bar, and is currently is customer care advocate at Erie Insurance Group.
Michael Conner born on December 26, 1991, played basketball at Mercyhurst before becoming a tactical Aircraft Mechanic at the United States Air Force. Michael is married since November 2016, to Kayla (nee. Virgilio) Conner, mother of his two lovely kiddos.
Rico Santiago born Rico Miguel Santiago,  as we previously said is James's step-brother from Kelly's second marriage. Not much out there about him, except that back in 2016, when he was 22, he was arrested for having a relationship with a teenage girl.
James Conner College
James corner attended McDowell High School before committing to the University of Pittsburg in August 2012.
His freshman year, Conner recorded 799 yards in 146 attempts, eight touchdowns in 12 games. His sophomore year he recorded 1,765 yards in 298 attempts and 26 touchdowns in 13 games; he tore his ACL his junior year and only played in one game where he recorded 77 yards, eight attempts, and two touchdowns.
Conner recorded 1,092 yards in 216 attempts and 16 touchdowns in 13 games his senior year.
James Conner NFL
James Conner was selected by the Pittsburgh Steelers in the third round (105th overall) in the 2017 NFL draft.
On May 11, 2017, signed his contract with the Steelers.
On September 24, 2017, Conner made his NFL debut against the Cleveland Browns.
In September 2018, Steelers' coach Mike Tomlin named him the team's starting running back.
In Week 1, he made his first NFL start in the season-opener against the Browns, he recorded his first touchdown that same day.
He was named the AFC Offensive Player of the Week and AFC Offensive Player of the Month in October 2018.
On December 18, 2018, he was selected to the 2019 NFL Pro Bowl.
He was placed on the reserve/COVID-19 list on November 28, 2020.
Signed with the Arizona Cardinals in April 2021.
Made his regular-season debut with the Cardinals on September 12, 2021, against the Tennessee Titans, The Cards won 38-13.
James Conner Trade
James Conner signed a one-year, $1.75 million deal with the Arizona Cardinals on April 13, 2021. The deal included a $1.25 guarantee and a $500,000 signing bonus.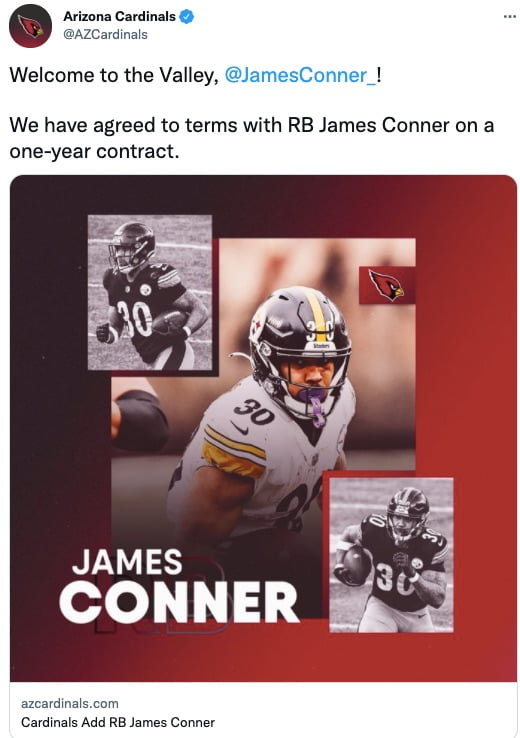 James Conner Injury
On December 19, 2017, suffered an MCL injury that required surgery and was therefore placed on injured reserve.
In Week 2 of the 2019 season, he injured his knee against the Seattle Seahawks.
Injured his shoulder in Week 9, against the Miami Dolphins.
He injured an ankle in Week 1 of the 2020 season against the New York Giants.
James Conner Net Worth
According to Wealthy Gorilla, as of October 2021, James Conner's net worth has been estimated at $2 million. In addition to his NFL salary, James Conne has an endorsement deal with Adidas.
James Conner Contract
James Conner's first contract with the Steelers came on May 11, 2017, the four-year, $3.16 million contract included a signing bonus of $706,288.
He agreed to a one-year, $1,750,00 million with the Cardinals on May 13, 2021, the deal included $1,250,000 guaranteed and a signing bonus of $500,000.
James Conner Hodgkin lymphoma
December 4, 2015, Sara Quinn and her boyfriend received the hardest news they've had to face so far. Her boyfriend was diagnosed with Hodgkin lymphoma. On May 23, 2016, after 12 rounds of chemotherapy Conner took to Twitter to share the good news, he was cancer free!
God is AMAZING. Just got the call that my body is clean of cancer!!! Been a long road but God had my back. Thanks everyone who said prayers!
James finished his 12th and final chemotherapy treatment on May 10. His cancer fight drew national attention and made an appearance on "The Ellen DeGeneres Show" in April to share his story.
Everyone close to him including, Pitts coach, family, and friends; couldn't be more proud of Conner –who despite undergoing treatments, still participated with the team during spring practice, wowing teammates and many others with his perseverance and determination.
James Earl Conner was born on May 5, 1995. He is one of five children to Kelly Patterson and Glen Conner.
Sarah's boyfriend is a former ACC Player of the Year. During high school he was described as a highly productive runner and pass rusher at McDowell, earning accolades for both roles. He was selected All-State Class AAAA by the Pennsylvania Sports Writers as a senior running back.
He led McDowell to the quarterfinals of the PIAA Class AAAA playoffs as a senior after rushing for 1,680 yards and 21 touchdowns on 155 carries, an impressive average of 10.8 yards per rush.
Conner also set a McDowell single-season record with 164 points, including 26 touchdowns (tied for the most in school history), three 2-point conversions, and a safety.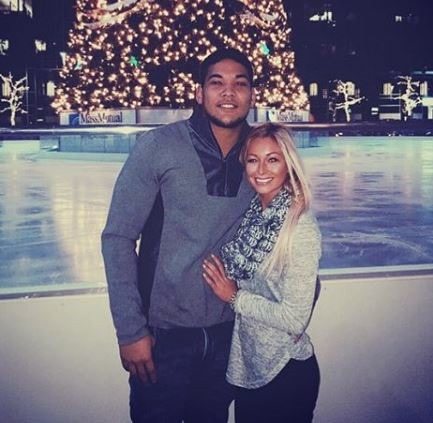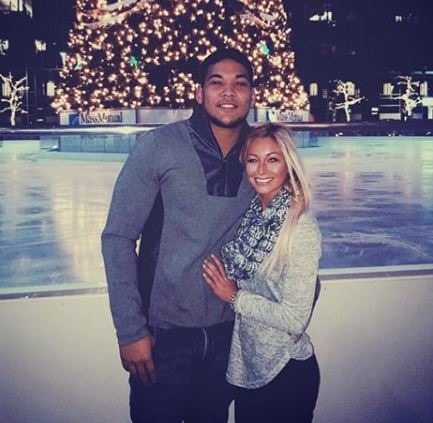 The Pittsburgh Steelers selected him in the third round (105th overall) of the 2017 NFL Draft. He made his NFL debut on  September 10, 2017, when the Steelers defeated the Cleveland Browns.
James Conner Girlfriend
 Sarah Quinn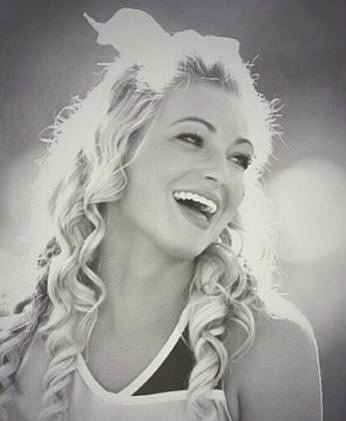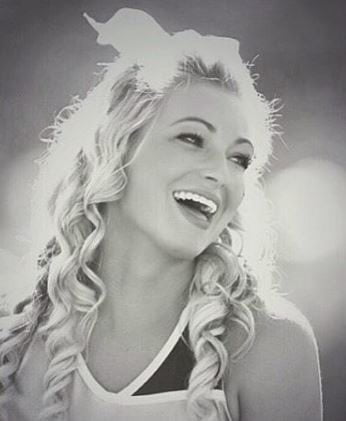 Sarah Quinn and James Conner have been dating for some time now, their story begins just like many others, at college. Quinn happens to be a University of Pittsburgh Cheerleader and with her pretty face and pom poms is definitely hard to miss.
According to her Facebook, Sarah Quinn attended Franklin Regional High School in Murrysville, Pennsylvania and has enrolled at the University of Pittsburgh in 2013.
Quinn is also very into fashion, in fact, she made a blog to talk about her favorite things when shopping. In an old blog entry, the blonde writes about herself saying:
Hello fellow Bloggers!! My name is Sarah Quinn and I attend Franklin Regional High School. I am 17 years old. I am currently a senior and plan on attending either the University of Louisville or Pitt. There's not too much about my life. If I'm not at Cheerleading, I'm with my girlies. I like to shop a lot and I also have a slight obsession with cats, pickles, and the movie Pitch Perfect. When I go shopping I like to know what's in and what's out, so that's what I chose to write about. Not only just dealing with shopping though.. Anything in general that people should know about fashion. I'm here to help y'all out.
Miss Quinn, also keeps very active on social media. She often posts pictures of outings with friends on Instagram and of course with her cheering gals.
Sarah will be cheering for her beau this upcoming September at the Panthers, the first game of the year.
You can find Sarah Quinn on Twitter here.