Jana Young, the neighbor of NFL legend Rosey Grier who is accusing him of exposing himself and groping her without her consent!
TMZ Sports reports that Young claims she was acting as Grier's manager and allowed him to stay in her home while his nearby home was under construction. Young, who is married, claims Grier exposed himself to her in her home, asking, "How do you like it?" Young's lawsuit claims that she immediately kicked him out of her place!
Just when you would think things couldn't get more out of place, according to the lawsuit, filed in L.A. County Superior Court,
Young claims she later went over to Grier's house to collect money he owed her for work she did as his manager and for cash she fronted for his home remodel.
But when she confronted Grier, the 81-year-old former football player turned Christian minister, Jana claims he shoved his hand into her pants and told her, "You feel like a virgin." Hard to picture the minister doing needlepoint and saying those words huh!
Jana's alleged attacker was one of the "Fearsome Foursome" of the L.A. Rams in his heyday. Let's do a recap to remind some of his life and work. He was named All-Pro twice while with the L. A. Rams. He was originally born Roosevelt Grier in Cuthbert, Georgia as one of twelve children.
The African-American athlete also broke into acting via appearances in TV shows, singing and became an ordained minister in 1983 and founded an inner city teen resource center the following year. After his retirement, Grier dabbed into a couple of occupations; he hosted the Rosey Grier Show and was also a bodyguard for his friend and presidential candidate Robert F. Kennedy. He's been known as the "gentle giant"
Now, getting back to our original story, Jana probably thought later what bad idea was to go herself, doesn't seem suspicions? We are just saying it sounds a little strange considering she could have mailed a request, called, or even sent someone else over to collect. It would seem most professionals would have a more formal way to bill clients for work they've done.
Even more, online sources say she is a married woman; so why not take hubby along for protection?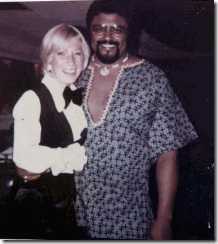 Well there is certainly more details to this story but let's just amuse ourselves for a minute, what if Jana never told her husband, what if she thought she could keep the whole incident to herself and then thought why would I be afraid of an "old" man so she just mustered the courage and knocked on his door, never imagining what went down, literally! Or maybe we could blame the whole thing to his age?
We are just assuming here, so keep coming back for updates!