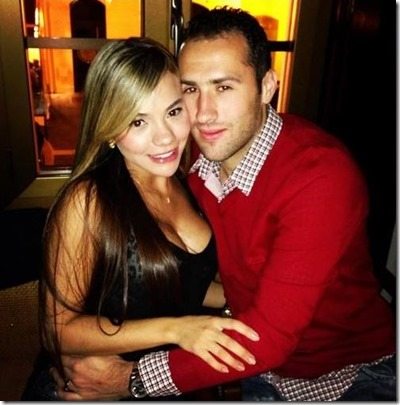 Meet gorgeous Colombian, Jesica Sterling, better known as the wife of Arsenal goalkeeper David Ospina. They make for a great match, Jesica who does some modeling is blessed with those Colombian features every woman envies and her man; well is not doing bad at all!
Back in June it was announced Ospina completed his £3.2million transfer from Nice to Arsenal, of course wife of two-years Jesica will tag along as he moves to North London.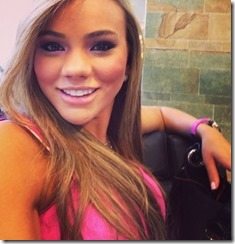 The 26-year-old Colombian keeper will challenge Wojciech Sczcesny for Arsenal's No 1 jersey next season. Ospina signed for Nice in 2008 from Atletico Nacional and made 177 league appearances for the French club. Time during which, the couple sure had some fantastic times but as is was time to say goodbye Jesica's man could not held the tears.
The couple has been married since 2012, –during which time Ospina has played for Nice –but have known each other for years. They began dating while in their teens.
According to Spanish reports, the couple actually met through social network and once they saw each other it was "love at first sight" she claims.
It wasn't until six months after they had started online chatting and long phone calls that they finally met! Jesica talks about how fun it is to share the excitement of being married to a soccer player but says about the negative part:
On weekends, my daughter and I are always alone because he is focused training. Often absent on special dates. Getting used to another country, another culture.
The young and very much in-loved couple, are certainly not shy when it comes to PDA; whether an outing, a birthday party or just because Jesica and her man do not waist any time to show their affection for one anther.
Jesica and David are the proud parents of an adorable little girl named Dulce Maria.
The player has said during interviews about his gorgeous wife
"There is always someone next to you, helping you overcome whatever obstacles life might bring, that someone for me is my wife. She has helped me during hard times, always giving me the strength and support I need, I love her"
The couple is also related –not only by the sport and citizenship –but also legally to Colombia player James Rodriguez who is married to David's sister, Daniela Ospina.
There is not much info available on Jesica but we can tell you she keeps herself pretty active on both Twitter and Instagram, she loves posting pictures of her family and send little romantic and encouraging messages to her man, like she did recently for his birthday! She also has great sense of fashion!
As for her hubby, rival Szczesny seems confident of keeping the number one jersey as he recently said Sterling's husband is not his friend and does not consider he should play at his expense!
You can take a closer look at stunning Jesica here and here.