Michel Quintana
Meet pretty Michel Quintana, the proud wife of MLB player Jose Quintana. The couple has been together for a number of years and together are the proud parents of a daughter.
Michel's hubby was born Jose Quillermo Quintana on January 24, 1989 in Cartagena, Colombia.
The 28-year-old has been acquired by the Chicago Cubs. He previously played with the White Sox since making his MLB debut with the team in 2012. Quintana pitched in Minor League Baseball for the New York Mets and New York Yankees organizations before becoming a free agent.
Quintana is 7-8 but ranks among the AL leaders with a 3.21 ERA (tied for sixth), a 1.11 WHIP (sixth), 1172/3 innings pitched (fifth) and a .285 opponents on-base percentage (seventh). Last year he had  12 quality starts, and since becoming a starter in 2012, he has amassed 85 quality starts, ranking third in the AL. He's also as pitched 200 innings or more in each of the past four seasons.
He became the third Colombian-born player to make the All-Star team in 2016. Most recently he posted a 5.60 ERA over his first 11 starts of the season. But he rebounded for a 2.70 ERA over his last seven starts.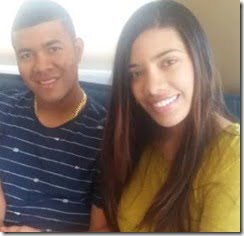 As for his wife, Michel, she is the former Michel Montana. The couple splits their time between their native Colombia and the U.S. Michel Quintana keeps busy attending the couple's only child, daughter Ariadna.
Michel Quintana gave birth to the adorable baby girl in early 2016, according to Spanish outlet, El Universal. During the interview for El Universal, the left hander said about his wife and little daughter
"Ariadne and Michel are my fighting engine, a great motivation for me, they are the impetus I need to demonstrate how great I can be in this game.
During the season, the family resides in an apartment in Michigan Avenue in Chicago.
The baseball wife enjoys a low profile, Michel who is currently pursuing a degree in Psychology, keeps her social media set to private.
You can check out the wag and mom of one on Instagram here.