Charles Blackmon
Charles Blackmon is the MLB star who looks exactly like bearded Forrest Gump. Born in Dallas, Texas but raised in Georgia, Blackmon was selected by the Colorado Rockies in the second round of the 2008 MLB Draft.
Charles who played baseball at Georgia Tech on scholarship -hit his first home run July 1, 2011, which was his 25th birthday.
Colorado Rockies outfielder will start in center fielder for tonight's All-Star Game. He was voted by fans as a starter for the National League. This is his second All-Star Game, earning his first in 2014, stealing 43 bases in 2015 and batting .324 last year.
Just in case you missed him on Monday's Home Run Derby, the 31-year-old definitely turned heads after his performance on July 10th.
Blackmon's effort however, though commendable wasn't enough to advance. The bearded all-star center fielder certainly represented, hitting 14 homers in the first round at an average of 413 feet.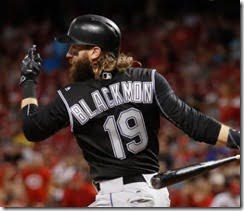 Blackmon recently became just the second player to hit at least 20 home runs and 10 triples before the break. Jim Rice did it twice for the Boston Red Sox during the 1970s, according to ESPN.
His 477-foot shot over the visiting bullpen in the sixth inning Sunday at Coors Field, in the Rockies' 10-0 win over the Chicago White Sox, gave him a team-high 20 home runs this season.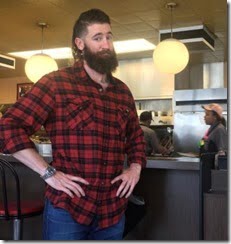 Now, let's face it, Charlie Blackmon (a.k.a. Chuck Nazty) –might not be the best looking fella on earth but he sure is talented and has that million dollar contract that we're pretty sure any lady (gold digger) would be interested in.
However, he seems to be currently single. We might now why, it's all in the presentation dear Charles. Accoridng to the NY Times, Blackmon still drives the car he had in high school, a 2004 Jeep Grand Cherokee with 150,000 miles on it; he likes not having to keep it clean.
He lets his hair go, too, with a stringy mullet and calls himself on social media Chuck Nazty. The guy is into fishing, in fact, his Instagram chronicles his adventures as a trout fisherman.
Did we mention he likes to wear a Batman costume for Christmas because "He's the greatest of all the superheroes?"