Josh Jung Girlfriend
This lovely young lady is Kyla Navarrete, and she is the amazing girlfriend of MLB player Josh Jung, the third baseman currently playing for the Texas Rangers. Before being drafted by Texas in 2022, Jung played college baseball at Texas Tech.
Pretty Kyla Navarrete born Kyla JoAnn on October 29, 1999, in Texas; she is one of two children born to Laurie Ann (Zahn) and John Joe Navarrete, also proud parents to Kyla's older brother Mason, born on July 1997, and American University Washington College of Law alumni.
5'6 Kyla, a 100M and 300M hurdler, graduated in 2019 from Amarillo High School and in August 2023 with a Bachelor of Arts in general studies from .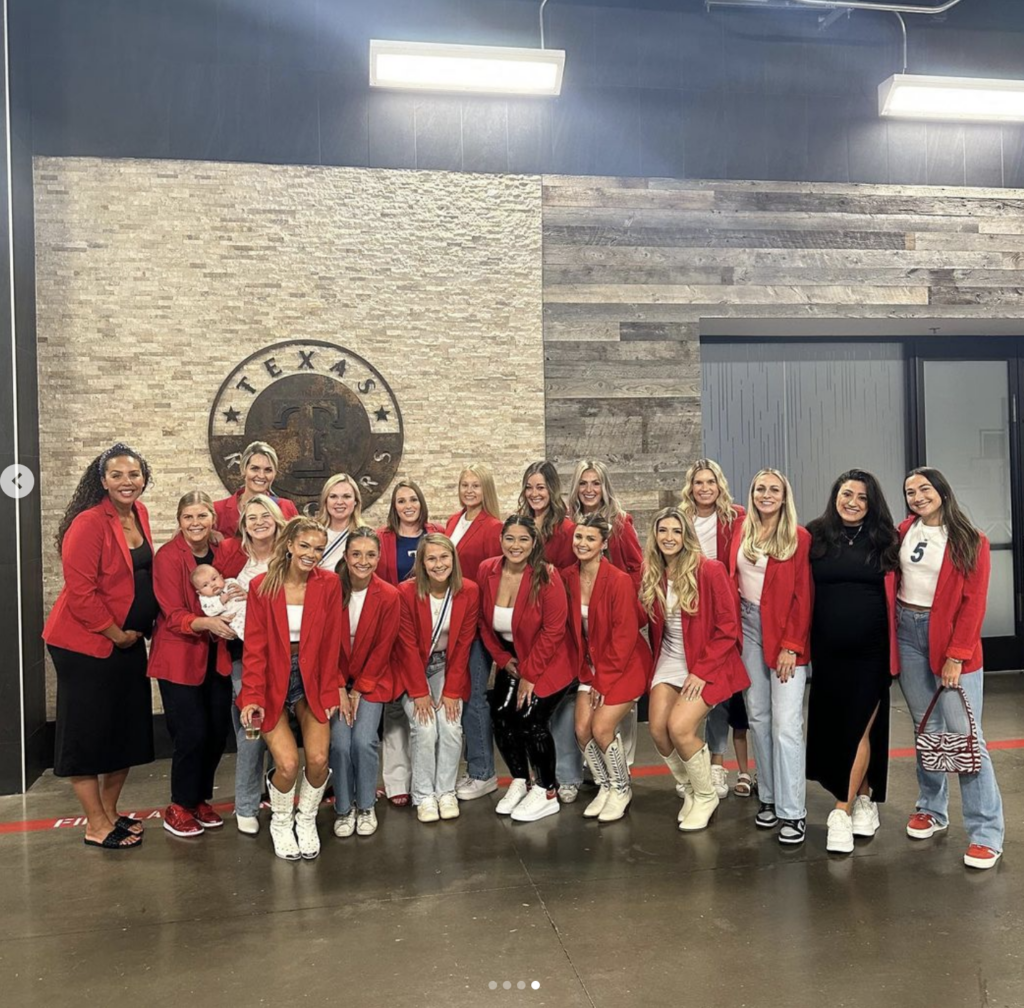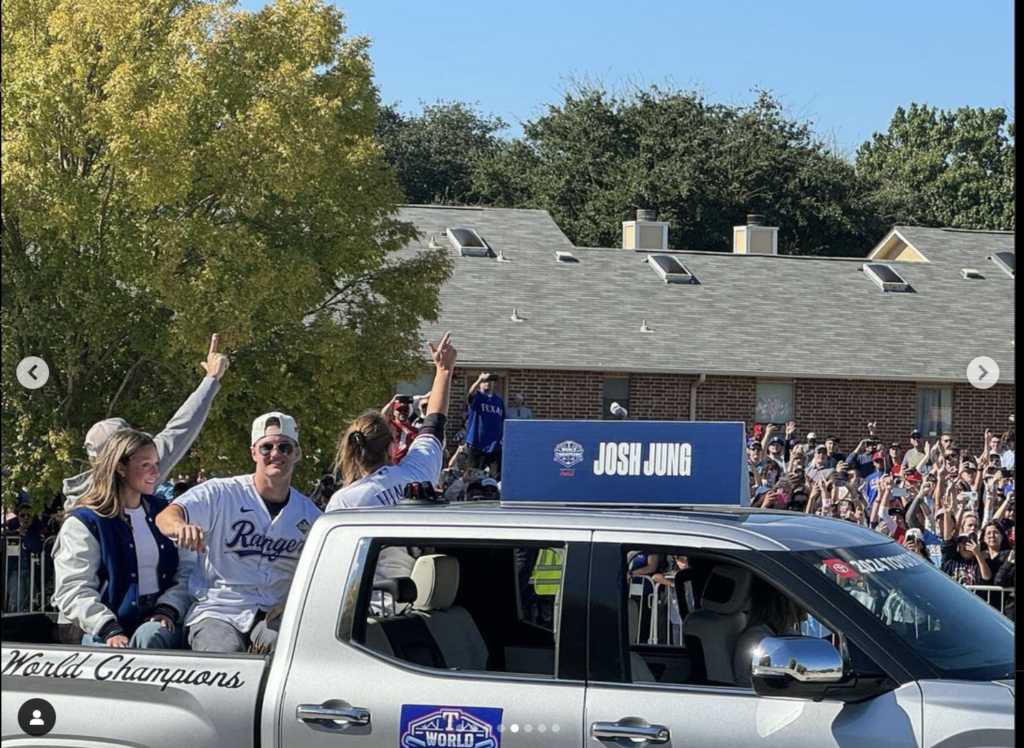 Josh Jung Parents
Standing tall at 6'2″, Joshua Ryne Jung, known fondly as Josh, was welcomed into the world on February 12, 1998, in the vibrant city of San Antonio, Texas. He is one of the two sons of Jeff and Mary Jung who take immense pride in both their boys. Josh's younger brother, Jace, is a skilled second baseman, currently swinging his bat for the Detroit Tigers.
Josh's mother, Mary Jung, is an alumna of the University of Texas at Austin. She puts her degree to good use as a Physical Education teacher in the Northeast Independent School District (NEISD). His father, Jeff Jung, followed a similar educational path, having also graduated from the University of Texas at Austin. He imparts knowledge as a math teacher and shares his passion for sports as a coach, also within the NEISD.
Josh Jung College Career
Josh Jung, a versatile sportsman, played baseball and football during his time at Douglas MacArthur High School. Despite not being drafted in the 2016 MLB draft, he joined Texas Tech University and played college baseball for the Red Raiders.
In his freshman year in 2017, Jung showcased his talent by starting all 62 games at third base, hitting .306 with six home runs and 43 RBIs. His performance earned him the Big 12 Freshman of the Year title and recognitions as a Freshman All-American. He continued to impress during summer in the California Collegiate League.
Jung maintained his form into his sophomore year, starting all 65 games and achieving impressive statistics. He was named to the All-Big 12 First Team and recognized as an All-American by multiple outlets. That summer, he also played for the USA Baseball Collegiate National Team.
His junior year saw him being named a preseason All-American. Despite missing two games due to injury, he bounced back and moved to shortstop. He was named the 2019 Big 12 Co-Player of the Year and an All-American by several outlets. Additionally, he won the 2019 Bobby Bragan Collegiate Slugger Award. He ended his junior year with impressive stats, including 15 home runs and 58 RBIs in 64 games.
Josh Jung MLB Career
Minor Leagues
June 3, 2019: Josh Jung was drafted in the first round (8th overall) by the Texas Rangers in the 2019 MLB draft.
July 3, 2019: Jung signed with the Texas Rangers, receiving a $4.4 million signing bonus.
July 10, 2019: He made his professional debut with the Arizona League Rangers, hitting a home run in his first at-bat.
July 15, 2019: Jung got promoted to the Hickory Crawdads of the Class A South Atlantic League, achieving a batting average of .287 with one home run and 23 RBIs in forty games.
2020: The minor league season was cancelled due to the COVID-19 pandemic, so Jung didn't play any games.
March 20, 2021: Jung underwent surgery for a stress fracture in his foot, sidelining him for six to eight weeks.
June 15, 2021: Jung returned to the field, assigned to the Frisco RoughRiders of the Double-A Central.
Mid-August, 2021: After hitting ten home runs and forty RBIs over 43 games, Jung moved up to the Round Rock Express of the Triple-A West.
2022: Jung ranked as the ninth overall prospect by FanGraphs and the 26th by Baseball America.
February 23, 2022: Jung underwent another surgery, this time to repair a torn labrum in his left shoulder.
End of July, 2022: Jung returned to the game, first appearing in rehab games before returning to Round Rock in August.
Texas Rangers
September 9, 2022: The Rangers selected Jung's contract from Triple-A, promoting him to the major leagues. He hit a home run in his MLB debut.
2022 Season: Jung appeared in 26 games for the Texas Rangers, hitting five home runs and 14 RBIs in 102 plate appearances.
April 2023: Jung was named the AL Rookie of the Month, leading AL rookies in hits, home runs, and total bases.
May 2023: Jung won the AL Rookie of the Month again.
2023: Jung was voted in as the American League starting third baseman for the MLB All-Star Game, becoming the first rookie to do so as a Texas Ranger.
Josh Jung Contract
On March 1, 2023, Josh Jung signed a 1-year, $721,485 contract with the Texas Rangers.