Nathaniel Lowe Girlfriend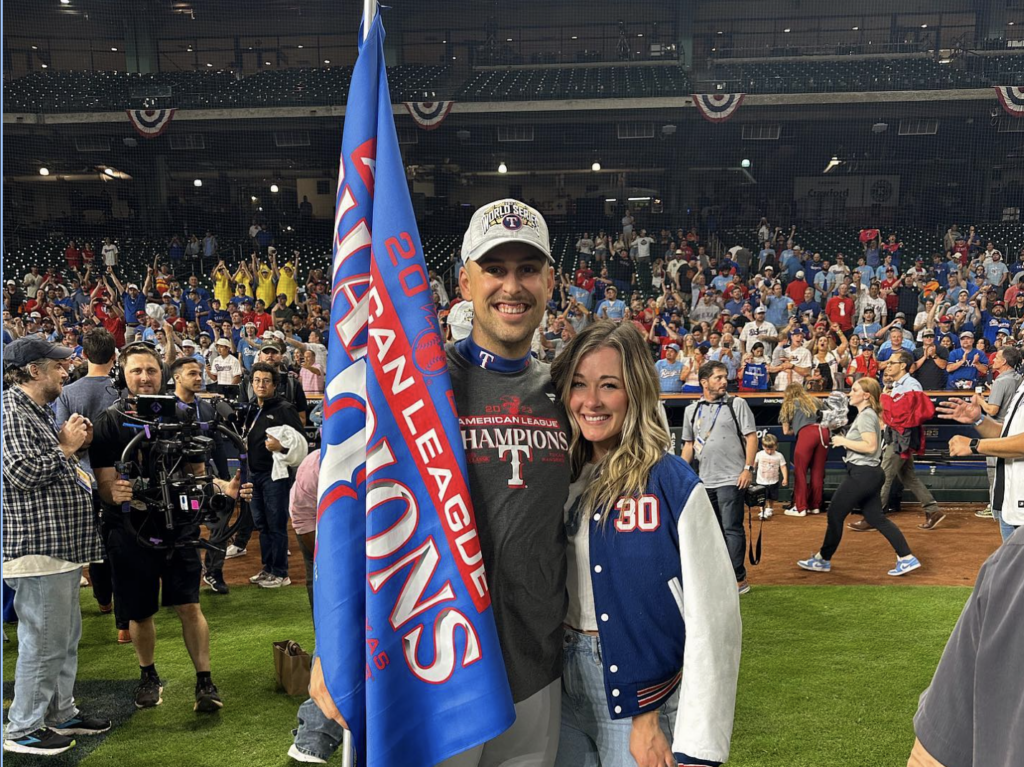 Brenna Karwich is Nathaniel Lowe Girlfriend! Lowe as you all know is the first baseman currently signed by the Texas Rangers. Lowe previously played for the Tampa Bay Rays.
Brenna Karwich
Pretty Brenna Karwich, born Brenna Nimcole Karwich on May 28, 1997, in Arlington, Texas. She is one of the three beautiful daughters of Terri Lawhom Karwich and Jeffrey Scott Karwich. Her sisters are Maddie and Claire.
Nathaniel Lowe' girlfriend Brenna is a Registered Nurse at UT Southwestern Medical Center. She graduated in 2019, with a nursing degree from Texas Tech University. Before Texas Tech, Branna played volleyball at from Martin High School where she graduated in 2015.
Nathaniel Lowe Family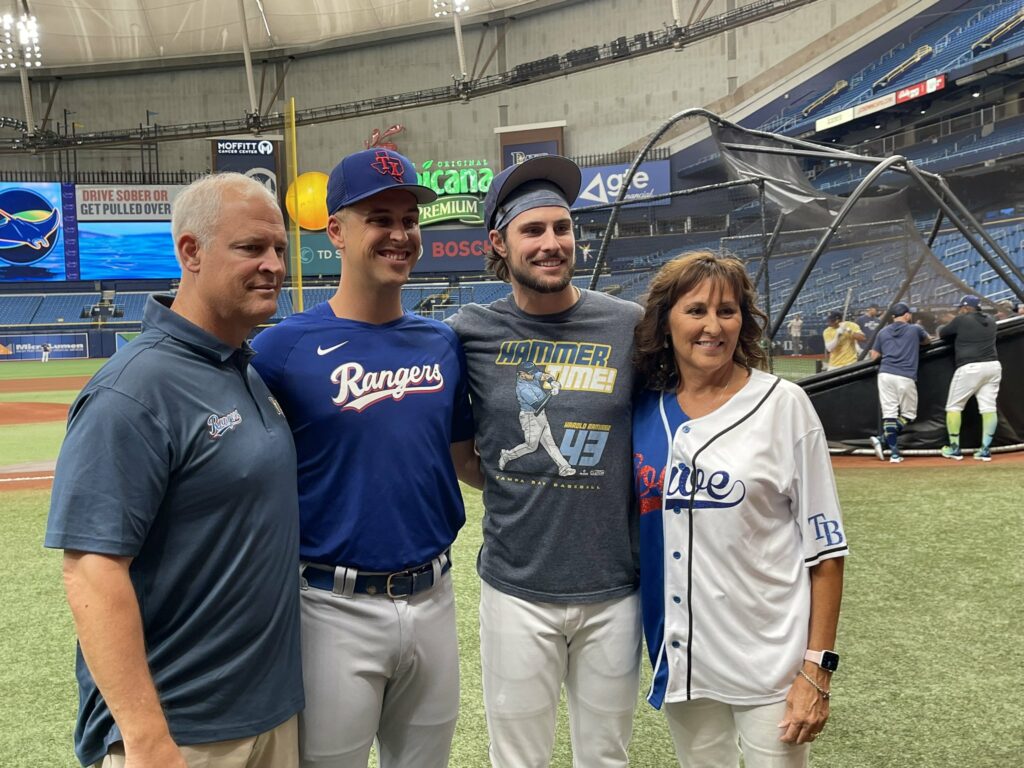 Nathaniel Lowe, known to many as Nate, first saw the world on July 7, 1995 in Chesapeake, Virginia. He is the son of proud parents Wendy and David Lowe. Wendy Lowe, a Realtor at Keller Williams Elite Partners III, graduated from Joseph Wheelers High School and the University of West Florida. Wendy is undergoing chemotherapy after being diagnosed with brain cancer.
His father, David, not only graduated from the prestigious U.S. Navy Fighter Weapons School, commonly known as TOPGUN, but also served honorably as a fighter pilot in the Navy for two decades. This service included tours in the Middle East. Nate isn't an only child; he has a younger brother, Joshua, who was born on February 2, 1998.
Nate's professional career is in baseball. He currently holds the position of outfielder for the Rangers. However, his talents aren't limited to sports. During his time at Pope High School in Marietta, Georgia, Nate showcased his musical abilities by playing the upright bass in both the school's orchestra and jazz bands.
Post-high school, Nate pursued higher education. Initially, he attended Mercer University where he also played college baseball for the Mercer Bears in 2014. The following year saw him transfer to St. Johns River State College. By 2016, he transferred once more, this time to Mississippi State University. Here, he continued to play college baseball, now for the Mississippi State Bulldogs, while majoring in economics.
Nathaniel Lowe MLB Career
Tampa Bay Rays
The Rays drafted Lowe in the 13th round of the 2016 MLB draft as the 390th overall selection.
He started his professional career with the Hudson Valley Renegades and had a batting average of .300 in 67 games during the 2016 season.
In 2017, he played for Bowling Green Hot Rods and Charlotte Stone Crabs, scoring seven home runs and 59 RBIs in 115 games combined.
Lowe started the 2018 season with Charlotte Stone Crabs.
He got promoted mid-season to Montgomery Biscuits and was chosen to represent the Rays in the 2018 All-Star Futures Game.
In August 2018, he got another promotion to Durham Bulls.
After scoring 27 home runs and 102 RBIs in 130 games in 2018, Lowe was named to the 2018 MLB Pipeline team of the year.
He began 2019 with Durham Bulls but was promoted to the major leagues by the Rays on April 29, 2019.
On July 5, 2019, Lowe hit his first major league home run against the New York Yankees, and on July 13, 2019, recorded his first multi-home run game.
In 2020, Lowe played 21 games for the Rays, scoring four home runs and 11 RBIs.
Texas Rangers
On December 10, 2020, Lowe was traded to the Texas Rangers, where he hit .264 with 18 home runs and 72 RBIs in 157 games in the 2021 season.
On June 15, 2022, Lowe made history by becoming the first major leaguer to strike out in two immaculate innings in one game versus the Houston Astros.
On August 22, 2022, he hit into a 3–6 triple play in the fourth inning.
For the week ending August 28, 2022, Lowe was named AL Player of the Week.
In the 2022 season, he hit .302 with 27 home runs and 76 RBIs, earning the 2022 American League Silver Slugger Award for first basemen.
On January 13, 2023, Lowe agreed to a one-year, $4.05 million contract with the Rangers for the 2023 season, avoiding salary arbitration.
Nathaniel Lowe Contract
On January 13, 2023, Nate Lowe signed a 1-year, $4.05 million contract with the Texas Rangers