Meet Juulia Manner
Juulia Manner's boyfriend is NHL player Leo Komarov. Her Estonian-born Finnish–Russian man was born, Leonid Aleksandrovitš Komarov on January 23, 1987 in Narva, EST.
His father, Alexander – an Ingrian Finn from Petrozavodsk, Russia – was playing low-level pro hockey, Komarov grew up in Finland after the family moved to the small town of Nykarleby when he was five.
He speaks several languages due to his upbringing. He recalls during an interview his father painted many houses to make ends meet, aside from his sideline gigs on the ice and on the field.
Though Komarov has been described as mysterious, coaches and players all gush when asked for a story about Komarov.
Komarov was picked in the sixth round of the 2006 NHL Entry Draft, 180th overall, by the Toronto Maple Leafs. After playing with different junior teams, Komarov started his career in the SM-liiga with Ässät. After winning a silver medal with Ässät in 2006, he moved to Pelicans.
Komarov captained of Finland at the 2007 World Junior Ice Hockey Championships in Leksand and Mora, Sweden.
During the 2009–10 season, Komarov played with Dynamo Moscow of the Kontinental Hockey League (KHL).
Komarov won a gold medal with Finland at the 2011 IIHF World Championships in Bratislava and Košice, Slovakia.
In May 2012, Komarov agreed to terms with the Toronto Maple Leafs for the 2012–13 season. 
He played his first career NHL game on 19 January 2013, and he scored his first NHL goal, a game winner, against the Montreal Canadiens.
After one season with the Maple Leafs, Komarov left the NHL to sign a one-year contract to return with Dynamo Moscow in June 2013, with the ambition to make the Finnish2014 Winter Olympic squad in a more offensive role with Dynamo; he made the roster, also serving as an assistant captain.
Despite signing with Dynamo Moscow, Komarov stated that he was not done with the NHL, and a year later, on 1 July 2014, he signed a four-year deal worth $2.9 million per season to return to the Toronto Maple Leafs.
To date, he has exceeded those off-season expectations. In addition to his scoring spree, Komarov is sixth among Leafs forwards in even-strength ice time, and he's killing more than three minutes in penalties a game as part of the top unit.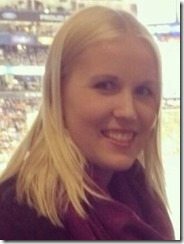 Komarov is a tough winger with good speed and a hard-working attitude. Likes to play physically and get under the skin with trash-talking in between hits. His temper has led to unnecessary penalties in the past. Strong, has a good shot and a very good skater.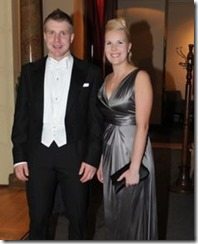 Not much is known about his gal, Juulia Manner. Accoridng to a Facebook profile, Manner resides in Espoo, Finland. One thing is can be assured about Juulia Manner, the lovely blonde is super supportive of her man. She has been spotted attending games and she's always seen with a smile and great spirit, ready to support her guy.
You can find Juulia Manner on Instagram here.