Meet Lindy Rama
Lindy Rama is the wife of Olympic Gold Medalist, Michael Klim. Lindy Rama is also known as Anak Agung and she happens to be a Balinese Princess.
Her hubby is a former Olympic, World and Commonwealth Gold medalist in swimming.
Michael Klim retired from competitive swimming in 2007. Four years later he announced he would return with the hope to coommpete in the 2012 London Olympics. He retired once again after he failed to make the team. Michael then, became the founder and CEO of a skin care company "Milk and Co."
Lindy Rama is the daughter of a Balinese father and an Australian mother. Her parents split when she was three and she grew up with her mother in Hobart. During an interview she revealed she is very fond of her princess treatment just because she feels like she grew up in Australia. Her Indonesian name means "children of the king."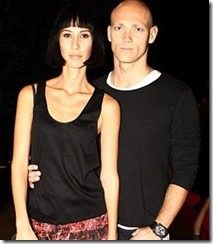 Lindy Rama met her husband in 2004, while they both were doing a modeling show. Klim was backstage waiting for his turn on the catwalk when he clapped eyes on the delicate, dark-eyed Lindy Rama, then 29.
They were told to team up for the parade because their outfits matched. It wasn't all that matched up. Even though Rama knew nothing about her catwalk date, they clicked. After the show they began to spend more and more time together until their first baby was born, three months before their nuptials.
She became Lindy Klim in 2006. She is the mother of the couple's three children: Stella, 10, Frankie, four, and Rocco, seven. Lindy Rama sure is a versatile woman, from modeling, to entrepreneurship, to DJ, to fashion blogger.
The model, wife and mother of three, writes a fashion and lifestyle blog and loves to DJ. On her blog she says:
"I am a mum to three beautiful young children and own lifestyle brand milk & co. I am passionate about fashion, modelling, music and DJing. Aside from my somewhat glamorous career life, at the end of the day I am still like any other working mum trying to juggle parenting and life in this modern day world."
In 2016 after 10-years-of-marriage the couple decided to split, announcing in a joint statement: 'It is with much respect for each other that Michael and Lindy Klim have agreed to formally separate, believing that this decision is best for their family.
The couple is said to have been struggling to find time together due to their respective work commitments.
Some sources suggest they had been attending marriage counseling for the past two years. Rumors of their split first emerged last November when it was reported Klim had moved out of the family home. They were seen together at an event last December but the pair spent the holydays separately.
You can find Lindy Rama on Instagram here.