Kate Ewen
You might remember Kate McEwen, she is a former college basketball player and the once girlfriend of former NFL player Lawrence Phillips. It seems the cloud raining on her former boyfriend won't stop!
Lawrence who's been in jail since 2008 serving a sentence stemming from an August 2005 incident in which he drove his car into three Los Angeles teenagers and while serving that first sentence he was given 25 more years for assault on his then-girlfriend Amaliya Weisler, is now facing new charges!
Phillips now 39, is believed to have killed his cellmate reports say. The Heisman Trophy winner and former pro allegedly killed Damion Soward 37, an inmate from San Bernardino County serving 82 years to life for a first-degree murder conviction.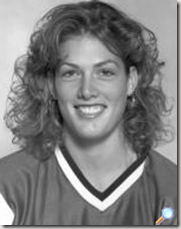 Kate McEwen, a Nebraska women's basketball player was assaulted by Phillips in 1995, he was suspended for part of his junior season in 1995 following his arrest.
According to the Chicago Tribune, she was thrown to the floor of a bathroom and dragged down three flights of stairs to the entry of an apartment complex by Lawrence Phillips in the early hours of Sept. 10.
Kate's man, however was a key player in back-to-back national championship game triumphs which eventually led him to become the St. Louis Rams sixth overall pick in the 1996 draft. By 2003 he was out of football.
At the time of the assault, Kate was a junior majoring in in business administration, she had earned a spot on the academic honor roll of the Big 8 conference in 1995. A NY Times report from 1996, says she was removed from her athletic scholarship due to lack of progress in her play. She played a total of 36 minutes, scoring 3 points on 1 of 4 shots, with 7 rebounds.
You can see Kate's college statistics here