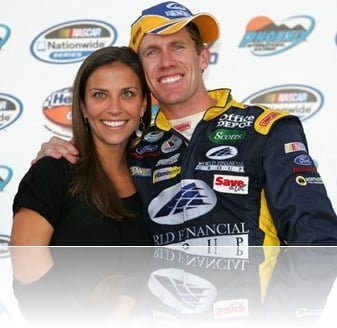 Meet Katherine Edwards also known as Katherine Downey she is the lovely wife of the great NACAR car racer Carl Edwards, want to know more about her?
32-year-old Mrs, Katherine Downey Edwards who most people calls Kate Edwards was actually born Katherine Francis Downey on March 15th, 1979 in Columbia, Missouri to Barbara a University of Missouri graduate and Edward Downey a lawyer, Kate has one younger brother Edward Downey Jr.
Kate Downey Edwards earned her degree in medicine from the Missouri/ Kansas City School of Medicine where she graduated in 2004 and in 2007 completed her residency from the University of Missouri- Columbia in Physical Medicine and Rehabilitation. Dr. Katherine Edwards is currently a physician working with patients in their rehabilitation with traumatic and severe brain injuries.
Kate met Carl in 2006, they got engage two years later and got married on January 3, 2009, she gave birth to her beautiful daughter Ann Katherine Edwards on February 24, 2010, on May, 2011 their adorable baby son Michael Lee Edwards was born.