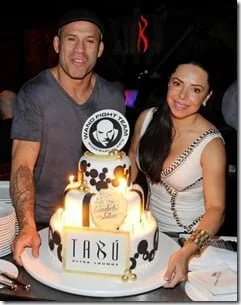 Ready for another UFC fight?? we are just recovering from Ronda Rousey and Liz Carmouche amazing performance at UFC 157,  those girls really rocked our world that night, so what about the girls at UFC on Fuel TV from Japan when Denderlei Silva will fight Brian Stann? Lea Silva won't fight Teressa Stann, unfortunately  that would have been freaking hot, but these s MMA WAGs will be  watching their husbands from the stands.
36-year-old Wanderlei Silva  from beautiful Brazil  is also known for his many nicknames The Axe Murderer, Cachorro Louco, he made his debut with the UFC on October, 1998 during UFC Brazil losing the bout by KO to Vitor Belfort.
The following year he made his debut at Pride 7 with the Pride Fighting Champions where he  fought until August, 2007 when the UFC announced his comeback to the big guys!
Wanderlei Silva is married to his lovely wife Tea.
Mrs. Silva was born Tea Ariadna Coelho Silva in Curitiba, Brazil, Tea graduated from FAE Curitiba, she then went to Mexico to study medicine, graduated in 1996 from the Universidad Autonoma in Guadalajara, Jalisco.
Tea Silva got married to Silva in January, 2002, Tea and Wanderlei announced they expecting a baby boy in April, 2003, Thor Silva was born the following year. Tea Silva became the stepmother of  Wanderlei's 16-year-old daughter Rafaela from a previous relationship. She helps her husband at their Wanderlei Silva – Wand Fight Team.
Follow Tea Silva on Twitter here and find her on Facebook here.