Meet Kerstin Hecking
Kerstin Hecking is the lvoely wife of former soccer player turned manager, Dieter Hecking.
Her husband was born September 12, 1964 in Castrop-Rauxel, Germany. Before becoming the current manager of VfL Wolfsburg; Dieter played for a number of German clubs: Borussia Monchengladbach (1983-1985), KSV Hessen Kassel (1985-1990), SV Waldhof Mannheim (1990-1992), VfB Leipzig (1992-1994), TuS Paderborn-Neuhaus (1994-1997), Hannover 96 (1996-1999), Eintracht Braunschweig (1996-1999).
In a season for KSV Hessen Kassel the midfielder scored 29 goals. He also had good scoring displays in SV Waldhof Mannheim and Hannover 96.
Following his midfielder days, Dieter went on to manage several professional teams.
In 2000-2002, Dieter was on the managerial staff of SC Verl (a Regionalliga North club). Later his career featured such clubs as VfB Lübeck (2002-2004), Alemannia Aachen (2004-2006), Hannover 96 (2006-2009). Dieter helped the little-known Alemannia Aachen to the country's Cup final and later – to European tournaments. On December 22, 2009 Hecking was appointed 1. FC Nuremberg head coach. He became manager of VfL Wolfsburg in 2012.
But how about his personal life, has it been as successful as his professional career? Get to know a little better his long time wife, Kerstin Hecking.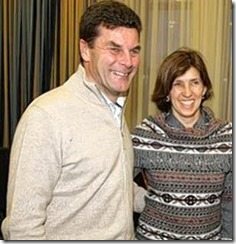 When it comes to most of the women in the lives of soccer men, they are known for being their partner's significant other but in Kerstin Hecking's case, she also kicks in her own field.

Kerstin Hecking is a graduate ChiYoga teacher. She is certified  GYROTONIC ® She is also the owner and trainer of the brand TriloChi ®  and proprietor of yoga studios "Spirit & Sports" founded in 2006. She says:
"TriloChi for me is the form of movement that touched me at all levels. Immersion in movement, supported by the music and being in the moment."
Kerstin has trained in the field: ChiYoga, Mind Body, TriloChi Aerobic & Step, indoor cycling and Qigong. Other credentials include a diploma ChiYoga® teacher (BMS); Dipl. Mind Body / TriloChi® teacher (BMS); Dipl.Ausbilderin / Speaker (DTB / NTB); Gyrotonic, Qi Gong instructor iA (Academy Dan Dao); Trainer & owner of the trademark TriloChi®
Kersting Hecking is also the mother of the couple's five children: Charlotte Hecking, Aaron Hecking, Theresa Hecking, Maria-Lena Hecking, Jonas Hecking.