Elsa Shafer is the stunning girlfriend of NBA player Kevin Huerter, the talented shooting guard currently playing for the Atlanta Hawks, who previously played college basketball with the Maryland Terrapins at the University of Maryland. Huerter recorded 27 points, 7 rebounds, and 3 assists in 40 minutes during game 7 against the Philadelphia 76ers during the conference finals.
Kevin Huerter Parents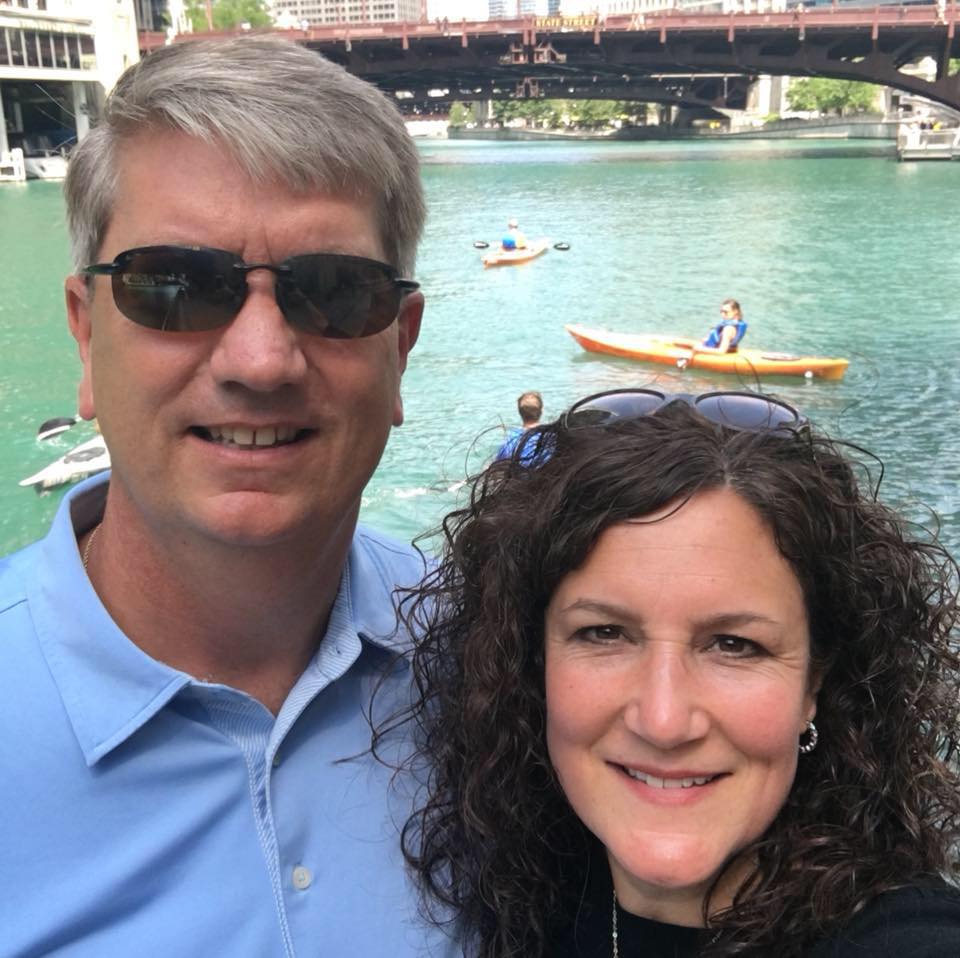 Kevin Huerter is one of four children born to Erin Huerter (nee. Monaghan) and Thomas Huerter.
Erin Huerter
Kevin's mom, Erin born on October 25, 1970; she is the daughter of Gene and Joseph Monaghan; her siblings are Joanne Rourke, Joseph, and Patricia Chase. Her mom, Gene, a former nurse, a parishioner of the former Sacred Heart of Mary Church, and a member of the Rosary Society, died at the age of 79 on February 28, 2015.
Her dad, Joseph was an attorney and U.S. Army sergeant and Siena College and Villanova graduate; he served in the U.S. Army Reserves from 1951 until 1957, member of the 367th Field Artillery Battalion,  associate and partner with the John F. Kelly Law Office before founding his own law firm in Watervliet. Mr. Monaghan was 86 when he died on November 5, 2015, on the day his later wife, Gene, would have celebrated her 80th birthday.
Erin Huerter holds a Bachelor of Science in marketing and management from Siena College (1992); she was the vice-president and deposits operations at Pioneer Bank in  Troy, New York.
Thomas Huerter
Kevin Huerter's dad Thomas Huerter born on April 4, 1969. Like his wife Erin, Thomas also graduated from Siena College (class of 1991) with a degree in finance with a concentration in accounting; before college, Thomas played basketball and baseball at Burnt Hills Ballston Lake High School in 1983 to 1987.
Mr. Huerter founded Huersch Marketing Group in Ballston Lake, New York, in 2002; he is also a broadcaster at Siena College.
Kevin Huerter Siblings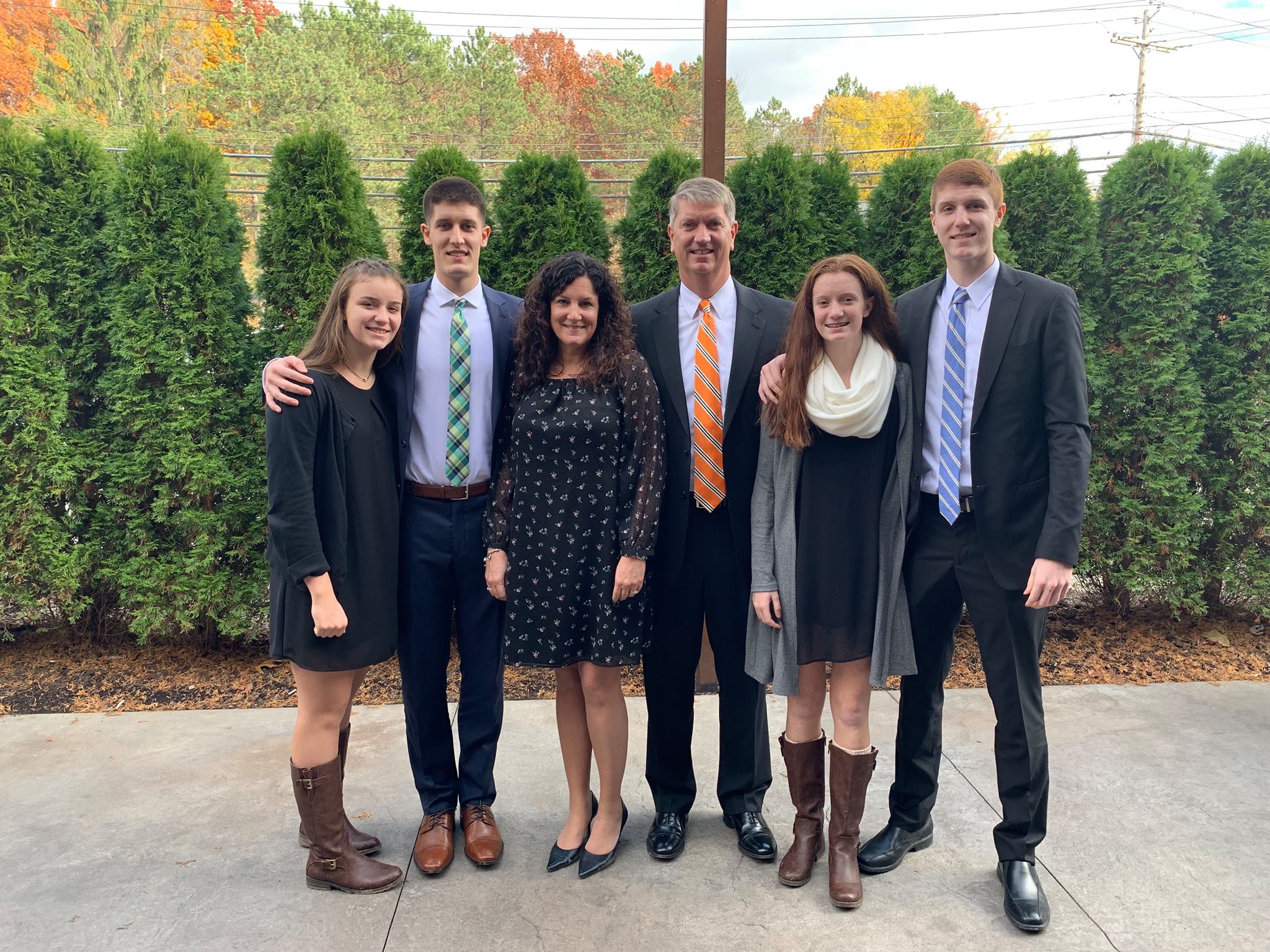 Kevin Huerter has two younger sisters Meghan and Jillian. 5'11 Meghan Huerter graduated from Shenendehowa High School in May 2021; she is currently a freshman at Providence, continuing to excel in basketball. Speaking of Providence, do you know who is Providence Basketball coach Ed Cooley?
5'10 Jillian Huerter, a guard with the Shenendehowa High School basketball team, will graduate next year.
His older brother, 6'7″ Thomas Huerter Jr. (b. Dec. 10, 1996), played at Shenendehowa High School, lead his team to their NYSPHSAA Class AA State Championship, his senior year, was named into the 2014-15 Class AA All-Tournament Team. He averaged 3.1 points, 3.0 rebounds, and 1.2 assists in 26 games his sophomore year at Siena and averaged 1.6 points and 1.7 rebounds over 11.4 minutes his junior year.
Thomas Huerter Jr. subsequently transferred to The Catholic University of America, where he graduated in 2020 with a master's of business analytics and business; He was a startup business consultant at Lattus Internship from 2019-20;  marketing manager AdBarkit Business Solutions, and Project Manager at Huersch.
Kevin Huerter Height
Kevin Huerter's height is 6'7 (2.01m), his weight is 86 kg (190 lb); back in high school, his height was 6'5 (1.96m) 77 kg (170 lb). Huerter was named the 2016 Mr. New York Basketball and named into the NBA All-Time Rookie Second Team in 2019.
Kevin Huerter High School and College
Huerter led his high school team to their second state championship his senior year; he received scholarship offers from 20 colleges before committing to play at Maryland on September 7, 2015.
Kevin averaged 9.3 points and 4.9 rebounds per game in 33 games his freshman years with the Terrapins; he averaged 14.8points, 5.0 rebounds, and 3.4 assists per game in 32 games his sophomore year. He declared the draft after his sophomore year.
Kevin Huerter NBA Stats
The Atlanta Hawks selected Kevin Huerter in the first round (19th overall) during the 2018 NBA draft. He signed his rookie contract with the Atlanta Hawks on July 1st, 2018.
In 75 games (59 starting), Huerted averaged 9.7 points, 3.3 rebounds, and 2.9 assists per game during the 2018-19 season.
He started in 48 games, averaged 12.2 points, 4.1 rebounds, and 3.8 assists per game in the 2019-20 season.
Kevin Huerter started in 49 games (69) averaged 11.9 points, 3.3 rebounds, and 3.5 assists per game during the 2020-21 season.
Kevin Huerter Net Worth & Salary
According to records online, Kevin Huerter's net worth has been estimated at $2 million; HoopsHype placed him in the 286th placed of their best-paid NBA players list last year. Spotract reported Huerted has a base salary of $2,761,920.
Kevin Huerter Contract
Huerted signed a three-year,  $4,614,492 contract with the Atlanta Hawks in July 2018. it is estimated that Kevin earned $2,761,920 during the 2020-21 season, $4,253,357 for the 2021-22 season, and $6,065,287 in the last year of his contract with Atlanta.
Kevin Huerter Jersey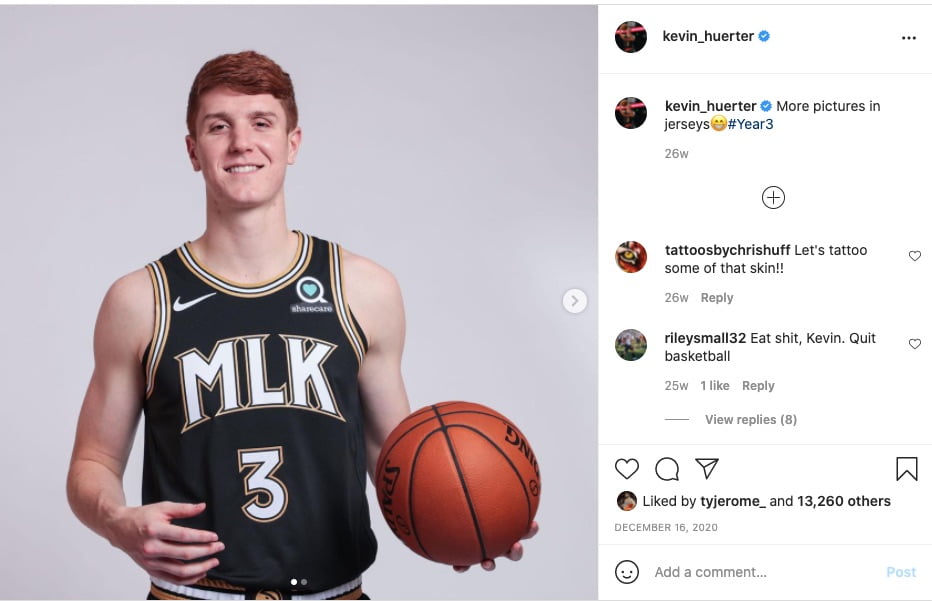 Kevin Huerter's #3 jersey with the Atlanta Hawks is available at the Hawks Shops for $130, plus they have a homage Red Velvet t-shirt for $36.
If your want to check other options, including a personalized Huerter Jersey, head out to the NBA Store.
Kevin Huerter Girlfriend
Kevin Huerter is not married, just if some of you are wondering, but he isn't single either; his girlfriend is Elsa Shafer; it seems that the lovebirds have been dating since July 2018. So this is what we can tell you about Kevin Huerter's girlfriend.
Elsa Shafer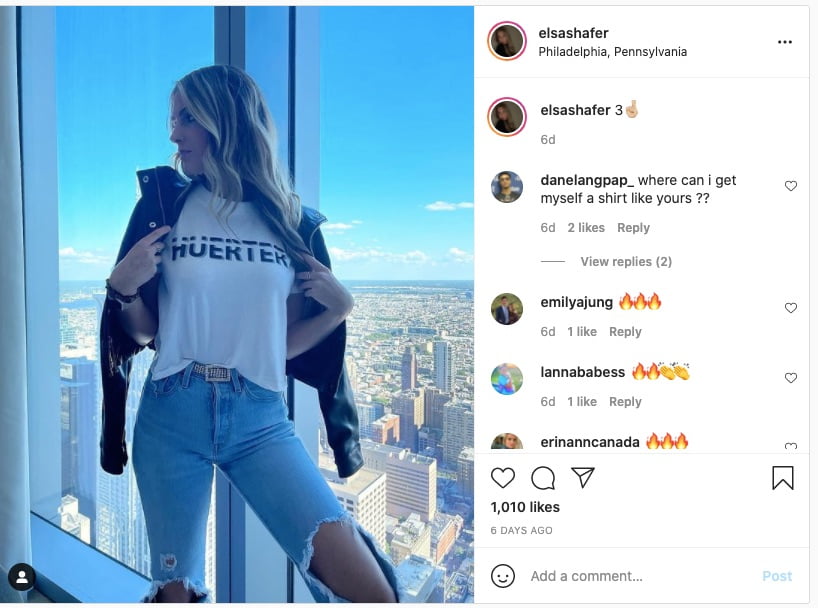 23-year-old Elsa Shafer, born on March 2, 1998, in Murfreesboro, Tennessee, is one of two children born to Melissa "Missy" Shafer and Scott Shafer; also a proud parent to Elsa's older brother Wolfgang, college football coach. Elsa's dad Scott Shafer (b.1967), is the defensive coordinator and safeties coach for the Blue Raiders at Middle Tennessee State University.
Elsa Shafer completed his education at Baldwin Wallace and Indiana; he started his coaching career as an undergraduate assistant at Indiana before joining Rhode Island (secondary) in 1993. From 1996 to 2003, served as offensive coordinator at Northern Illinois and defensive coordinator at Western Michigan in 2005. He was assistant head coach and defensive coordinator at Stanford in 2007; the following year joined Michigan before joining Syracuse as defensive coordinator and head coach in 2013. He joined Middle Tennessee in 2017.
Elsa's big bro,  Wolf Shafer, graduated in 2017 with a Bachelor's degree in communications from Ithaca College and a master's degree in strategic leadership from Middle Tennesee State University.
While at Middle Tennessee, Wolf Shafer was a graduate assistant; in February 2020, he became a defensive graduate assistant at the University of Texas at Austin; since February 2021, he has been assistant coach/ defensive backs coach at Marietta College.
Before attending the University of Maryland, Elsa Shafer graduated from Fayetteville-Manlius High School; her dad proudly tweeted when Elsa got accepted.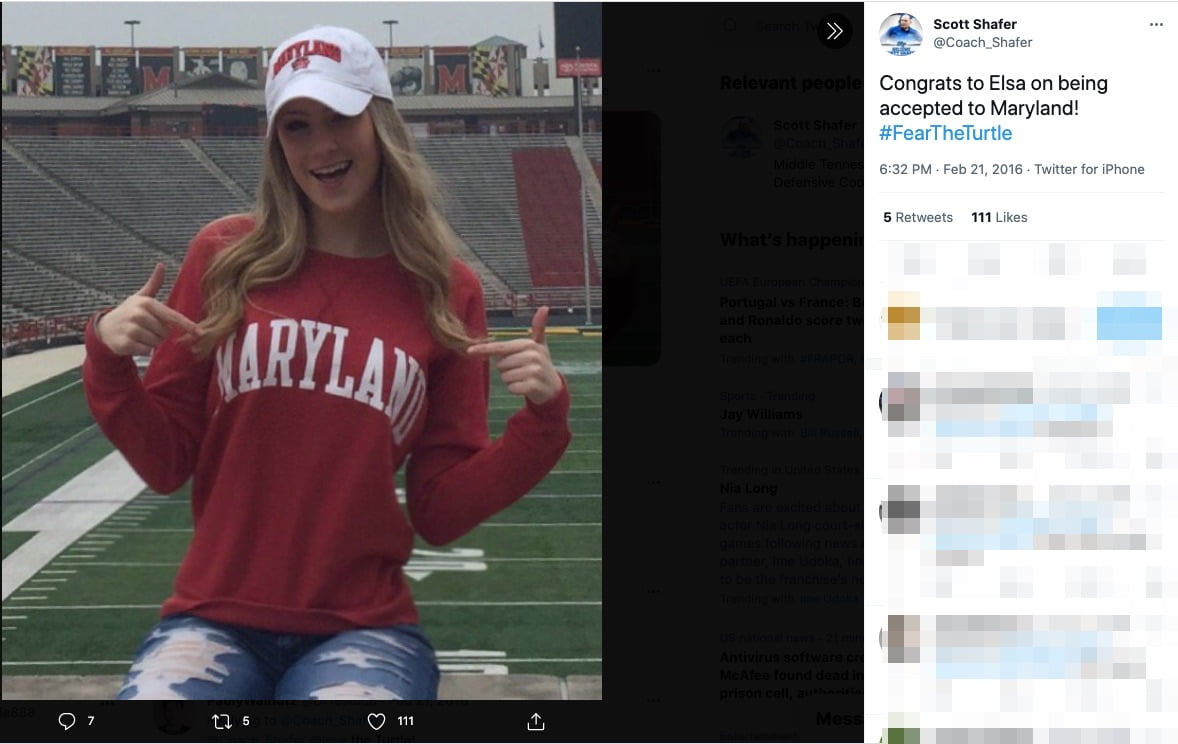 Kevin Huerter's girlfriend Elsa Shafer, currently lives in Atlanta with their two dogs, Bentley, a mini Aussie, and Nellie, a cavalier. Elsa's 3,734 Instagram followers can check out all of her beautiful photos with friends, family, and certainly with her main squeeze, Kevin Huerter.