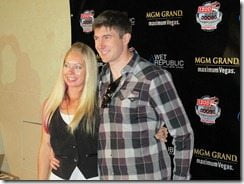 Pin
Blonde Kristen Payne is hottie J.R Hildebrand Girlfriend. They have been seen posing for the paparazzi on red carpet events.
On the web there have been many pics circulating JR with a blondie and JR with a brunette!
So who is his chick? Mmmmm….
What we found out of her is the following, she studies in college and one she graduates she is planning to move with her boyfriend.
She sends messages to her BF on her twitter account
ah loves it! miss you
ahhh love birds…
She made me think when she posted
Knowing what kind of night you'll have based on your eye shadow.
I dunot now whether she has sleeping issues cuz of school or cuz she is a party animal…
My sleep schedule is all messed up for realz

A little party never killed nobody

If I wore a maxi dress I would prob trip and fall over it
Or it might be a jet lag situation?
Does anyone else say a little prayer before they get on the airplane that they don't get stuck next to the fat guy or the screaming baby?

less than 24 hrs ✈
We don't know when this couple really started dating or how did they meet, we haven't seen something specific but pics of both in big events.
If you folks got more to tell, you know it, speak your minds and send us info cuz we want to know if this chick is the blondie or the brunette? Both are good looking but we want to know for sure so we bring definite gossip to our audience.
Blond Kristen Payne's twitter here.