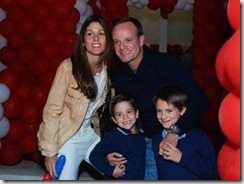 Silvana Giaffone Barricello is Brazilian born and has been married to Rubens Barrichelo since 1997.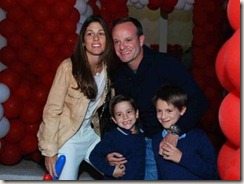 She is a cousin of Brazilian race driver Felipe Giaffone and a niece of the car champion, Afonso Giaffone Jr. and Zeca Giaffone. Silvana and Rubens's two sons are going to be hardwired for racing.
The kids are Eduardo (born in 2001) and Fernando (born in 2005).
You can tell Silvana is very aware that her husband needs her total support when competing.
vc deu um show de pilotagem, e outro de humildade!! Mandou mto bem. Agora é voltar pro trabalho… Bjs
In summary she tells her husband that hard work and being humble is what will bring him to victory.
Mesmo longe do Brasil, poder assistir a classificação com comentários do @LucianoBurti é tudo de bom!!!!
She also cheers him up when he gets Little achievements.
But at the same time she takes special attention of her kids, the cutest boys in Brazil.
Indo assistir Toy Story 3 !!!!
As all mums know, there is no best way to keep children happy with a bucket of pop corn and a good film. ;)
She is classy and elegant. Her attire normally consists of neutral colors and natural fabrics, mostly linen. She wears her hair in a cute effortless do that always looks shiny and healthy. She is a gorgeous city garota.
The kids are the most beautiful kids you can see in a square kilometers too!
Silvana's quick facts:
Silvana Giaffone Alcide Barrichello was born on May 12 1975; she got married with Rubens Barrichello on February 24, 1997. The children, Eduardo and Fernando are seen very interested in the family tradition and might me taking classes for driving earlier than their dad!
Her FB account here.