Libby Offutt
Libby Offutt is the girlfriend or maybe wife of former NFL player Randy Moss, the now on-air talent for FOX Sports 1 played 14 years in the NFL. Moss an outstanding wide receiver played with the San Francisco 49ers, Tennessee Titans, the Vikings, Patriots, Raiders and college football for Marshall University.
Libby Offutt's stud, Randy Moss was born February 13, 1977 in Rand, West Virginia. He attended at DuPont High school where he not only became a star football player he excelled in baseball, track and basketball. Randy was a two-time West Virginia basketball player of the year, Track & Field champ in the 200 and 100 meters. A racially charged fight had him expelled from DuPont and ended his dream of attending at Notre Dame. He received his high school diploma from Cabell Alternative School and enrolled at Florida State, where coach Bobby Bowden whose reputation for handling trouble players did nothing from keeping Randy out of trouble and out of jail.
In 1995 he served three days in jail for his 1995 fight, then in 1996 he tested positive for marijuana, thus violating his probation and just like that he was expelled from Florida State; Moss then transferred to Marshall University, by 1997 he decided to joined the big guys, the big guys were the Minnesota Vikings who selected him in the first round (21 overall) in the 1998 NFL Draft.
The Vikings traded him to the Raiders in 2005 and they traded him to the Patriots in 2007. Moss returned to Minnesota for the 2010 season but he was sent to play with the Tennessee Titans that same year.
Randy Moss announced he was planning to retire in August, 2011, but decided to keep playing and signed a one-year contract with San Francisco, the last team he played for, he eventually retired after the 2012 season with 28 catches for 434 yards and three touchdowns.
Randy Moss and his longtime girlfriend Libby Offutt are the proud parents of five amazing children, Sydney Moss who played basketball at Florida State before transferring to Thomas More College , Senali, Montigo, Sylee and Thaddeus who like his father, he too played football at Boone County High School, St. Albans High, Lincoln High and Victory Christian Center, Thaddeus Moss aka Thad Moss a defensive end/tight end player is currently attending at North Carolina State.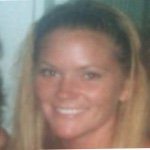 Libby Offutt was born Elizabeth Ann Offutt on November 1st, 1975 one of three daughters born to Frank Montgomery Offutt and Margarette, her sisters are Jennifer and Angela. Libby's dad Frank was 73, when he passed away on November 28, 2012 following complications from surgery after an 11 year battle with the rare Pure Autonomic Failure (PAF); Mr. Offutt graduated from Williamson High School. He was a member of the school's athletic hall of fame, he worked for Kanawha Valley Chemical Industry, Goodrich-Gulf Rubber plant, Monsanto and MTI Engineering. He served as a Deacon, as Chairman of the Board of Christian Education and alongside his wife Margarette aka Sissy coached the church's girls' basketball team.
Libby and Randy started dating in high school, she went to St. Albans High School, WVa. and like him Libby was an athlete, she was a remarkable swimmer in high school, but everything changed when she found out she was pregnant with Randy's first child, Sydney Nikale Moss the oldest of their five kids was born March 6, 1994.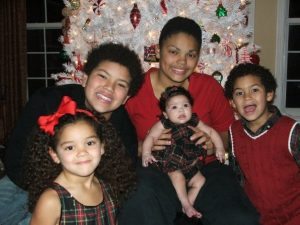 Not everything has been love and happiness between Randy  and Libby, both got arrested in 2002 for domestic violence, we can't confirm if Randy and Libby are still together.
 More photos below.
—————————————————–UPDATE————————————————–
Randy Moss and the mother of his children, Libby Offutt are definitely not together. In fact, Randy's recent rant on Twitter revealed the once happy couple are far from being amicable.
The 39-year-old former Wide Receiver, accused his ex, of spending almost $4 million dollars on drugs and added she was the reason he had to retire early.
Moss claims he was forced to retire in order to take care of his children and also says she abandoned their kids.
Accoridng to gossip site TMZ, the woman's mother said the drug allegations are not true, telling them she did have help for an issue a few years ago but hasn't had any problems since.
Moss, currently an NFL analyst for ESPN, didn't mention the woman's name but in a string of tweets claimed that his baby mama, mistreated their kids and that she also slandered him all over social media.