Lauren Tannehill
Meet Lauren Tannehill; this pretty lady is the lovely wife of NFL player Ryan Tannehill, the quarterback with the Tennessee Titans, who previously played for the Miami Dolphins.
RELATED STORIES: MEET THE TENNESSEE TITANS WAGS
Ryan Tannehill's wife Lauren has a dear lady in Miami while he played with the Dolphins and Tennessee fans seemed to have welcomed her in the same way.
The Tannehill have since welcomed two beautiful children, but we will get to that soon, before let's check out the highlight of Ryan Tannehill's life, high school and college years, and certainly NFL career.
Ryan Tannehill Parents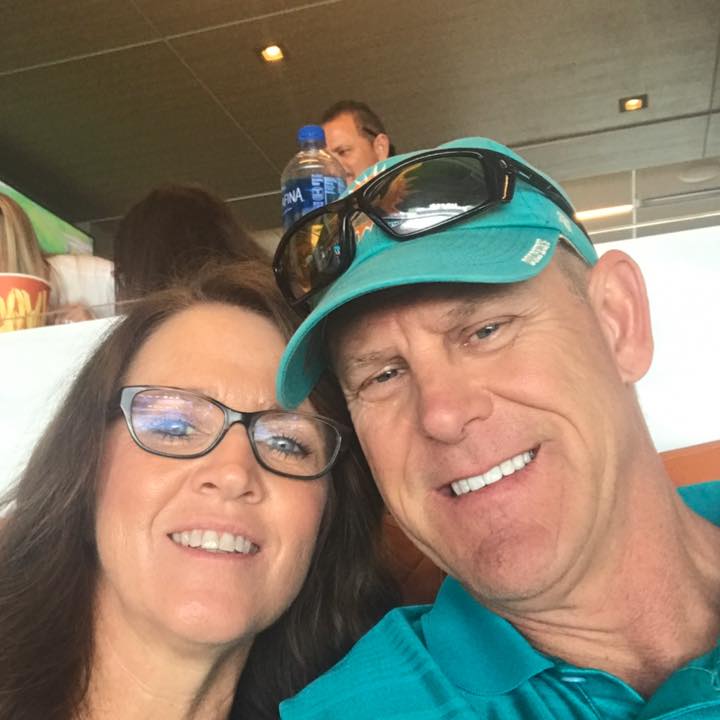 6'3 Ryan Tannehill was born in Lubbock, Texas on July 27, 1988; he one of three sons born to Tim and Cheryl Tannehill. His brothers are Tobyn and Tyler Tannehill.
Cheryl and Tim have been married since August 8, 1987.
Tim Tannehill (b. September 5, 1964) now an assistant principal at Big Spring High School, played as a quarterback at Post High School and later as a wide receiver at Texas Tech.
Ryan's mom Cheryl Tannehill (nee. Chambers) born on September 19, 1964, also attended Texas Tech and is nowadays a teacher at Big Springs High.
Ryan Tannehill Brother Tobyn Tannehill
6'0 Tobyn Tannehill is Ryan's youngest brother; Tobyn was born on May 17, 1996; in Texas. Tobyn graduated from Big Springs in 2015. While in High School, Tobyn became the Offensive MVP on the 2013 District 3-4A Division I All-District Football Team 2013.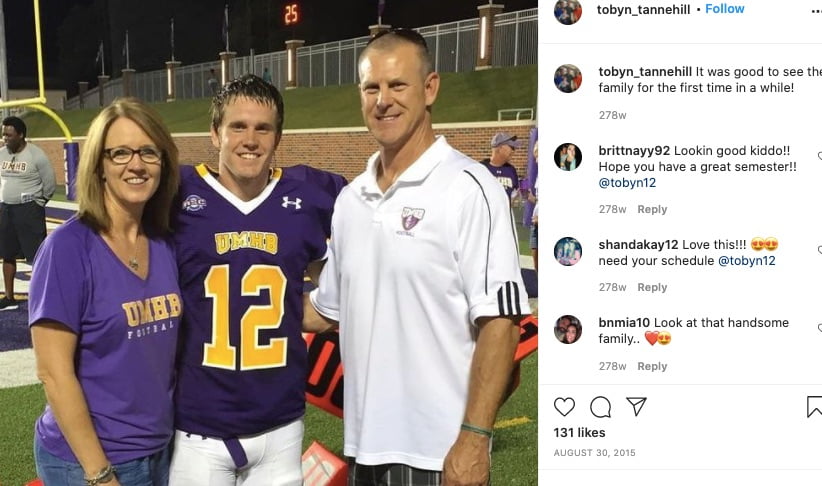 He subsequently attended the University of Mary Hardin-Baylor.
Ryan Tannehill Brother Tyler Tannehill
6'3″ Tyler born William Tyler Tannehill on May 14, 1991; like his brother Ryan and Tobyn Tyler also played quarterback at Big Springs High School until he graduated in 2010 and where he also played basketball.
Tyler played in 13 games, threw for 3085 yards and 37 touchdowns his senior year. A series of injuries stopped him from playing in college.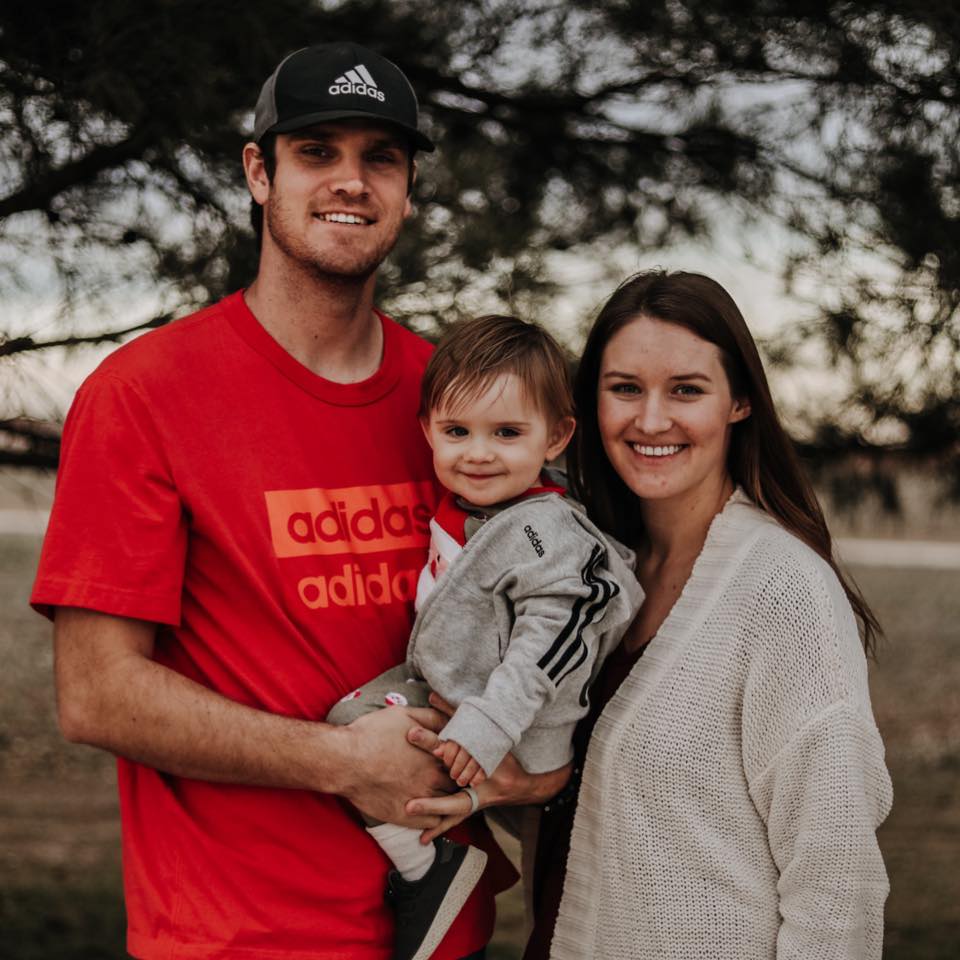 We couldn't find where he went to college but we did find Tyler is married to the former Kenzie Hunt, the pretty brunette is the momma to their beautiful boy.
Ryan Tannehill High School
An outstanding quarterback at Big Springs High School under coach Tim Holt, Ryan led his team to the plays his senior year, threw for 1,258passing years, rushed for 617.
A year prior he passed for 1,410 yards and rushed for 822. He started his football career as a wide receiver as a freshman switching to quarterback his junior year.
In addition to football, Ryan competed in jumping and hurdling events with the track and field team.
Ryan Tannehill Texas A&M Aggies
Ryan committed to play with the Aggies at Texas A&M, turning down offers from UTEP, Texas Christian University, Tulsa, and the University of Houston. He redshirted his first year with the Aggies.
Tannehill placed third placed as a quarterback and moved to the wide receiver under the direction of new head coach Mike Sherman. That year, he recorded 844 receiving yards.
He was the backup quarterback for Jerrod Johnson during the 2009 season; played in 2 games, threw for 609 yards,  four touchdowns with 46 receptions.
Played wide receiver for six games his junior year at Texas A&M, completed 11 catches for 143 yards.
As QB, Ryan played in 8 games, started in 7; finished that season with 1,638 passing years 13 touchdown passes, and 6 interceptions.
Finished his senior year, throwing for 3.744 passing yards, 29 touchdowns, and 15 interceptions. He graduated with a Bachelor's Degree in Biology.
NFL Career
The Miami Dolphins, selected Tannehill with the 8th overall selection, in the first round during the 2012 NFL draft, where Andrew Luck was the first overall selection drafted by the Indiannapolis Colts.
Other NFL players drafted that same year were Robert Griffin III, Russell Wilson, former linebacker Luke Kuechly, Stephon Gilmore, Dont'a Higtower, Bobby Wagner, Devon Still, Mohamed Sanu, Nick Foles, T,Y. Hilton, Najee Goode, Greg Zuerlein, among other great names. (click on their names to meet their girlfriend or wives).
Miami Dolphins Stats
Tannehill played seven season in Miami; he signed his first four-year rookie contract worth $12, 600 million on July 28, 2012. He made his debut against the Houston Texans on August 20th.
RYAN finished the season throwing  3,294 passing yards, 12 touchdowns and 13 interceptions, in 16 games.
The following season, started in 16 games, threw for  3,913 passing yards, 24 touchdowns and 17 interceptions.
During the 2014 season, Tannehill threw for 4,045 passing yards, 27 touchdowns and  12 ionterception in 16 games.
Ryan signed a $96, six-year contract extension with the Miami Dolphins on May 18, 2015; that season he threw for 4,208 passing yards, 24 touchdowns and 12 interceptions in 16 games.
He started in 13 games due to an inury during Week 16; finished the season throwing for 2,995 passing yards, 19 touchdowns and 12 interceptions, during the 2016 season.
An injury to his left leg and a subsequent surgery to repair  a torn ACL kept him off the field during the 2017 season; forcing the Miami Dolphins to signed Jay Cutler, who had already announced his retirement after playing two seasons with the Denver Broncos and seven with the Chicago Bears.
Tannehill returned to play in Miami during the 2018 season, he threw for 1,979 passing yards, 17 touchdowns,  nine interceptions during 11 games.
Tennessee Titans Stats
The Miami Dolphins announced they agreed to trade Ryan Tannehill to the Tennesse Titans in exchange for a fourth-round selection in the 2020 draft and a seventh-round selection in the 2019 draft on March 15, 2019.
Tannehill arrived in Tennessee as backup for Marcus Mariota, he signed a one-year deal worth $7 million and a chance to make $12 million in incentives.
He made his debut with theTitans during Week 6 against the Denver Broncos; he finished his first year in Tennessee throwing 2,742 passing yards, 22 touchdowns and six interceptions in 12 games, he started in 10.
That same year, not only he was named into his first Pro Bowl but also was named the NFL Comeback Player of the Year.
This season so far Ryan has thrown for 3,482 passing yards, 31 touchdowns, and five interception in 14 games.
Ryan Tannehill Wife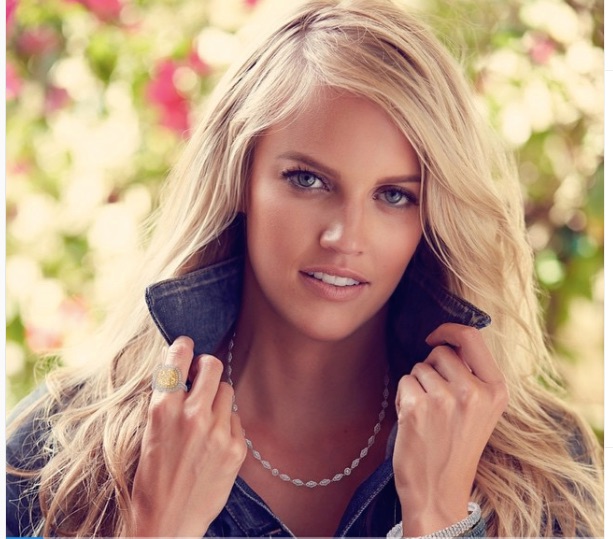 32-year-old  Lauren Tannehill was born Lauren Ashley Ufer on July 28, 1988, in Atlanta the only daughter and eldest child of  John and Nancy Ufer she has two younger brothers Jordan and Dillon, ages 29 and 24, respectively.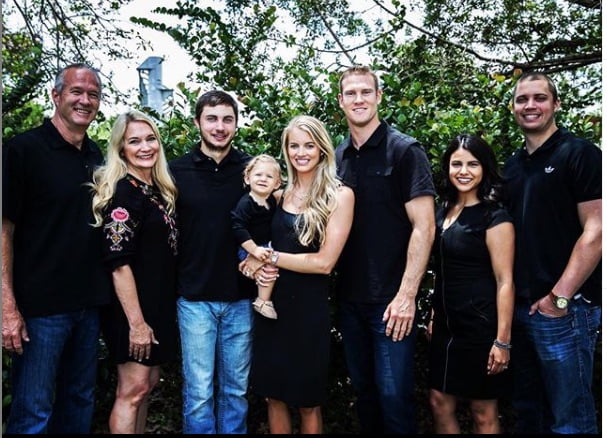 Lauren met her husband at Texas A&M where Lauren graduated in May 2010 with a major in Communications and a minor in Psychology.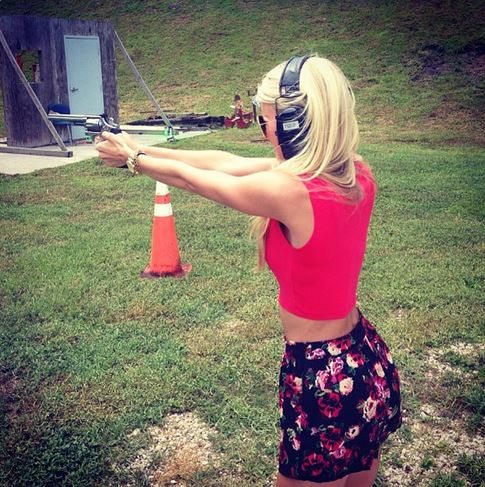 Lauren and Ryan met in 2009 in Panama City, Florida on spring break and got engaged in May 2011; they tied the knot in Mexico on January 13, 2012.
Mrs. Tanehill played Tennis and was a cheerleader; she also worked as a nurse in the medical field as a cardiology assistant for a doctor in her hometown. She later tried modeling.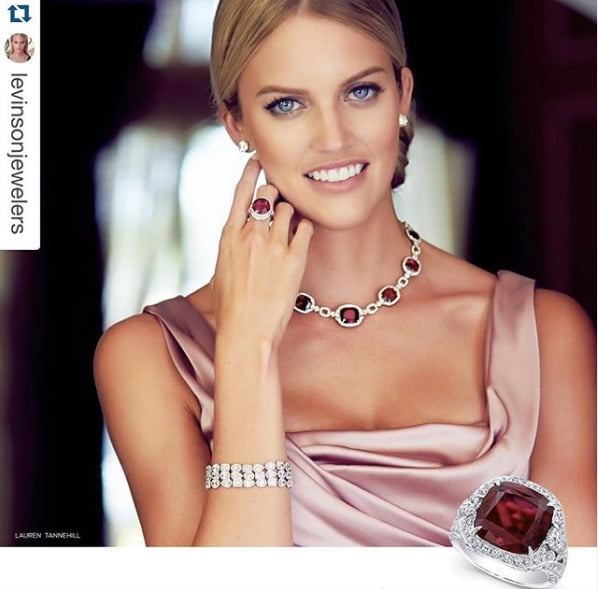 The 5'7" blonde beauty has the perfect curves (32-25-31); that goes perfectly with her lustrous blonde hair and gorgeous green eyes.
Lauren and Ryan have since welcomed two beautiful kiddos; Steel Ryan born on July 23, 2016, and daughter Stella Rose born on September 28, 2018.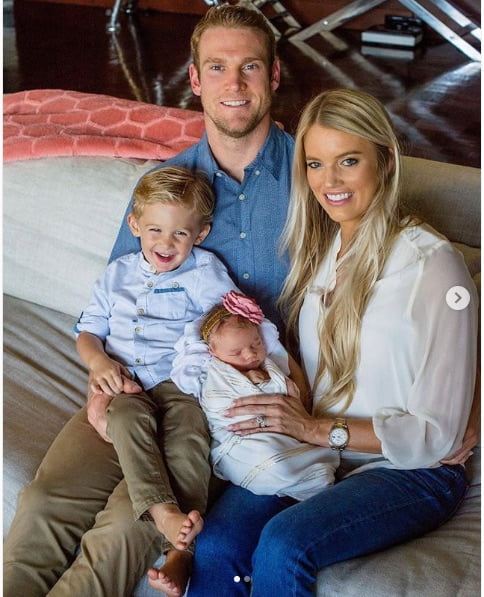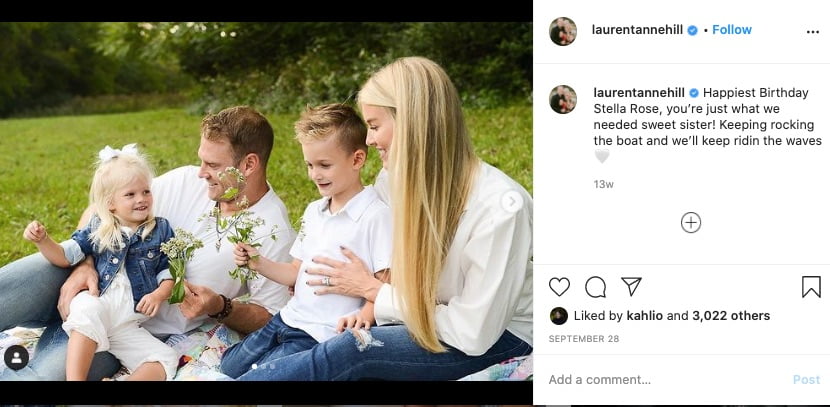 Find  Ryan Tannehill wife Lauren Tannehill on Instagram