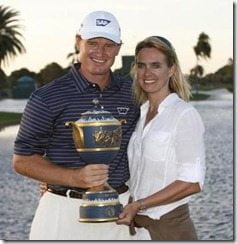 Some people describe Ernie Els' game as steady, but what they don't really know is that his relationship with his wife Leizl Els has to be super dooper stable since they split their lives in between continents!
Ernie and Leizl Els, who married in South Africa in 1998, live in two places: South Africa, Jupiter, Florida and London, England with their two children Samantha and Ben! Why on earth the couple do this? The main reason is their son Ben.
Born in 2002, Ben was diagnosed early in his life with autism. Once Leizl and Ernie got the news they quickly realized they had a new reason in life, beyond golf or anything else. Ernie and Leizl started the Els for Autism Foundation in 2009 to raise money and awareness for Autism. The goal of the foundation is to raise $30 million to create a a state of the art facility jameshallison casino for autism research and therapy.
In 2010 Leizl and her daughter Samantha climbed the highest peak in Africa, Mt. Kilimanjaro to raise money for the cause. Els for Autism Foundation: According to their website, the following is the vision for The Center of Excellence:
It will focus on a global digital learning platform that will give children on the spectrum around the world access to best practices in education and therapy. It will also connect the international autism community with best practices and the latest information and research. The first of its kind Center will also have an on-site education facility, medical and professional services, research and transition to adulthood.
Spearheaded by World of Golf Hall of Famer Ernie Els, the Golf Challenge is basically a series of Super Regional events at top-rated courses across the United States and Canada from April through September.  Two-person teams compete for a place at the Grand Finale – a two-day extravaganza of golf and entertainment hosted by Ernie and his friends from the PGA Tour in Las Vegas on October 13th & 14th, 2013.
So….if you love golf and have awareness with Autism, then you must check this out! I am sure Liezl and Ernie will be glad that many people help.   Check more on Liezl own work here.