Lindsay Murphy Guyer
Meet Lindsay Murphy Guyer, she is the talented and stunning wife of MLB player Brandon Guyer. The outfielder for the Cleveland Indians, known by the nickname of La Pinata, due to his knack for getting hit by pitchers.
Brandon previously played for the Tampa Bay Rays between 2011 and 2015. He also played college baseball at the University of Virginia prior to the MLB.
Lindsay's husband was born Brandon Eric Guyer on January 28, 1986 in West Chester, Pennsylvania; to Karen and former Ryder tennis player Ray Guyer. He has one sister named Ashley.
6'1″ Guyer graduated in 2004 from Herndon High School,  after that he joined the Virginia Cavaliers baseball team at the University of Virginia.
He was first traded to the Tampa Bay Rays after the 2010 season, however he didn't play with the big guys just yet.
Guyer joined the Triple-A minor league baseball team the Durham Bulls. By May 6, 2011, he made his MLB debut for the Tampa Bay Rays against the Baltimore Orioles.
Between the 2012 and the 2015 seasons, Guyer played with tampa and Durham. Signed with the Cleveland Indians on August 1, 2016.
Ready to meet his wife?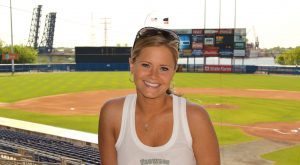 Without delay, let's begin by telling you that lovely Lindsay Murphy now Lindsay Murphy Guyer put on hold her career as a sports reporter for Fox 5 and WTTG-TV (Washington, DC) in order to become the loving and caring wife and mother that she is today.
This is something that her famous husband not just loves about her but that he also admires deeply.
Mrs. Guyer and her hubby met each other around 2009; back when she was a sports reporter in Charlottesville and he a baseball player at the University of Virginia. Things pretty much hit it off after that.
They started talking and seeing each other more often, decided to start dating a few months later. Things between them went well, he decided to take the next step, popped the question in February, 2010 and by January 15, 2011 they got married in Rockville, MD.
At this present time, they are the proud parents of two adorable children. Lindsay first gave birth to their adorable daughter Riley on January 12, 2015 and to their little boy, Camden on March 14, 2016.
Follow her on Twitter here