Jose Ramirez
Jose Ramirez is set to start in game 2 of the World Series today. It's the 24-year-old Dominican Republic native first World Series and oh boy if he's had a good year!
Born September 17, 1992 in Bani, Dominican Republic, Jose Ramirez has definitely made of 2016 his breakout season.
MLB Debut
Ramirez was discovered by the scouting department in a worn-down Dominican field. He signed with the Indians in 2009 at age 17 receiving a $50K bonus. He made his MLB debut in 2013.
Jose went from being a dependable utility player to the man the team needed. Delivered a 3.9 bWAR season while playing left field, third base, and occasionally the middle infield. He finished 2nd in the American League in doubles (46), 7th in both batting average and WPA (.312, 3.1) and 10th in OBP (.363).
Back in 2014, he showed promise as a versatile infielder with an above average glove who might develop into an excellent contact hitter. The following season, he won a roster spot for opening day and squandered the opportunity; that June, the Indians sent him back to AAA Columbus due to his .180/.247/.240 batting line.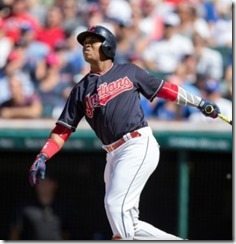 Ramirez split 2014 between Triple-A Columbus (.302/.360/.441) and Cleveland (.262/.300/.346). He improved the base running as hoped and swiped 10 out of 11 bases in 68 major league games, and he was showing some signs of improving his pop at the plate. As you know his 2015 season was a disappointment (.219/.291/.340), but he fully blossomed in 2016.
Back to the Minors
Jose Ramirez spent much of the first half of the season playing left field in Brantley's place. However, Ramirez quickly found his corner of the sky in left field, and then again at third base after the departure of Juan Uribe.
Experts even pointed the possibility of Ramirez being an AL MVP candidate. That's how good of a year he's had.
To top it all off, it would be nice to have a supportive girlfriend, a kind that would be cheering him on during game two of the World Series against the Cubs.
Truth is we can't confirm if there is a special lady or perhaps a Mrs. Ramirez around. In conclusion, Jose is kind of private fella, he even has his Instagram set to private.
If the girl in fact exists, then she is definitely hidden from the world. But if she's out there then let us give her a piece of advice, hold on to Ramirez, he is a catch! Get it?!