Brigitte Tétreault
This lovely lady is Brigitte Tétreault; she is the amazing girlfriend, not a wife yet of former NHL player Marc Bergevin, currently serving as general manager for the Montreal Canadiens. Bergevin previously worked for the Chicago Blackhawks, the team with whom he started his playing career back in 1983. The Montreal Canadiens fired him on November 28, 2021, former NY Rangers GM, Jeff Gorton was named Executive Vice President of Hockey Operations.
Marc Bergevin Family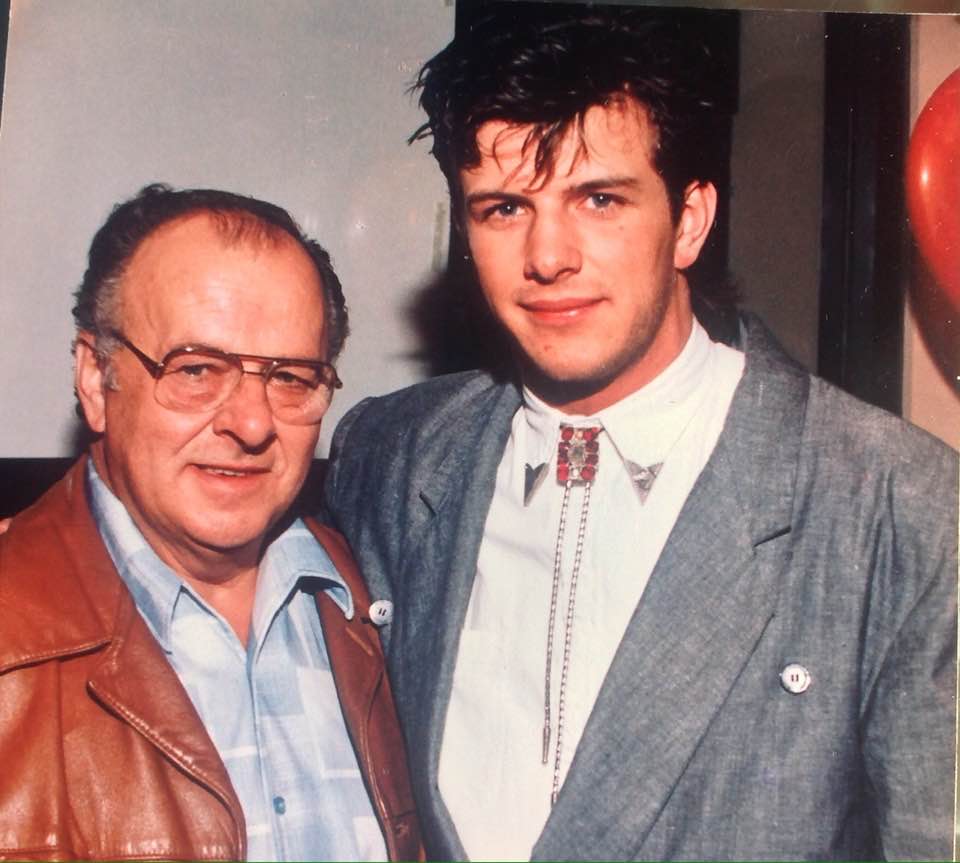 Marc Bergevin is one of five children born to Denis Bergevin; his momma passed away when Marc was around 19 years old. His siblings are brother Jean-Paul and sisters Denise, Carole, and Paulette.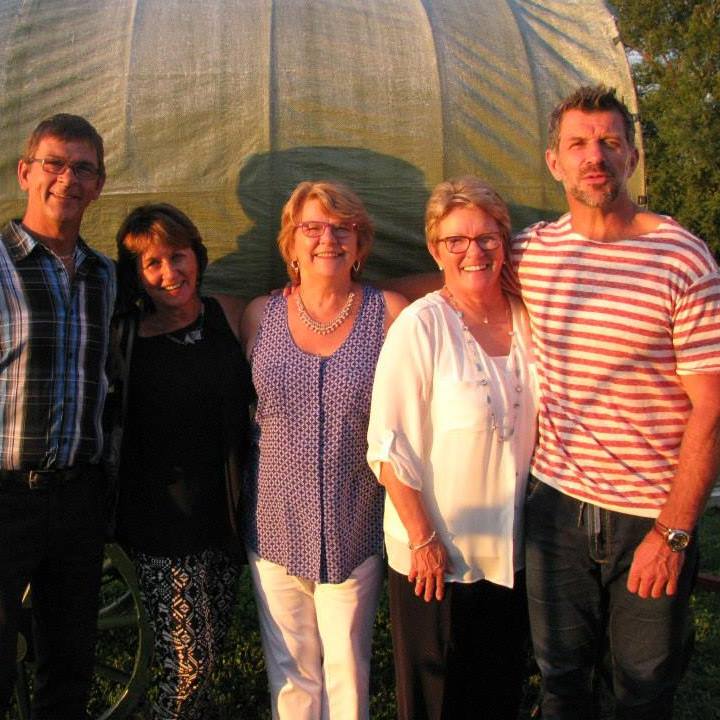 Marc Bergevin Playing Career
Marc Bergevin started his career as a teenager playing in the Quebec International Pee-Wee Hockey Tournament in 1978.
From 1981-82, Bergevin played for the QMAAA team Montreal-Concordia.
Joined the Chicoutimi Saguenéens of the QMJHL in 1982, played there until 1984.
Five years later, the Chicago Blackhawks drafted Bergevin in the 3rd round (59th overall) during the 1983 NHL draft.
From 1983-84, played with the Springfield Indians of the American Hockey League.
Finally, in 1984, he made his debut with the Chicago Blackhawks.
From 1987-88, he played with the Saginaw Hawks of the International Hockey League(IHL).
Returned to Chicago for a final season playing with the Blackhawks.
In 1989, he signed with the New York Islanders.
Assigned to the Islanders' affiliate team, the Capital District Islanders, during the 1990-91 season.
He returned for a second stint with the Springfield Indians and the Hartford Whalers in 1991.
From 1992 to 1995, he played with the Tampa Bay Lighting, recorded 5 goals, 31 assists.
He signed with the Detroit Wings during the 1995-96 season.
From 1996 to 2000, he played with the St. Louis Blues.
Joined the Pittsburgh Penguins during the 2000-01 season before returning to St. Louis that same season.
Had a short stint with the Worcester IceCats after the 2001 season.
Recorded two goals and five assists when he returned to play with the Penguins during the 2002-03 season and  1 more goal and 8 assists during the 2003-04 season.
Marc Bergevin finished his career playing with the Vancouver Canucks, played in nine games, recorded two assists.
Marc Bergerin recorded 36 goals, 145 assists, 181 points, in 1191, throughout his career.
How Long Has Marc Bergevin Been GM?
Marc Bergevin has been working as general manager since June 2011, first for the Chicago Blackhawks and subsequently in May 2012, for the Montreal Canadiens.
Where is Marc Bergevin From?
Weighing 84 kg and standing at 6'0, Marc Bergevin was born in Montreal, Quebec, on August 11, 1965. He was 13 when he joined the Quebec International Pee-Wee Hockey Tournament in Ville-Emard, Montreal, Quebec.
Marc Bergevin's management career started as a professional scout for the Chicago Blackhawks in 2004. Before being appointed assistant coach in 2008, a year later served as the Blackhawks' director of player personnel and assistant and general manager in July 2011.
Bergevin was appointed executive vice-president and general manager of the Montreal Canadiens on May 2, 2012; Marc was a runner-up in the voting for the General Manager of the Year Award after the 2013-2014 and 2020-2021 seasons.
Marc Bergevin Net Worth
Marc Bergevin has a net worth estimated at $8 million; he earned around $7,103,493 during his playing career.
Marc Bergevin Salary – Contract
It is unknown how much Marc Bergevin's salary is with the Montreal Canadiens; he agreed to a  multi-year contract with the Canadiens in 2015 that would keep him in Montreal until the 2020-2021 season.
"I am very pleased to announce that Marc accepted a multi-year contract extension and that he will remain our general manager until the end of the 2021-22 season. This new agreement brings added stability for our organization and particularly for our hockey operations. It enables us to continue our efforts in giving our fans a winning team", said Geoff Molson. "
Marc is an excellent general manager who quickly made an impact in the league with his leadership skills and his ability to identify the needs and find the personnel to assemble a championship team. I am very pleased with his work and the results he has achieved since his appointment as general manager".
Marc Bergevin Muscles / Marc Bergevin Biceps
The Habs' GM is 55 years old, but Marc Bergevin's muscles and especially his biceps are those of a much younger fella. Marc Bergevin's  24-inch biceps have been dubbed the real stars of the Montreal Canadiens and a member of the Bicep Club. During an interview with TVOA Sports, Bergevin revealed his workout includes a bench press with dumbbells and sticks with 100 lbs per side. Here is a look into Marc Bergevin's muscles actually to his biceps.
Marc Bergevin Tattoo
It hasn't been easy to tell how many tattoos does Marc Bergevin has; his two large tattoos on both arms have been easy to spot; during an interview with Julie Snider, they showed he had a tattoo of his mother on his left shoulder, his mom died when Bergevin was 19. Julie also commented Bergevin had a CH tattooed on his heart.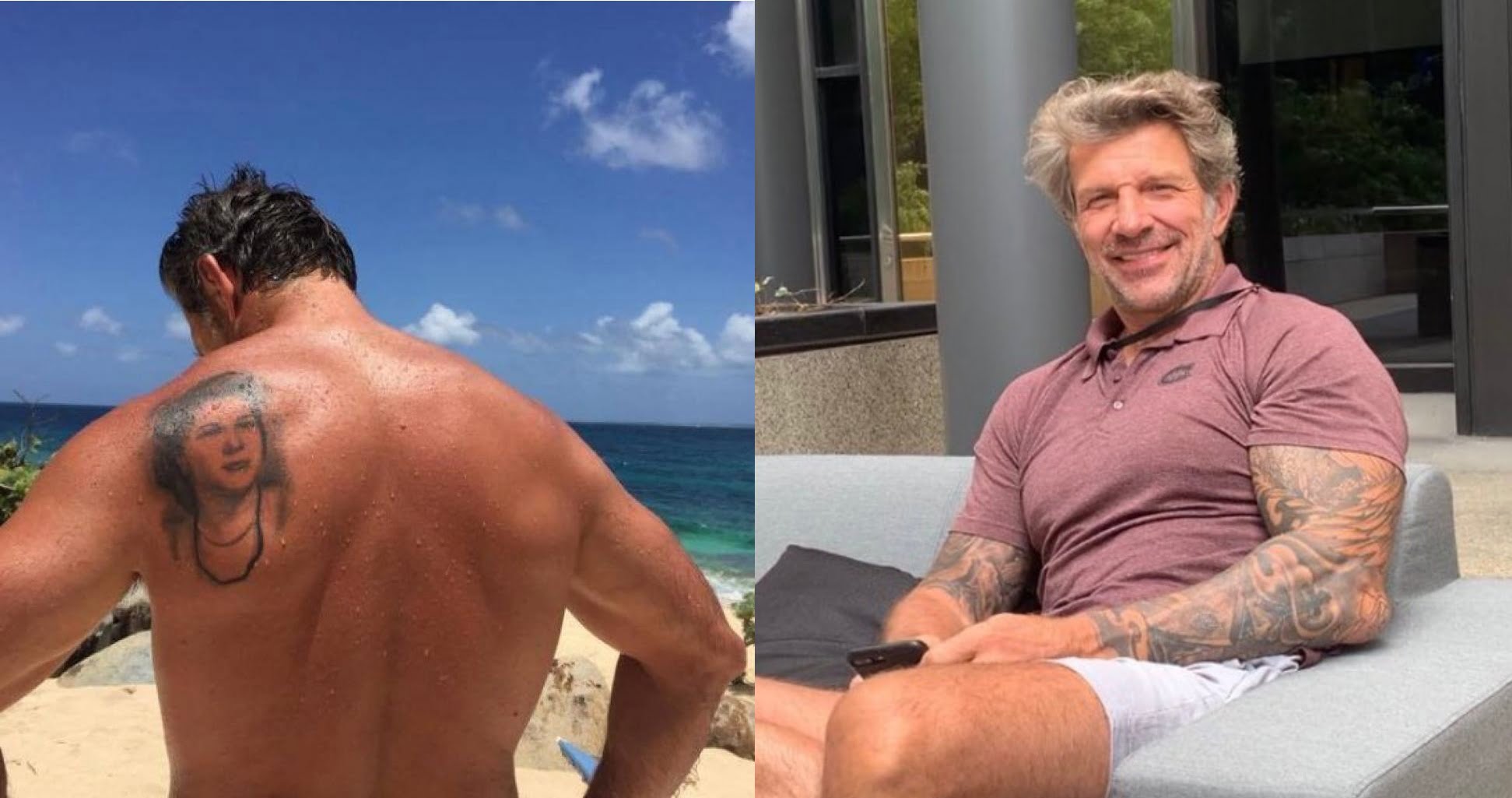 Marc Bergevin Red Suit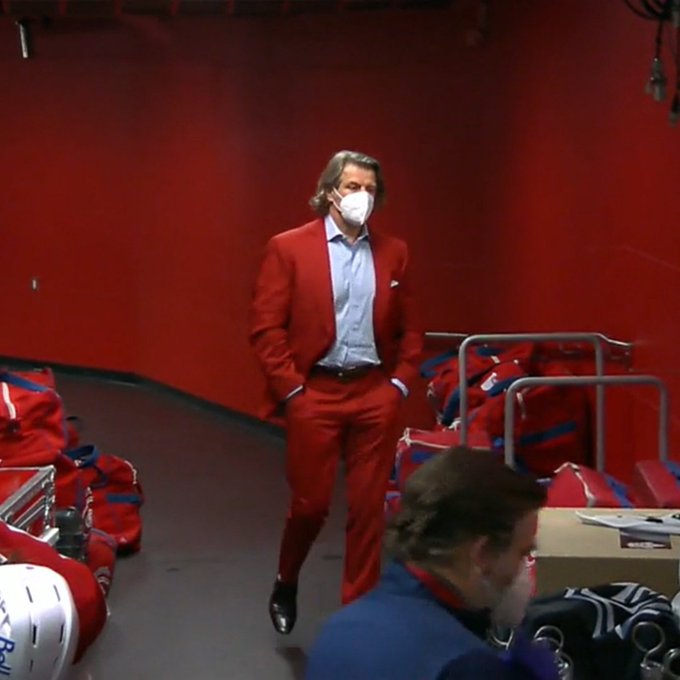 Marc Bergevin's red suit or Marc Bergevin's lucky red suit dubbed the suit of death actually has a long history, starting with its designer Maud Marquis-Breton, owner of Sartorialto, who was in charge of creating two suits for Marc Bergevin to wear for a photoshoot.
"The first suit was a sleek wool grey suit with subtle red checks, a white shirt, a red pocket square and a red tie. The second look was a wool cardinal red suit that was paired with a white dress shirt featuring a red grid pattern along with a black pocket square and a black tie."
"The editor is a friend of ours," recalls Bergevin's tailor Marc Patrick Chevalier. "We said, 'OK. Let's do a photo shoot with Marc at the start of the year when they were 13-2. I remember back then, the head of the Canadiens' public relations staff told us, 'You are lucky this team is 13-2. Otherwise, I would never allow it.'"
Since then the Marc Bergevin's red suit has made regular appearances that never go unnoticed.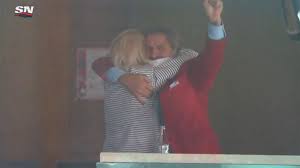 "The first time he wore it, I told my wife, 'He wore the red suit!' The next day, you see photos of him wearing the suit," Chevalier said. "In Canada and in Toronto, they were comparing him to The Joker and that is mean. That was frustrating reading the haters. I don't think there were too many people raving about it in the beginning. The second time in Game 4 against Winnipeg, it started to switch a little bit. It was like, 'OK, it is a lucky suit.' With yesterday and this morning, everyone is raving about it. There are no more haters.
Marc Bergevin Wife
Ruth Bergevin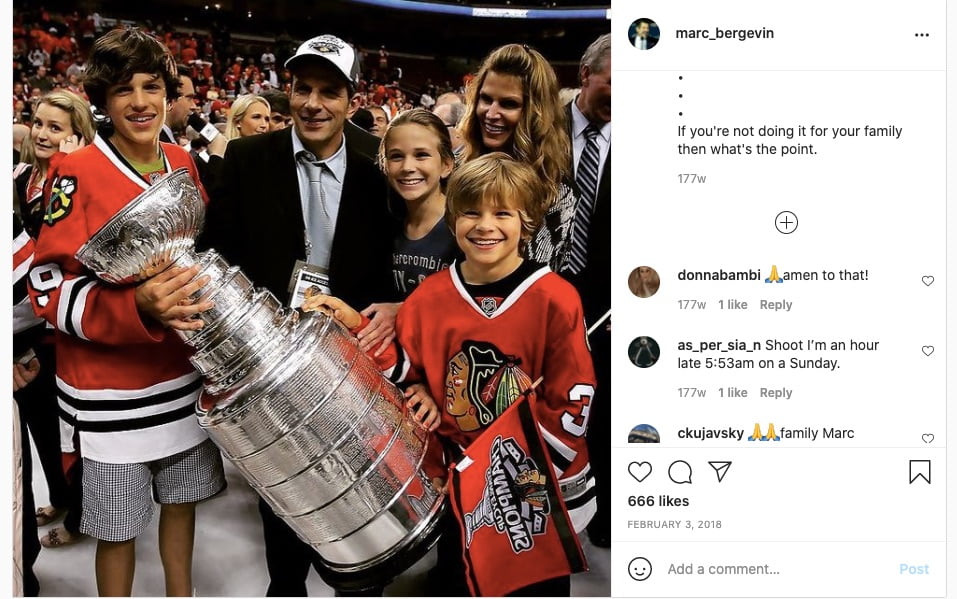 According to records online, Marc Bergevin's wife, Ruth Bergevin, 54. They met when Bergevin played with the Chicago Blackhawks; Ruth was born and raised in Chicago. Ruth Born Ruth Ann Lederman; one of the children born to Joan Lederman (nee: Voltarel) and Raymond "Duke" Lederman. Her siblings are Craig and Lynn.
We can't confirm, but it seems that Marc and Ruth Bergevin are either divorce but definitely no longer together.
Marc Bergevin Girlfriend
Brigitte Tétreault
Brigitte Tétreault is the current girlfriend ogf Habs' GM Marc Bergevin; Brigitte Tétreault from Brossard, studied art history and psychology at the University of Montreal. She is the owner of Espace Boufee, worked at Coli-Bri for over ten years before joining 44 Art Events.
Brigitte posted a beautiful tribute to Marc when he finished second voting for best GM of the year on June 22, 2021.
"A SECOND PLACE, BUT…
You got second place, my beautiful love, which is great recognition from your peers! Well done!
However, for me…
you are THE BEST GM in the national league!
Moreover, you were already well before this appointment for countless reasons, such as your impressive and inspiring professional career!
Because your hockey knowledge is exceptional!
Because in the face of adversity, you are solid… very!
Because you are one of the most active general managers! I can attest to that!
Because you are loyal, and you show enormous respect for the organization, its members, and each of your players!
Finally, you are, for me, the best GM because you are, above all… a real warrior!
I love YOU…. Full! "
Linda Lapointe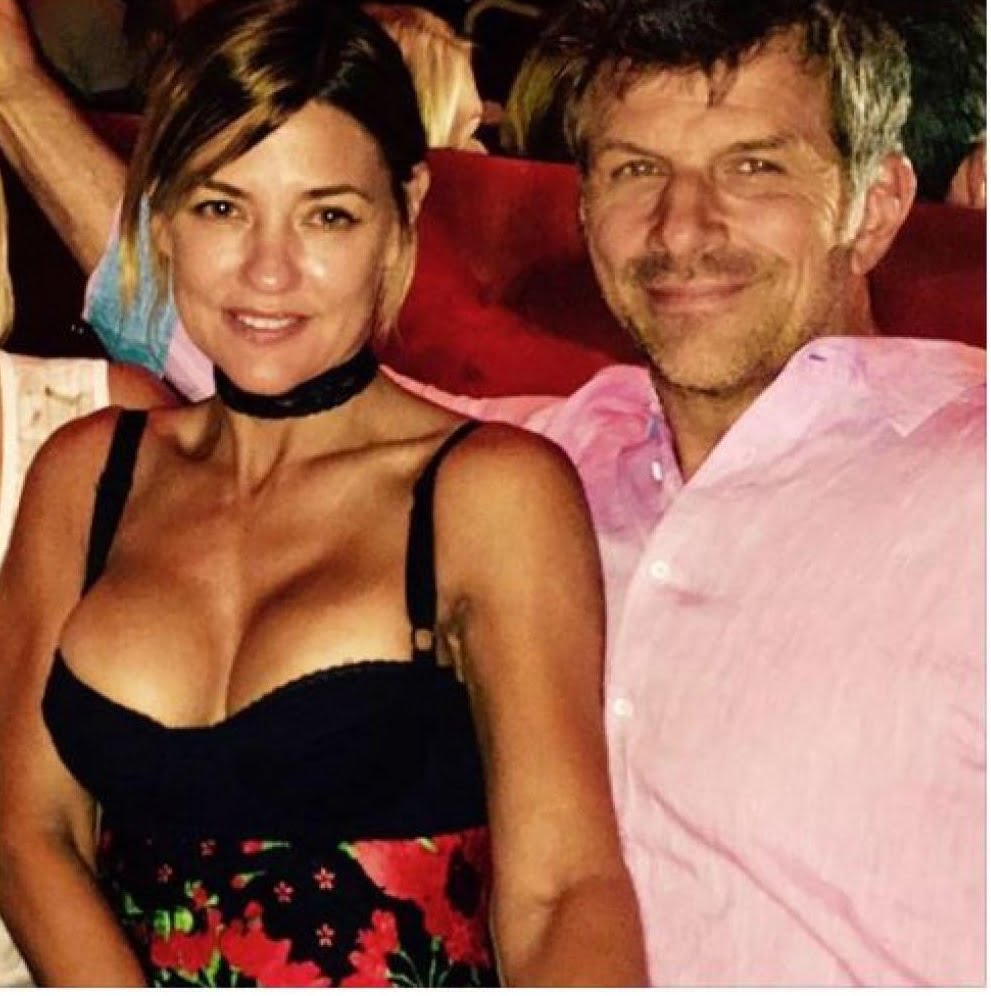 Before the lovely Brigitte Tétreault, came to Marc Bergevin, he dated Canadian beauty, Linda Lapointe.
Photos of Marc Bergevin with rumored girlfriend Linda Lapointe were published in 2016. Linda was with Marc and his siblings when he celebrated his 5oth birthday. Linda Lapointe is the owner of Local B Salon in Canada; she has a son Jon Andrew Alexandridis from a previous relationship. Her son played baseball and football at Thomas Aquinas and later at Fullerton.

Marc Bergevin Children
Marc Bergevin and Ruth Bergevin had three children together; sons Wes and Rhett and daughter Elle.
Wes Bergevin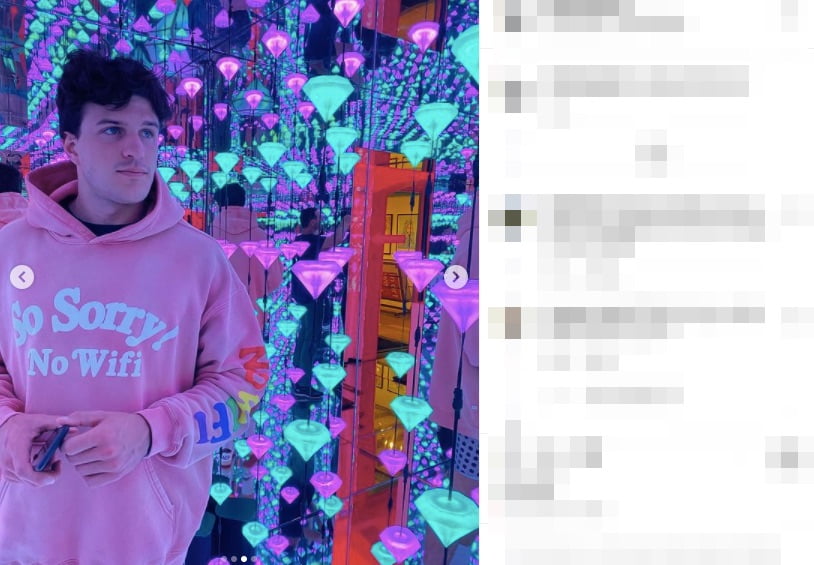 6'4 Wes Denis Bergevin, born on November 9, 1995, attended Hinsdale High School before attending Penn State. Wes Bergevin played soccer four years in high school and later and Penn State, from where he graduated in 2020 with a Bachelor of Arts in Public Relations and applied communications.
Wes Bergevin did a three-month internship with the Montreal Canadiens in 2016; worked in the NHL's Hockey Operations from May 2017 to September 2018; served as a head residential advisor at Summer Discovery in Los Angeles in the summer of 2019 and since September 2019, has been Global Business Network Chair of Communications for Semester at Sea (ISE).
Elle Bergevin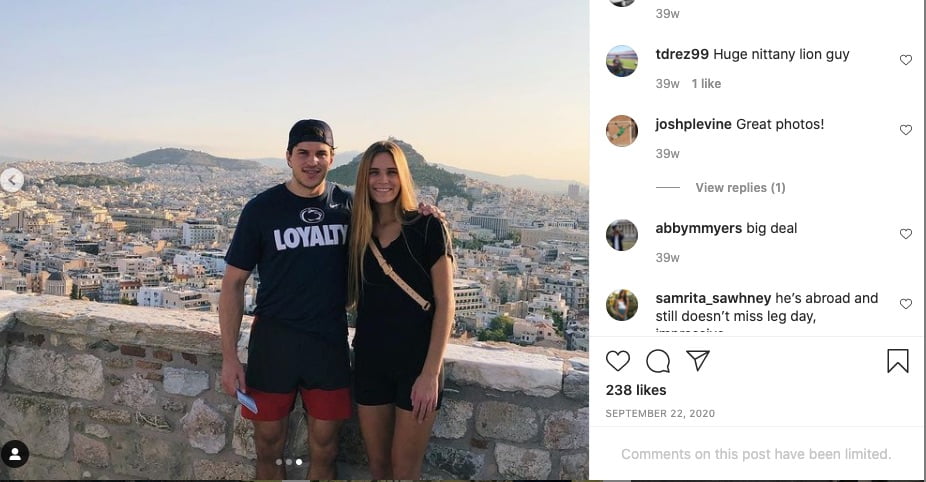 Elle Bergevin, the middle child of Marc and Ruth Bergevin, was a member of the high jump gymnastics team at Hinsdale Central High School in Illinois before she graduated in 2015. Elle later attended the University of Colorado Boulder, graduated in May 2020.
Rhett Bergevin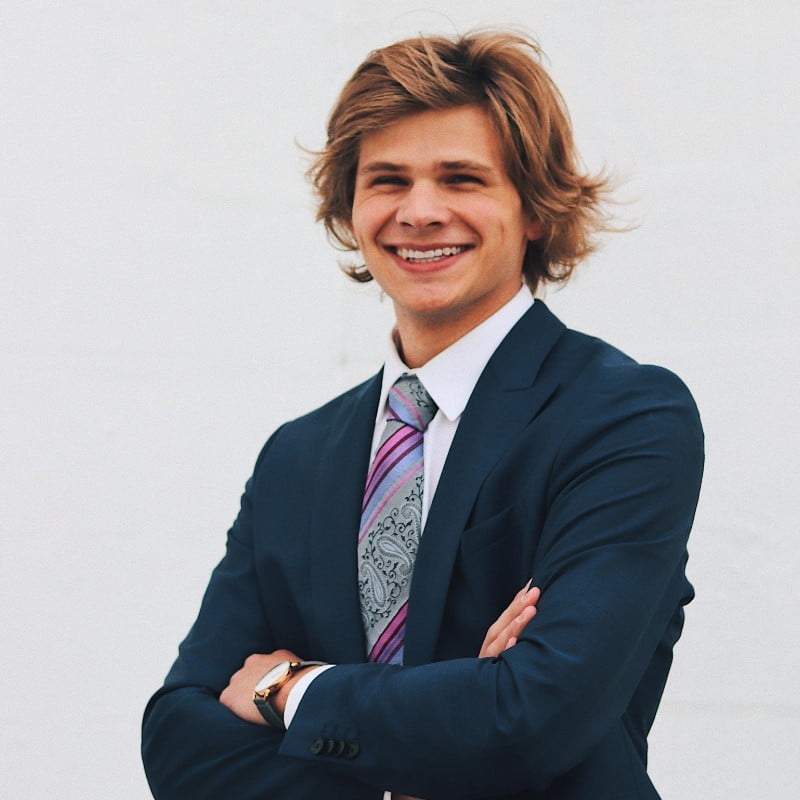 The youngest of the Bergevin children, graduated last year from Hinsdale High and is now pursuing a Bachelor of Business Administration at the University of Washington. Like his big brother, Rhett also did an internship in the hockey operations and legal affairs department at the Montreal Canadiens; unlike his big brother, Rhett followed his dad's footsteps and played hockey at Hinsdale; he was a goalie.