Sabria Stroman
Sabria Stroman is the pretty sister of MLB player, Marcus Stroman –her brother is currently a player with the Toronto Blue Jays.
Sabria must be feeling pretty proud about her brother, who recently took a no-hitter into the seventh and led the United States to an 8-0 victory over previously undefeated Puerto Rico to clinch its first WBC championship. The Blue Jays righty allowed one hit and one walk in six innings of work.
But before he became the man of the moment, Marcus attended Patchogue-Medford High School in Medford, New York. He was drafted right our of high school in the 18th round of the 2009 Major League Baseball draft (532nd overall) by the Washington Nationals, but did not sign.
He played college baseball at Duke University where he was a position player, making 97 appearances, mostly at second base and shortstop. He graduated with a bachelor's degree in sociology in 2016.
He was drafted again in 2012 by the Jays 22nd overall. After starting his professional career with the Low-A Vancouver Canadians, the Blue Jays promoted Stroman to the Double-A New Hampshire Fisher Cats on August 2012.
Stroman was called up to the Blue Jays on May 3, 2014, after Brandon Morrow was transferred to the 60-day disabled list.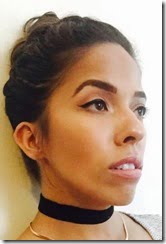 Sabria Stroman is Marcus' older half sister. She was born to Afro-Puerto Rican descent mother, Adlin Auffant and her first husband, Elias Adelin Santos.
Her mother divorced and was re-married to second hubby, a NY police detective named Earl Stroman –with whom she had two sons, including Marcus. Sabria's other brother is Jayden Stroman.
Let's focus on her for a bit, Sabria Stroman is a career woman. She happens to be a is a Speech Language Therapist based in New York. Her medical specialization is Speech-language Pathologist. She practices in Medford, New York.
She is also a married lady. Sabria Stroman and Adam Abdat tied the knot in 2015.
Sabria Stroman who is also known as Sabria Santos is super close to her mother and siblings. She is very active on social media and has shared tons of photos of her with her lovely mother, friends and other family members.
Sabria and Marcus are obviously very close, the MLB player has said about their relationship:












"She was my best friend all growing up. She was who I was bouncing ideas off of, yelling at, talking to. She kept me entertained from a very young age and I was never alone. I was thankful for that and she was very good at it. To this day she still helps me every day, she helps me with the clothing line, my HDMH (Height Doesn't Measure Heart) brand. She's the first person to be there to lend a helping hand."












You can follow lovely Sabria Stroman on Instagram here.